Salisbury baseball mom encourages everyone to 'put goodness out there'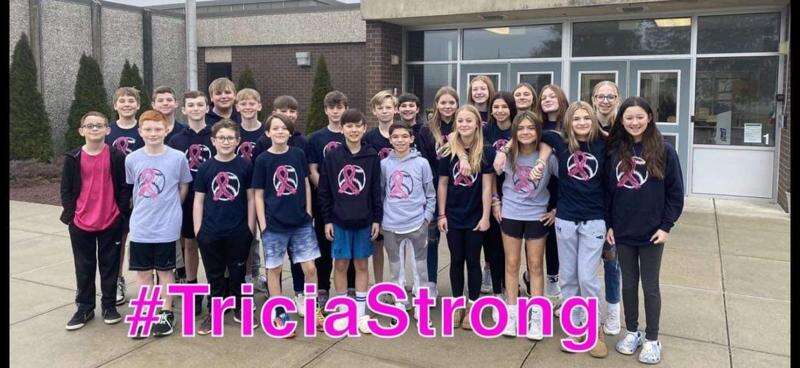 Published May 17. 2023 02:35PM
by MARIEKE ANDRONACHE Special to the Press
"Put goodness out there" ... simple words but with a powerful meaning for Tricia Dickert. Being surrounded by goodness from friends, neighbors and family has helped her during her dark days. They have been a source of strength, inspiration of caring, helping one another when needed and most importantly to her the lessons being taught to the younger members of the Salisbury community.
"I will never be able to sufficiently thank everyone," Dickert told The Press last month.
The last few months have been particularly challenging for Dickert. Back in December 2022, she lost a friend to stomach cancer.
During the eulogy, a relative addressed the mothers at the service, urging them to take care of themselves and get checked. The message didn't end there. There was a plea to remember the children affected by a mother's health and how in the end, everyone needs to help each other out.
This was a poignant message for Dickert, a mother of two boys. She'd had a pain in her left breast for a few months. Her mother had breast cancer and she herself had tested positive for the BRCA2 gene. She decided it was time to go see a doctor. A cancer diagnosis was confirmed, triple-negative breast cancer (TNBC).
At the time, Dickert was in the middle of organizing the Salisbury Baseball Booster Club's first ever cash bingo fundraiser, which was held Feb. 5. "It was a really successful event that offered a much-needed distraction. While some of the people closest to me knew beforehand, it wasn't until after the event that I told the rest of the booster club leadership and the rest of my friends later that night."
As word spread within the township of Dickert's diagnosis and upcoming surgery, something unprecedented began. Community members began rallying around her to give strength and comfort. As a show of support, many started wearing a specially designed T-shirt her sister Tracey Palenchar helped organize.
"It wasn't about a fundraiser," Palenchar said. "It was more about showing Tricia she had the support of so many in and out of her community. We ordered almost 400 shirts from Uneek (a Salisbury business) who was able to get them done in time for everyone to wear on surgery day. We chose a baseball since that is a big part of her life [which she] enjoys with the boys."
Dickert had surgery Feb. 23. Pictures appeared on a social media site of district students and her friends wearing those T-shirts, symbolizing a source of strength surrounding her through this challenge.
A Facebook page to keep friends and family updated on her cancer journey was also created. At press time, there were 172 members. The posts are heartwarming and provide encouraging messages to remind Dickert she is not alone.
Childhood friend Devon Dredge calls her "the bravest and strongest woman I know. And her kindness reaches so much further than she could imagine."
"She [Dickert] is the type of person who would do anything for anyone, even if they weren't on the best of terms," Dredge said. "She puts goodness into the universe every chance she gets. So, it's only fitting how much love and support she is receiving now. She never asks for anything."
"Tricia is one of the kindest people I know," friend and softball booster club coordinator Kristen Stokes said. "She is supportive and caring. She is known to take kids that are not her own and spend time with them just because she wants to. She has shown up at softball games with her camera in hand to take phenomenal pictures of our girls for us even though she has boys. She reaches out, she provides support and definitely puts lots of goodness out to others."
According to the American Cancer Society, Pennsylvania is projected to see 12,830 new cases of breast cancer (women) for 2023 and 1,870 deaths from the disease.
Dr. Ranju Gupta, who is co-director cardio-oncology at LVHN-Mulhenberg, explained during an interview with The Press, that TNBC (what Dickert is battling) is the most aggressive of the three forms of breast cancer. It accounts for nearly 20% of all breast cancers and tends to have a recurrence within five years.
Although chemotherapy is the current course of action, Gupta indicated promising research findings with the use of immunotherapy.
"Early detection is key," Gupta said. "The earlier you catch it – then the earlier you can treat it, which leads to a better prognosis." She emphasized the importance of a yearly mammogram and how easy it is to schedule one.
Gupta has a clear message to everyone in Salisbury. "If something doesn't feel right, please go get it checked out. Keeping your eyes closed won't keep it away."
This message was echoed by American Cancer Society's Director of Regional Integrated Marketing Dan Tobin who told The Press during an interview "early detection is key to a successful outcome when dealing with any type of cancer. I can't stress enough the importance of working with your health care provider to ensure that you are receiving the appropriate cancer screenings based on your age and risk factors."
On May 9, the U.S. Preventive Task Force released a new recommendation that "all women get screened for breast cancer every other year starting at age 40."
For Dickert, the last few weeks has seen good days and bad days. Knowing she has all this support has been a source of strength but what she is most moved by is the kids.
"My youngest son played a Junior Connie Mack at Coca-Cola Park. One of his friends, fellow baseball player, Tyler Kehl, came over to me before the game, said nothing, just hugged me. I cried. I cried because these are kids that are at an age where showing love like that is rare. And he'll never know how badly I needed that hug."