Price earns Altruism Award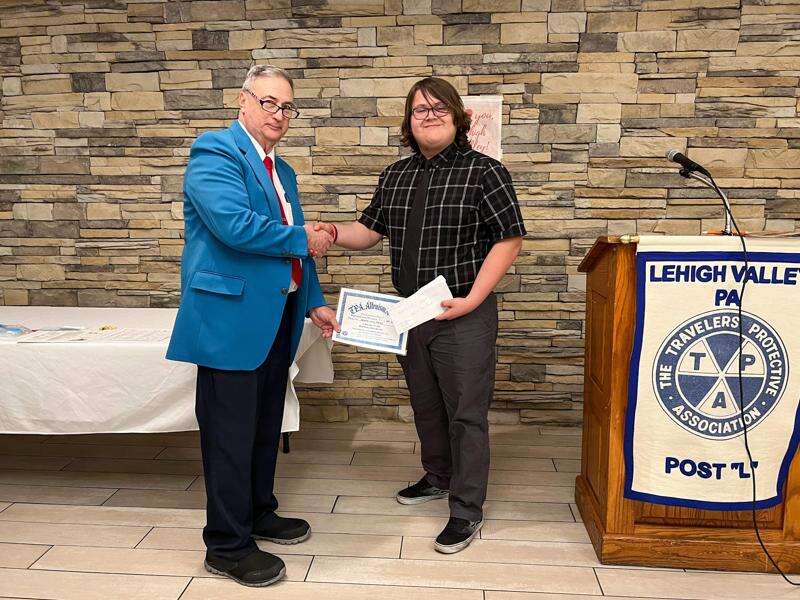 Published May 10. 2023 10:59AM
by CASSANDRA DAYOUB Special to The Press
The Lehigh Valley chapter of Travelers Protective Association of America Post L held its annual Altruism Award ceremony April 13 at Northampton Banquet and Event Center, 1601 Laubach Ave.
The fraternal benefit society honored select students from 14 local high schools. Students received a monetary award for their embodiment and moral practice of altruism.
Guest speaker Tony Iannelli gave a motivational opening speech.
Iannelli is the president and CEO of Greater Lehigh Valley Chamber of Commerce and hosts the Business Matters segment on WFMZ 69 News. He shared his rise to success, which started when his father lost the family business that Iannelli planned on taking over. He brought warm and genuine advice for the students before moving on to the award portion of the evening.
Patricia Palencar, TPA secretary of the Lehigh Valley chapter, explained the award, in the amount of $100, would be presented to each student by TPA Post L Lehigh Valley President Donald D. Schwartz following a short speech from the student's nominator.
Jason Price, a Whitehall High School student, was honored with the 2023 Altruism Award. Jason, who prefers to go by Jae, was nominated by his counselor, Chad Stefanyak, for his giving heart and selfless nature.
Price is also enrolled at Lehigh Career and Technical Institute, where he studies supply chain management and logistic technology. He is a member of the Future Business Leaders of America and participates in supply chain management competitive events.
Outside of the business world, Price is also a student ambassador at LCTI, providing tours for incoming fifth and eighth graders.
Price is unsure about continuing his education at this point in time but hopes to find a job in the supply chain management and logistics technology world due to his work at LCTI. Whatever comes next for him, he "hopes to do good," he said.
Much like Price, all of the Altruism Award nominees amplified the expectations of current youths with their superb rapport with faculty, staff and peers. Following the banquet ceremony, the room was booming with applause yet humbly quiet as young students' triumphant and heartfelt stories were shared. It was agreed these students would go on to be successful and innovative members of society. The attendees left the ceremony feeling proud and hopeful for all of the students' futures.
TPA Post L was established in 1882 and initially benefited traveling salesmen across America but has extended memberships to those who are considered preferred risks. The organization has since helped society in various ways, such as the implementation of painting white lines on roadways, the promotion of the Absent Voter Act of 1916 with the Absentee Ballot System and more.