Players of the Stage to perform 'Quality Street'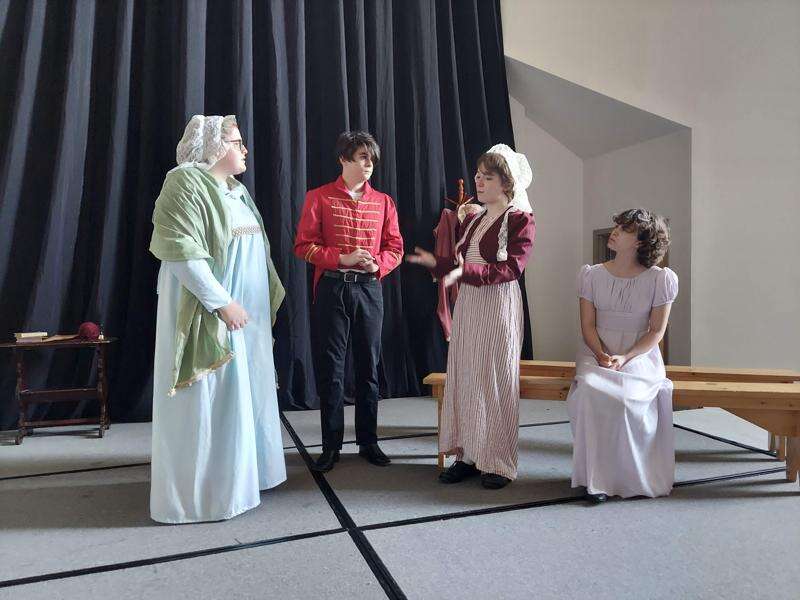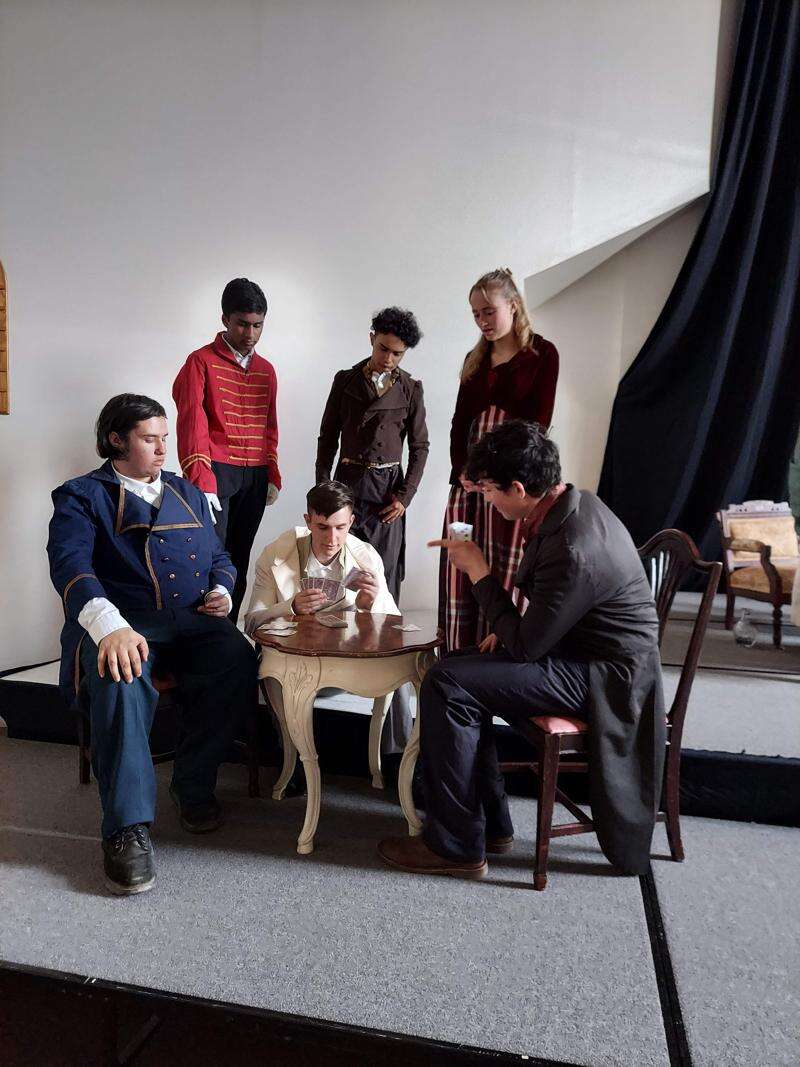 Published April 27. 2023 08:45AM
BY SUSAN BRYANT
Players of the Stage, a nonprofit youth theater group, will present "Quality Street" on April 27, 28 and 29.
This four-act play is a romantic comedy written by James M. Barrie, best known for "Peter Pan."
"Quality Street" tells the story of Miss Susan Throssel and her sister, Miss Phoebe Throssel, who is in love with Valentine Brown, a local physician, who enlists in the military.
When Brown returns 10 years later, he finds the sisters have set up a school for children and that has taken its toll on Phoebe, who has developed an alter ego.
Raegan Schroder, who portrays Miss Phoebe, and Molly Williams, who plays Miss Susan, commented on their roles.
"Miss Phoebe is the younger sister to Miss Susan," Schroder said.
"She is dashing and bold, but she strives to be ladylike.
"I feel she tries to please so many people, that she forgets to allow herself room to have her own feelings.
"Miss Phoebe truly has a kind heart, however, and she is firm, but loving."
Schroder said since almost all her friends auditioned and got in, she gets to hang out with them at each rehearsal and she also loves how professionally this play is being handled, right down to the time given to memorize lines.
"She (Miss Susan) really wants to see Phoebe get married, so she does not end up an old spinster like her," Williams said. "She is not the smartest person but has some clever moments.
"Even though she is the older sister, she follows Phoebe's lead."
Evan Diem, who plays Valentine Brown, discussed his character.
"Valentine is a local physician on Quality Street," Diem said. "He is concerned about being brave and gallant, and because of this, he goes off to war.
"He is infatuated with Miss Phoebe but did not marry her before he left."
Diem said Valentine is a very different person from him.
The show is directed by Barbara Vogelgesang, with costumes by Sharon Noel.
Noel, artistic director, commented on why they chose to perform "Quality Street."
"We have a number of high school junior and senior girls whom we wanted to give a chance to deal with more difficult material," Noel said. "'Quality Street' is a comedy that can be challenging to perform and has a lot of emotional depth."
Vogelgesang stated as with most of James Barrie's plays, "Quality Street" is about transformation and acceptance.
"Phoebe Throssel lives on Quality Street with her sister Susan," Vogelgesang said. "She has been courted by Valentine Brown, a handsome gentleman who decides to enlist in the Napoleonic Wars.
"Ten years pass when Valentine returns to Quality Street as a celebrated captain, and he is greeted by a more mature, less glamorous Phoebe.
"When Phoebe sees the disappointment in Valentine's face, she is emboldened to create a younger alter-ego named Miss Livvy.
"Phoebe, disguised as Miss Livvy, begins to attend balls, and relive her youthful glory days.
"As she rekindles her romance with Valentine, can she juggle both personas or will her deception ruin her reputation forever?"
"Eventually, Phoebe learns that being whom God designed her to be is best."
In lieu of an admission fee, a freewill offering will be taken to benefit Love Ran Red Foundation, a Christian-based, nonprofit foundation dedicated to helping adults with autism spectrum disorder.
"Eighty-one percent of adults with autism live with their aging parents," Vogelgesang said. "When their parents are no longer living or can no longer take care of them, Love Ran Red Foundation is dedicated to providing employment through Duke's Delites and essential living assistance to families of adults with autism and developmental disabilities.
"We wanted to partner with different ministries in the area. Elisabeth Barshinger and Sharon Noel's family cared for two intellectually disabled individuals for 23 years in their home.
"So, a ministry that helps in this way is a blessing to this community."
"Quality Street" will be presented 7 p.m. April 27, 28 and 29 and at 2 p.m. April 29 at Living Hope Presbyterian Church, 330 Schantz Road, Lower Macungie.
Reservations are required for all performances.
To reserve tickets, go to playersofthestage.org or email potstickets@gmail.com.
For more information about Players of the Stage, visit playersofthestage.com.