Curriculum and technology committee recognizes coaches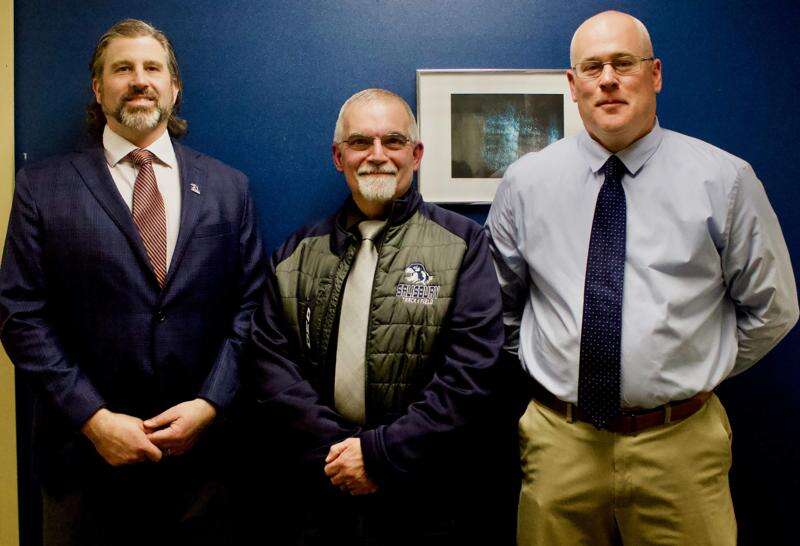 Published March 30. 2023 01:51PM
by KATHY HASSICK Special to The Press
The Salisbury Township School Board held a curriculum and technology committee meeting March 22. During the meeting, coaches were recognized for their years of service to the district, students updated the board on events held in each of the district's schools and a K-12 guidance plan was presented.
Athletic Director Monica Deeb started the meeting by presenting 15-year service awards to coaches Andrew Cerco, Victor DeOliveira and Jason Weaver. She recounted how each coach has served the district in multiple capacities and recognized them for their tireless efforts to bring out the best in Salisbury's student athletes over the years.
Deeb also took time to recognize James Hahn who is a Pennsylvania Interscholastic Athletic Association, Inc. official in both soccer and basketball. After an arduous evaluation process, Hahn was selected to officiate the PIAA class 4A boys basketball state final game March 23.
Student reporters Meredith Kelley and Soledad Lausch updated the board about noteworthy events and accomplishments at Salisbury High School.
Winter sports have ended and several student athletes made their way to the PIAA state finals namely swimmers Olivia Amorim, Phoebe Ballek and wrestler John Samy who finished his high school career with 92 wins.
In addition to accomplishments in sports many student groups also achieved accolades worth noting.
The Salisbury Falcon Debate Team recently placed first in the LVIDA semifinal tournament and will move on to the finals later this month.
Salisbury High School Theatre had a successful run of the show "9 to 5 The Musical" March 16 -19.
Several students presented their projects at the Pennsylvania Junior Academy of Sciences.
SHS student Joshua Orach, who attends Lehigh Career & Technical Institute in the pre-engineering and engineering technology lab reports the enrollment period for LCTI will end this month.
LCTI summer camp 2023 registration will continue until April 30.
Salisbury students will receive a 50% discount and a T-shirt when they enroll.
Congratulations to SHS and LTCI student Carl Dyer, a food and marketing management student, who won a gold medal in the DECA competition.
Salisbury Middle School student council members Sia Lausch and Graclyn Williams report the month of March has been coined March for Adam. In addition to selling shirts for the Race for Adam many activities such as an "I Believe Day," Philly Pretzel sales and a dodge ball tournament will take place in an effort to raise funds to find a cure for Niemann Pick Disease.
It has been a busy time at Salisbury Elementary School, according to student reporter Liam Danni. In addition to a sports-themed dress up day, the students enjoyed a PTO-sponsored Family Movie Night featuring the movie "The Lorax." A surprise visit from the Lorax himself capped off the evening.
During the week of Feb. 27 through March 3, students celebrated Read Across America Week and Dr. Seuss' birthday. The festivities included dressing like Dr. Seuss characters, listening to a schoolwide reading of a book each day, an assembly featuring a visit by two local authors and a book raffle.
Upcoming events students are looking forward to include the Easter bonnet parade, color spirit day and wear blue spirit day.
Salisbury High School Principal Heather Morningstar presented the board with the K-12 guidance plan which is a 5-year comprehensive guidance plan required by the state.
The plan goals are concentrated in three areas: academic, social and emotional learning and career education. She noted one change from the previous guidance plan is the heavy emphasis placed on career awareness education and preparation and career technical education which are large components of the new plan.
Next on the agenda, administrators provided teaching and learning updates starting with SES Principal Zach Brem who reported staff has completed training for Universal Design for Learning which is a three part professional development series.
He also noted the Girls on the Run program is well underway. This is the third year of the program which is run by faculty volunteers. Girls on the Run is open to students in both elementary and middle school.
A job ceremony was held recently for fourth grade students. This program has been very popular with students and ties into career readiness standards. Students apply for jobs like flag crew, bus leaders and safety patrol and are awarded their jobs during the ceremony.
SMS Assistant Principal Robert Sawicki informed the board fifth grade students will have an opportunity to tour LCTI May 19. LCTI offers over 40 programs from robotics and engineering to health and human services.
Morningstar informed the board SHS is one of the many schools throughout the Lehigh Valley designated as a targeted support and improvement school mainly due to the achievement and graduation rate in the special education subgroup.
Many special education students attend school beyond 12th grade because it is beneficial to their learning but this impacts the graduation rate because they do not graduate on time.
The district will work closely with the IU and the state to find what resources are available in an effort to come up with a comprehensive plan to address these two areas of need. This is a one year designation and it should be noted no funding from the state will be provided to address the issues. The plan must be in place by September.
Some good news was brought to the board by Assistant Superintendent Kelly Pauling with regard to funding for the dual enrollment program.
Pauling and Morningstar have applied for a grant of up to $75,000 offered by Gov. Josh Shapiro to assist with tuition costs, professional development and supplies. This program has allowed students an opportunity to earn college credits while in high school and in some cases students can earn their associate degree before they finish high school.
There are no guarantees the district will be awarded a grant but it looks promising given the state has allotted $6.4 million for these grants.
Pauling also outlined the many summer camps to take place to get students ready for next school year. These include Camp SOAR for fourth grade students transitioning to middle school, Camp LCTI, STEAM camp, Extended School Year and a Title I Summer Camp.
The next meeting of the curriculum and technology committee will be 7 p.m. April 19 in the administration building, 1140 Salisbury Road.