Locals place in Pa. Farm Show contest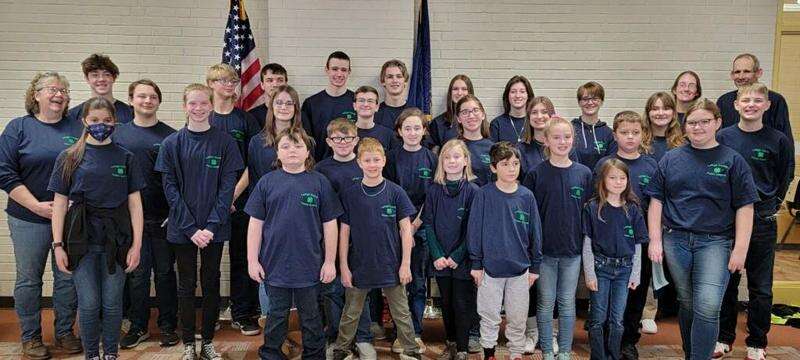 Published March 22. 2023 01:09PM
The 2023 4-H Potato Grading and Identification Contest was held at the Pennsylvania Farm Show Jan. 10 with a record number of contestants. One hundred fifty-nine 4-H members, comprising 42 teams, participated. 4-H youth from Lehigh, Northampton, Armstrong, Blair, Bradford, Bucks, Cumberland, Carbon, Indiana, Lebanon, Montgomery, Montour, Potter, Union and York counties all assessed their knowledge of spuds.
The contest consists of two divisions: basic and honors. The honors division are winners from previous years. Competitors in the basic division assess their skills at three stations. The first station is a potato grading station. This station is a timed event where competitors challenge themselves to see who can grade 100 potatoes in the shortest time. Not only is quickness important but so is accuracy. The second station is a defect station, where competitors must accurately identify 20 different defects on 40 potatoes. The third station is a plate grading station. A total of five potatoes are placed on each of the four plates. Each plate must be evaluated on uniformity of size and shape and lack of defects. The plates are ranked in order. Two classes of plates must be judged.
Those in honors must complete three stations in addition to the basic stations. The fourth station is made up of two more plate classes. The fifth station is estimating the weights of two large potatoes. At the sixth station, contestants must pick a premium pack. Out of 30 potatoes, the 10 most uniform and defect-free potatoes are selected.
This contest teaches and enhances life skills such as decision making, defending an answer, quickness and observation. These skills can be used for judging potatoes, for judging livestock and other items in 4-H. Enhancing the use of these skills helps prepare 4-H members for future careers and activities.
The first-place A team was from Lehigh County, with team members Allison and John Emanuel from Laurys Station, Kamryn Fink of Germansville and Payge Haydt of Walnutport. Allison Emanuel was the second highest scoring individual of the entire group.
The third-place B team was from Lehigh County, with team members Samuel Lazarus of Schnecksville, Parker Haydt of Walnutport, Emma Olmstead of Lenhartsville and Trevor Bowman of Slatington.
The fourth-place B team was from Lehigh County, with team members Mikayla Cover of Whitehall, Miranda Brown of Palmerton, Casey Wells of Allentown and Harper Schantz of New Tripoli.
The fifth-place B team was from Lehigh County, with team members Emily Laudenslager of Allentown, Darren Bowman of Slatington, Levi Lazarus of Schnecksville and Mary Rabold of Allentown.
Additional Lehigh team members include Colton Hanna of Breinigsville, Hannah Keberlein of Coplay, Bridget Rabold of Allentown, Alex Weisner of Lenhartsville, David Offord of Macungie, Annabelle Wells of Allentown and Tyler Cover of Whitehall.
In the honors division, Sadie Berger of Kutztown placed first, Marisa Berger of Kutztown placed second, Konnor Weisner of Lenhartsville placed third, and Jonas Geiger of Schnecksville placed fourth, all from Lehigh County 4-H.
Many educational and fun activities are offered by 4-H in Pennsylvania and are coordinated by Penn State Cooperative Extension through the U.S. Department of Agriculture. To find a local program, visit the Penn State Extension website at extension.psu.edu/programs/4-h.
4-H is a community of more than 6 million young people across America learning leadership, citizenship and life skills. Penn State Extension 4-H youth development educators in all 67 counties throughout the commonwealth administer local 4-H programs through nonformal education and outreach.