Samy earns trip to state championship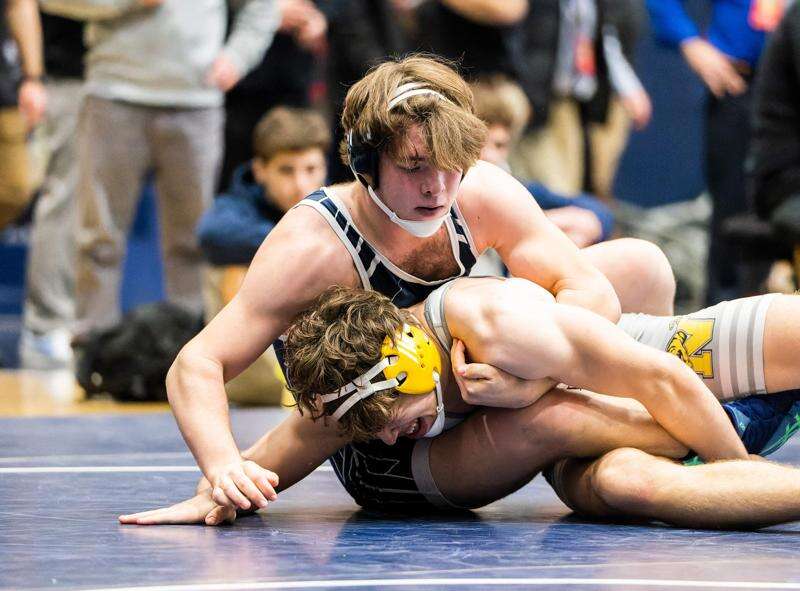 Published March 19. 2023 11:35AM
by Mike Haines and Patrick Matsinko mhaines@tnonline.com
No matter what happens this weekend in Hershey, John Samy knows he did everything he could to be prepared for it.
Whether the Salisbury senior finishes his outstanding career on the podium in Hershey this weekend, or if he doesn't quite make it to the top eight, it won't be for a lack of putting in the work it takes to get there.
"Hoping to get on that podium," he said after advancing through regionals for the second time in his career. "I gave it my all, hard work. Constantly eating right and working out, doing more than what I should is how I get on the podium.
"It helps out a lot. Do a little more each practice and by the end of the week I've done way more reps by doing that. I always try to do one more than what I'm supposed to do."
Samy, a senior, heads to Hershey this weekend as a three-time District 11 medalist and two-time regional placewinner. He entered this year's PIAA Southeast Regional Championships as a district runner-up for the third straight season.
Samy beat Hamburg's Daniel Brady by a 7-1 decision in the first round of regionals, then lost by a 15-0 technical fall to eventual 133-pound regional champ Charlie Robson (Conwell-Egan).
Samy battled back through the consolation bracket, beating Littlestown's Caden Rankin 4-1 then taking down Tanner McQueen of Notre Dame (Green Pond) 4-2 to reach the consolation semifinals, which also secured Samy a top-six finish and a berth into the state tournament.
A loss to Palisades' John Haubert sent Samy into the fifth-place match where he fell to Noah Doi (Camp Hill), 6-5.
Samy was ahead 4-0 early in the second period and held a 5-4 lead with time winding down in the final period. But Doi got a takedown with two seconds left in the bout to earn the win.
The sting from the loss was alleviated by the fact that Samy knows his final high school matches will be on the mat at Hershey's Giant Center.
"I've worked my whole life for it," he said after the regional tournament. "I'm pretty happy I got this medal. I gave up a lot to be in districts and regionals and now go to states. Hardest thing I've ever done (getting to Hershey)."
No matter what happens in his final tournament, Samy will walk away a winner because he'll learn from it. That's how he approaches every match and he'll continue to as long as he wrestles.
"My mom and dad or my brothers record all my matches," he said. "I go back and watch, win or lose. It's only a loss if I don't learn something from it. I'm always learning and getting better.
"Sometimes in my head I think I'm doing so well and I watch the film and I'm like 'that was garbage.' I re-watch and get advice from my coaches. Everything works out that way."
Samy was one of three Falcon wrestlers competing at regionals, which were held Friday and Saturday at Freedom High School.
Teammates Mitchell Miller (285) and Jakub Gloc (189) also made it to regionals, but came up just short of advancing.
Miller beat Northern Lebanon's Hayden Adams 5-2 in the first round before falling to Peyton Wentzel of Upper Dublin 4-1 in the second round.
Miller, a senior, took out Dartanyon DeLillo (Northwestern Lehigh) 5-2 in his first consolation bout, then fell to Justis Troutman (Tri Valley) in the consolation semifinals, sending Miller to the seventh-place match. The top six wrestlers advance to regionals.
Mitchell beat Middletown's Joseph Gassert 2-0 to take seventh place.
Gloc, a junior, also won his first bout, beating Berks Catholic's Timothy Saylor 6-1. After falling to eventual 189-pound champ Jakob Gilfoil (Bishop McDevitt) 6-2 in the quarterfinals, Gloc beat Aaron Kauffman of Springfield before falling to Jason Singer (Faith Christian) in his next bout to end his regional run.