EHS boys win gold; girls get silver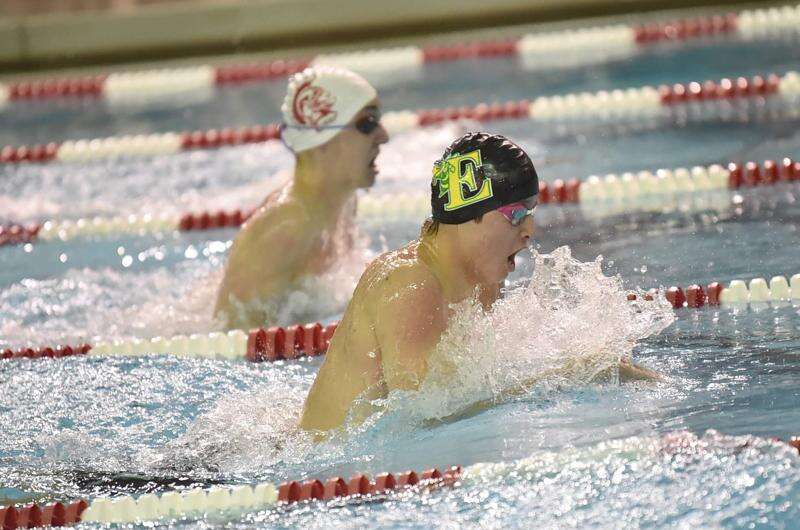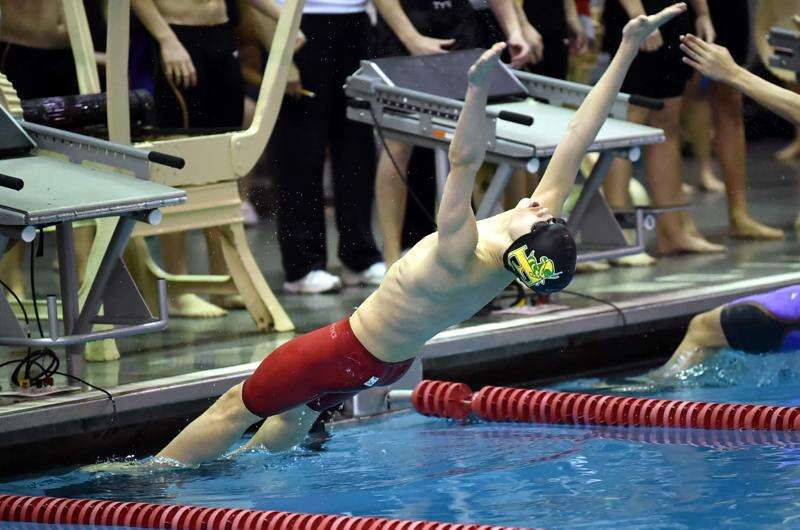 Published March 19. 2023 11:34AM
by Mike Haines mhaines@tnonline.com
The district championship swim meet can have a different purpose for each swimmer.
Some strive for titles. Others are hoping to advance to the state meet. While all of them are looking to swim their fastest when the lights are shining brightest.
For the senior swimmers each year the event marks their last high school meet in the Lehigh Valley, or their last altogether. For the younger swimmers it can serve as experience to build on in future seasons.
Emmaus had all of the above when the Hornets walked into Parkland's natatorium last Friday for this year's Class 3A District 11 Championships.
The Hornet boys team brought a large group of juniors and seniors looking to continue the program's streak of district titles, along with some freshmen and sophomores who will be the team's future.
The Emmaus girls team, also featuring swimmers from all four grades, headed into the meet looking challenge perennial champ Parkland for the district title.
Both EHS squads achieved their goals as the boys took this year's title and the girls team was within striking distance of Parkland heading into the meet's final event before taking the second-place trophy.
Golden Boys
The Hornet boys team took home 11 individual medals and three more in the relay events, including three gold medals en route to earning the team's 16th straight District 11 team title.
Emmaus scored 478 team points, beating second-place Nazareth (416) and third-place Parkland (329) by a comfortable margin, although closer than in some district meets in the recent past.
Emmaus had finished more than 100 points better than the second-place team in the previous three years.
"It's a good feeling," Hornet senior Andrew Taylor said of being part of his fourth straight team title. "This year we knew it would be closer than it has been in a while. The vibe on the team was immaculate. It was the best I had in my four years. It's a privilege to be part of this team."
Taylor, who qualified for districts all four years of high school, took home one gold medal and three silver ones last weekend.
He won the 100-yard freestyle Saturday in 47.93 seconds after taking second in the individual medley (1:59.14) on Friday. He was also part of two second-place relay teams as he anchored the 200 freestyle relay and led off the 400 free relay.
Sophomore Griffin Messenlehner also took home four medals last weekend. He won the 100-yard backstroke in 52.62 and took third in the butterfly at 52.55.
Messenlehner was also part of the first-place medley relay team along with teammates Ryan DeJohn, Ethan Ferris and Anderson Borst. They posted a time of 1:36.42. He was also on the second-place 400 freestyle relay team with Taylor, DeJohn and Logan Shriver.
"I'm actually really happy with how I swam," said Messenlehner, who made his second trip to districts in two years with the team. "I've been training really hard for this and it's nice to see all the hard work pay off.
"I think it was nice to have swam [at districts] last year. Last year I didn't have my best swims. I wasn't used to the experience. But having that experience was nice to see it payoff this year."
Shriver, a junior, also took home four medals. He earned second place in the 500 freestyle in 4:40.15 and was third in the 200 free in 1:44.53 in addition to both freestyle relay teams.
DeJohn, a senior, earned a medal with his fourth-place finish in the 100 free (48.55). He also swam on all three relay teams and picked up a medal for each, including the gold in medley relay.
Ferris, a senior, picked up a fourth-place medal in 100-yard butterfly (53.06) and swam to a seventh-place finish in the 50 free (22.25). Classmate Jack Reppert capped his high school career with two fourth-place individual finishes in 200 free (1:47.04) and 500 free (4:56.08).
Junior Logan Hartman earned a bronze medal with his third-place finish in the individual medley (1:59.63). He also placed fifth in backstroke in 55.42.
The Hornets' talent pool is deep
Some seasons a team title can be won with a group of five or six great swimmers, but this year with Nazareth nipping at the Hornets' heels, it took a quality swims throughout the boys line up.
The depth of the Emmaus team could be the factor that helped it continue it's streak of titles.
Freshmen Anderson Borst and Reid Lovett were both part of that depth advantage the Hornets held last weekend.
Borst was part of the winning medley relay team while also taking fifth place in the individual medley (2:02.72). He also finished sixth in butterfly at 54.33.
Lovett took fifth in the 500 freestyle (4:57.63) and ninth in 200 free (1:51.04).
Other Emmaus boys finishers at districts were junior Garrett Longbons fifth place in breaststroke (1:03.26) and sixth in 500 freestyle (4:59.43); senior John Niggel sixth in breaststroke (1:03.41) and 12th in 100 free (50.99); junior Connor Burnand sixth place in 200 free (1:48.23) and 10th place in 100 free (49.71); sophomore Julian Vlaeminck eighth in IM (2:06.39) and 14th in backstroke (58.21); senior Jack Engel ninth in butterfly (56.11) and 10th in 50 freestyle (22.86); and sophomore Jared Petre 12th in 50 freestyle (23.42) and 12th in backstroke (57.98).
Freshman Robbie Barnes finished 10th in the district diving championships a week before the swim championships were held.
Chasing the Trojans
The Emmaus girls team hoped to contend for this year's district title. While the Hornets knew Parkland would be tough to beat, they did everything they could do keep it close.
Heading into the meet's final event, the 400-yard freestyle relay, Parkland's lead was so slim that the Trojans needed to finish ahead of the Hornets in the event to take the title.
The Trojans won the meet with 426 points. Emmaus finished second at 409 with third-place Nazareth at 296.
"It was a goal all year to at least put yourself in a situation where you could compete," said Emmaus head coach Tim O'Connor. "Last week our three divers did a great job and got us some points. Our swimmers gave a valiant effort and got no breaks, but we have to make our own breaks too."
Maybe the most impressive thing about the second-place finish for the Emmaus girls team is that it accomplished the feat without a single district champ.
"That's all kids just trying their best to hang in there so I was really proud of them," O'Connor said.
Senior Catherine Sirignano capped her high school career by winning four medals at districts.
She took second place in backstroke (59.88) and third place in IM (2:13.48) while swimming on two medal-winning relay teams.
Sirignano joined teammates Gloria Klees, Hailey Reinhard and Natalie Mack for third place in the 200 free relay (1:40.75). She and teammates Klees, Morgan Gould and Mia Baldwin swam to fourth place in the 400 freestyle relay (3:43.88).
Morgan Gould, a senior, took home the bronze medal for third place in the 500 freestyle (5:20.65). She also picked up some team points with a seventh-place finish in the 200 free (2:01.79).
Gould joined teammates Sparaco, Sophia Harmon and Hailey Reinhard for second place in the medley relay (1:50.60)
Sparaco, a junior, picked up an individual medal with a fourth-place finish in backstroke (1:01.53). She also took ninth place in the IM (2:21.12).
Baldwin, a junior earned a medal in 200 freestyle with a fourth-place finish in 2:00.91. She also finished fifth in 500 free (5:27.61).
Mack, a senior, scored points in two individual events in her final district meet. She took sixth in backstroke (1:03.57) and was sixth in butterfly (1:03.57).
Klees, a sophomore, was sixth in two individual events, 200 free (2:01.13) and 100 free (55.39).
Reinhard, a senior, finished sixth in IM (2:15.76) and ninth in 100 free (56.36).
Harmon, a freshman, was sixth in butterfly (1:01.05) and eighth in breaststroke (1:12.07). Junior Georgia Magditch took seventh in the breaststroke (1:11.43) and ninth in butterfly (1:03.77). Freshman Gabrielle Antunes took seventh place in the 500 free at 5:32.97 and 10th in 200 free at 2:06.48.
Other Emmaus girls swimmers to finish events at districts were junior Mandy Barnes 11th in 500 free (5:58.96); junior Jillian Fidelman 11th in 50 free (26.50); freshman Emme Pechulis 11th in 100 free (57.24); freshman Druthi Reddy 11th in breaststroke (1:14.04) and 13th in 50 free (27.02); sophomore Veronica Karboski 12th in 50 free (26.57) and 14th in 100 free (1:00.01); and junior Harper Daly 15th in breaststroke (1:16.75).
Three Hornet divers competed in their district championship a week earlier and all three finished in the top 16 to score team points. Keira Gilboy (eighth), Elle Bagley (ninth) and Sara Christine (13th) competed in diving championships.
All district champion swimmers and relay teams advance to the state championship meet, scheduled for March 17-18 at Bucknell University's Kinney Natatorium.
Other swimmers could also qualify for states based on their times in comparison to other times from district championship meets across the state.