Amorim swims to D-11 gold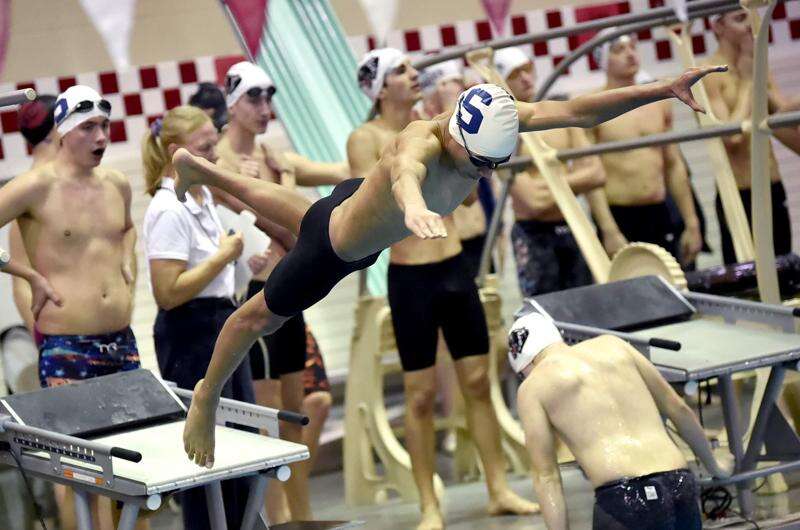 Published March 19. 2023 11:35AM
by MIKE HAINES and EMMETT MCCALL tnsports@tnonline.com
The District 11 Swimming Championships can be an intimidating experience for first-time qualifiers. But two Salisbury freshmen refused to let that pressure get to them last Friday and Saturday at Parkland High School.
Olivia Amorim earned a pair of individual medals in her first trip to districts, taking first place in the individual medley and third in the 100-yard freestyle. Classmate Phoebe Ballek swam to a second-place finish in the 200-yard freestyle and fourth place in the 500 freestyle. Both swimmers qualified for the state championship meet in both events.
Amorim, a year-round club swimmer, battled injuries last year but was ready to go for her first year of high school swimming. She not only coped with the pressure of districts, but she thrived on it.
"I'm very competitive," Amorim said, "so the environment and being tapered and suited and racing other people my speed, it was nice."
In two weeks she will compete for a state title at Bucknell University's Kinney Natatorium.
"I'm a freshman so I'm just going to use it as a learning experience," she said. "Because I still have all my other years of high school."
Ballek also has a few years of experience swimming for a club team. But she said her first year as part of the high school team has brought her a newfound love of the sport.
"Before high school I was kind of discouraged with swimming in general, but this kind of reinvigorated how much I love swimming and the team aspect of it. I used to swim for club and it wasn't a team sport, it was more individual."
While the freshman took the spotlight, there were also some Falcon seniors who capped their high school swimming careers last weekend.
Seniors Ella DeFazio (12th in breaststroke) and Katie Updegrove (15th in butterfly) competed in their final meet for the Salisbury girls team, while classmates Jackson Kramp (7th in breaststroke), Noah Kichline (9th in 50 free, 10th in 100 free) and Gavin Berger (12th in 50 free, 13th in 100 free) finished outstanding careers as part of the Salisbury boys team.
Sophomore Cameron Kubinsky scored the most team points for the Falcon boys at districts, finishing fifth in the individual medley, one place away from earning a medal. He also swam to an 8th-place finish in the backstroke.
Two Relays earn medals
Salisbury swim coach Mackenzie Sikora called the 400-yard freestyle relay her favorite event.
Both the Falcons' boys and girls teams gave Sikora even more reason to enjoy the event.
Both teams outswam their seeds to capture fourth-place finishes and grab bronze medals.
The girls team of Ballek, junior Allison Beckage, DeFazio and Amorim turned in a time of 3:58.26 to take more than 11 seconds off their seed time. Salisbury finished behind Allentown Central Catholic (3:48.91, Saucon Valley (3:52.21) and Pottsville (3:57.61). Salisbury entered the meet seeded 5th.
"I thought getting a medal was possible, but I knew all four girls would have to swim great splits -- and that's exactly what they did," said Sikora. "All four of our girls swam a personal best. To take 11 seconds off our season best was incredible.
"It's also a really young team, so I'm thrilled with how they swam and with our result. Phoebe and Olivia are just freshman, and Allison is also back next year. So not only am I excited about today's performance, but I'm excited about the future."
Sikora, who said she preaches to her swimmers all the time about the excitement and team bonding the 400 relay creates, got more good news just minutes after the girls completed their race, when the Salisbury boys duplicated the excitement.
The team of Noah Kichline, Cameron Kubinsky, Jackson Kramp and Gavin Berger posted a time of 3:42.62 to take home fourth place. The Falcons finished behind Pottsville (3:27.83), Moravian Academy (3:33.11) and Tamaqua (3:38.93).
Like the girls, the boys were also seeded fifth coming in and significantly lowered their seed time, taking over 14 seconds off their time.
"Absolutely our best times of the season," said Sikora. "All four boys had splits under a minute and three of the four had season-best times.
"It was definitely a goal of ours to improve our seeding and get a medal, but just like the girls, we knew for it to happen everyone needed a great swim -- and that's what we got from them."
Unlike the youthful girls team, the boys team was composed primarily of seniors with Kubinsky the only underclassman.
"I'm so happy for our kids, especially our seniors," said Sikora. "They put in a lot of time and worked really hard to get to this point. So it's a nice reward to go out with a medal in their final event."
Salisbury had teams qualify for districts in all six relay events last weekend. In each one, the girls and boys teams matched finishes.
The foursome of Ballek, DeFazio, Amorim and sophomore Amelia Swoyer took sixth place in the 200-yard freestyle relay, while their boys counterparts (Kichline, Kubinsky, Kramp and Berger) also finished sixth in the event.
In the meet's opening event, the 200-yard medley relay, freshmen Meredith Kelley, Gwyn DeFazio and Sarah Beckage joined Updegrove to swim to ninth place. The Salisbury boys medley relay also took ninth with the team of Kramp, junior Charlie Morton, freshman Juhasz Emerson and sophomore Pablo Reyes.