Albanese, Gross cap outstanding careers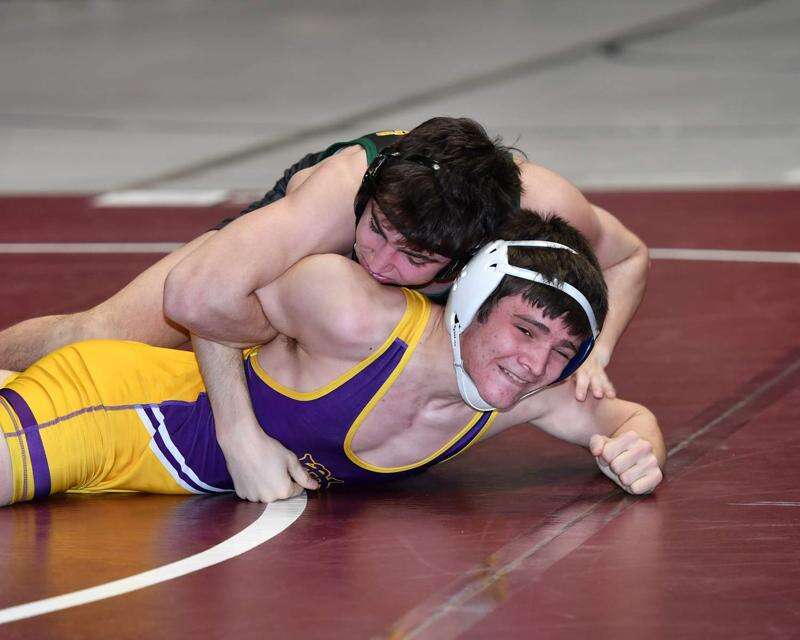 Published March 19. 2023 11:34AM
by Mike Haines mhaines@tnonline.com
Two Hornet senior wrestlers finished outstanding high school careers last weekend at the PIAA Class 3A Northeast Regional Championships, held Friday and Saturday at Liberty High School.
Marco Albanese and Jake Gross both qualified for regionals but came up short of advancing to this weekend's state championship meet.
Gross came just two wins away from advancing last weekend.
Gross (215) dropped his first bout at regionals, a 6-5 decision to eventual fifth-place finisher Hank Baronowski (Wallenpaupak). Gross won a pair of consolation bouts before falling one round short of the consolation semifinal.
"I was just telling him just what a successful high school career he had," said Emmaus coach Jim Best. "That COVID year that these kids that are now seniors had two years ago, that threw a real hiccup into their development as wrestlers. He worked hard to overcome some lost time that year. He really put together an outstanding senior year."
Gross, who wrestled just one match during the 2020-21 season posted a 14-19 record as a junior. He improved on that by leaps and bounds with a 29-11 senior year.
At regionals, Gross won his first wrestleback match by a 12-3 score over Central High's Ronald Cordero. He then beat Pittston's Brody Spindler 2-1 in his next match.
Gross' tournament came to an end in the consolation quarterfinals with a 3-1 loss to eventual third-place finisher Brandon Steihler of Pocono Mountain West.
Gross is outweighed by most of his opponents, but he moved up to 215 to help his team and he stayed there in the postseason.
"He's really a 189-pounder," said Best. "But as the season went on as a team we were better off with him at 215. I asked many times, even though he was weighing in at 189, would he be willing to go up to 215. He never balked at it. He never complained. He just did it and went out there and did his job.
"Going into the postseason we thought 215 is probably the best weight for him. That's where he had been wrestling and having success."
Albanese, a district runner up a week earlier, battled an injury at regionals and was unable to reach his goals for the season.
A top seed for districts as a junior, Albanese finished fifth and failed to advance to regionals last year.
"That really lit a fire in him," said Best. "He did everything in his control in the offseason and into this season to make sure that he was going to get out to that state tournament. That was his goal – to get out there and get on the podium. When you dislocate your elbow that's not within your control."
Albanese (145) won his first match at regionals, beating Sean McLoone of Roman Catholic by technical fall, 17-2. He fell 2-0 to Pottsville's Dalton Monger, who went on to take fourth place. The top four finishers in each weight class advance to this weekend's state championships.
Albanese's tournament came to an end by an injury default loss to Luis DeSilva (Frankford).
"Marco Albanese is the ultimate team player, a quiet leader in the room," said Best. "He does everything the right way and I'm not just talking about wrestling, but outside of the wrestling room being a good student and just being a good person.
"It's heartbreaking to see [him not advance] as a coach. But there is no one more heartbroken than him sitting in the stands watching somebody that he beat going to the regional final."
Albanese won 86 matches over his career, including a 29-9 senior season after going 28-6 as a junior. The shortened 2020-21 season when he was 8-2 likely kept him from getting to triple digits in career wins.
"Our younger guys and even our other seniors looked at Marco and the work ethic he brought to the practice room and said that's the way we need to do it if we want to have success," Best said.
Those two seniors and their classmates helped lead the Hornets to a 14-4 record and an appearance at the district team tournament.
"I think we overachieved this season," Best said. "We lost eight seniors last year and they were contributing seniors, meaning they scored points in the varsity line up. Even with the guys we had returning, we only had two that had winning records last year – Marco Albanese and Jesse Scott. As coaches we looked at that and thought we might be in for a long season.
"We had a little bit of a rough start, 5-3 coming out of December. Went on a 9-1 stretch in January and February and got ourselves qualified for districts. That was a testament to the hard work our guys were willing to put in and a belief in our process. I thought generally looking back on it maybe we didn't attain that status that we want Emmaus to be at, the top four in the district, but we made strides to get there."