Three Falcons reach regionals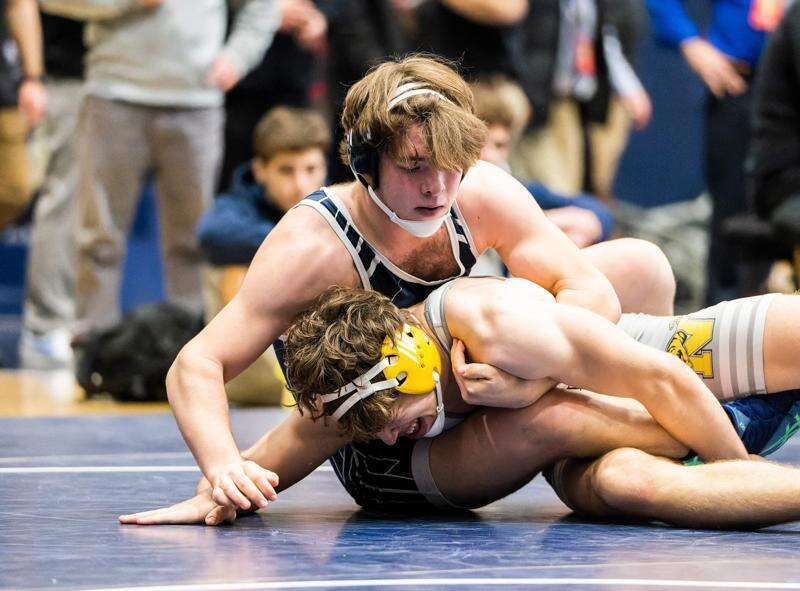 Published March 09. 2023 05:31AM
by Mike Haines mhaines@tnonline.com
Three Salisbury wrestlers earned medals at last weekend's District 11 Class 2A Championships.
Senior John Samy took home his third straight silver medal and regional tournament berth. Fellow senior Mitchell Miller earned his second straight trip to regionals as he also took home a silver medal. Junior Jakub Gloc took third place to earn his first trip to regionals after coming one win away last season.
Samy (133 pounds) won three straight bouts to reach his third straight district title match. He dropped a 5-1 decision to Palisades' John Haubert in the title bout for his third straight district runner-up finish.
"I executed my game plan and it didn't work out," he said. "But I'm proud of what I've done over the past three years - three-time district runner-up in arguably the hardest district in the country.
"Took it one match at a time. Got to finals and tried to keep the pace up. I left it all out there. I'm not upset. It's OK. I'm so happy I pushed myself and kept the pace up."
Samy is looking to advance through regionals for the second time in his career. He reached the super-regional round as a sophomore during a postseason that was drastically altered because of the pandemic. Then last season he came one win short of getting out of regionals.
His loss in Saturday's title bout could be the spark he needs to make a run at regionals and earn a trip to Hershey for the state championships.
"It definitely motivates me," he said. "It lights a fire under my butt. I embrace challenges. I wish I would have gotten the win, but I learned from the loss and it fuels me. It's going to fire me up for regionals. I want to make it to the state tournament one more time."
Miller and Gloc are both students at Central Catholic High School wrestling at Salisbury as part of a cooperative agreement.
Miller returns to the Southeast Regional Championships this year after qualifying as a Viking last year with a fourth-place finish at 215. This year he's wrestling at 285 while weighing in at 230.
Miller won two bouts last weekend to reach the district title match, where Aiden Compton (Notre Dame Green Pond) pinned him in the second period.
"That's a true heavyweight there," Mitchell said of Compton. "Me at 230, I gotta be quicker than him. I don't have strength on my side but I have speed."
Miller will look to cap his wrestling career with a trip to the state championships March 9-11 at Hershey's Giant Center. The top six finisher at regionals earn a spot in Hershey.
"It's going to be a lot bigger boys so I have to get quicker on my feet," he said. "Hopefully it turns out good next weekend."
Gloc just missed advancing through districts last season when he finished fifth at 189. This season he pinned his first two opponents before falling to eventual champ Jacob Jones (Saucon Valley) in the semifinals.
After a win in a consolation bout, Gloc pinned Northwestern Lehigh's Lucas Miller in the second period of Saturday's third-place match.
Those three performances helped Salisbury finish ninth as a team at districts, which were held at Freedom and Liberty high schools last Friday and Saturday.
District 11 Wrestling
Championships
Salisbury Results
Jaxon McGuckin - 114
Colin Seefeldt (Blue Mountain) pinned McGuckin in :46
Tevin Walsh (Panther Valley) dec. McGuckin 10-9
Edwin Serrano - 127
Wyatt Leitzel (Tri Valley) pinned Serrano in 5:43
David M'Balla (Wilson) major dec. Serrano in 3:43
John Samy - 133
Samy pinned Racer McGuire (Panther Valley) in :38
Samy dec. Rider Heckman (Wilson), 3-0
Samy dec. Hunter Troutman (Tri ValleY0, 6-0
Championship match: John Haubert (Palisades) dec. Samy, 5-1
Jordan Tocci-Wachter - 139
James Weikel (North Schuylkill) pinned Tocci-Wachter in 1:10
Tocci Wachter tech. fall Brody Boyce (Tamaqua), 17-2 in 4:21
Nicholas Zeigenfuss (Lehighton) by fft. over Tocci-Wachter
Mason Holva - 145
Bryce Smith (Palmerton) pinned Holva in 3:09
Holva dec. Giovanni Fleming (Panther Valley), 9-2
Holva by fft. over Zander McElhenny (North Schuylkill)
Gavin Fehr (Catasauqua) pinned Holva in 2:19
Nathaniel Tone - 152
Chase Stephen (Tri Valley) pinned Tone in 2:31
Tone pinned Braden Bartholomew (Catasauqua) in 3:43
Jacob Schlier (Tamaqua) tech. fall Tone, 16-0 in 3:58
Toby Linn - 160
Linn pinned Lane Frankenfield (Palisades) in :31
Jared Rohn (Saucon Valley) pinned Linn in 2:19
Kyler Quick (Mahanoy Area) pinned Linn in 1:57
Jacob Watson - 172
Jacob Hehn (Tamaqua) dec. Watson, 8-2
Watson dec. Juelz Veras Cosume (Executive Ed. Acad.), 4-3
Cael Quick (Mahanoy Area) dec. Watson, 3-1
Jakub Gloc - 189
Gloc pinned Tiparth Soneja (Tamaqua) in :44
Gloc pinned Gian Greggo (Palisades) in 5:21
Jacob Jones (Saucon Valley) pinned Gloc in 1:02
Gloc dec. Connor Smalley (Notre Dame GP), 9-7
Third-place match: Gloc pinned Lucas Miller (Northwestern) in 3:20
Sam Krauss - 215
Krauss dec. Michael Culver (Pen Argyl), 4-2
Tyler Pfizenmayer (Saucon Valley) pinned Krauss in 1:01
Wyatt Sherer (Lehighton) pinned Krauss in 2:01
Mitchell Miller - 285
Miller pinned Kevaughn Simpson (Wilson) in 3:25
Miller dec. Justis Troutman (Tri Valley), 3-1 (SV)
Aiden Compton (Notre Dame GP) pinned Miller in 3:07
Class 2A
Team scores
(top 10 plus other locals)
1. Notre Dame Green Pond 324, 2. Saucon Valley 212.5, 3. North Schuylkill 111, 4. Tri Valley 107.5, 5. Lehighton 101.5, 6. Blue Mountain 89, 7. Northwestern 84, 8. Palisades 79.5, 9. Salisbury 78.5, 10. Catasauqua 74, 13. Palmerton 58, 16 (tie). Jim Thorpe and Tamaqua 44.5, 20. Northern Lehigh 21, 21. Panther Valley 5.
First Place
107 - Tanner Berkenstock (Notre Dame GP) dec. Santino Micci (Wilson), 4-3; 114 - Ayden Smith (Notre Dame GP) dec. Cole Hubert (Saucon Valley), 8-1; 121 - Aiden Grogg (Saucon Valley) dec. Cooper Feltman (Notre Dame GP), 3-2; 127 - Collin Ramsay (Pen Argyl) pinned Gavyn Kelton (Notre Dame GP) in 2:50; 133 - John Haubert (Palisades) dec. John Samy (Salisbury), 5-1; 139 - Bryson Vaughn (Notre Dame GP) dec. Jackson Albert (Saucon Valley), 6-0; 145 - Vincent Bouzakis (Notre Dame GP) maj. dec. Travis Riefenstahl (Saucon Valley), 16-3; 152 - Liam Scrivanich (Saucon Valley) dec. Keegan Ramsay (Notre Dame GP), 3-2 (TB2); 160 - Luke Fugazzotto (Northwestern) won by forfeit over Jared Rohn (Saucon Valley); 172 - Holden Garcia (Notre Dame GP) pinned Dalton Clymer (Northwestern) in 3:34; 189 - Jacob Jones (Saucon Valley) dec. Jake Scheib (Tri Valley), 7-4; 215 - Jared Blobe (Notre Dame GP) dec. Niko Carestia (Schuylkill Haven), 8-2; 285
- Aiden Compton (Notre Dame GP) pinned Mitchell Miller (Salisbury) in 3:07
Third Place
107 - Noah Gilgore (North Schuylkill) major dec. Cole Fry (Blue Mountain), 9-0; 114 - Aidan Gruber (Lehighton) dec. Giovanni Dibiagio (Wilson), 9-4; 121 - Kaden Casey (North Schuylkill) major dec. Mikhail Hartranft (Catasauqua), 9-0; 127 - Ryan Fisher (Mahanoy) pinned Nathan Sterner (North Schuylkill) in 1:33; 133 - Tanner Mcqueen (Notre Dame GP) dec. Hunter Troutman (Tri Valley), 5-0 (SV); 139 - Owen Woll (Blue Mountain) maj. dec. Derek King (Palmerton), 9-0; 145 - Gavin Fehr (Catasauqua) dec. Austin Martin (Pine Grove), 6-0; 152 - Daniel Lucykanish (Palmerton) pinned Jacob Ferguson (Lehighton) in 0:26; 160 - Joseph Lapenna (Notre Dame GP) major dec. Ricky Halford (North Schuylkill), 13-1; 172 - Daniel Haubert (Palisades) dec. Bradley Renninger (Blue Mountain), 2-1; 189 - Jakub Gloc (Salisbury) pinned Lucas Miller (Northwestern) in 3:20; 215 - Chad Beller (Catasauqua) won by forfeit over Tyler Pfizenmayer (Saucon Valley); 285
- Justis Troutman (Tri Valley) dec. Reese Balk (Lehighton), 2-1
Fifth Place
107 - Ethan Nothstein (Lehighton) dec. Brock Schneiderwind (Palisades), 4-1; 114 - Colin Seefeldt (Blue Mountain) pinned Steven Korte (Jim Thorpe) in 0:49; 121 - Gabe Erbe (Tamaqua) dec. Aiden Knorr (Pen Argyl), 3-0; 127 - David M`balla (Wilson) dec. Blake Muffley (Lehighton), 2-1; 133 - Ridge Snyder (Jim Thorpe) pinned Dillon Lombardi (Palmerton) in 4:02; 139 - Logan Winters (Palisades) pinned Jimmy Weikel (North Schuylkill) in 3:34; 145 - Andrew Zimmerman (Schuylkill Haven) pinned Richard Kenna (Jim Thorpe) in 1:51; 152 - Cade Schneck (Pine Grove) pinned Chase Stephen (Tri Valley) in 1:26; 160 - Bradley Whalen (Tamaqua) pinned Kyler Quick (Mahanoy) in 3:32; 172 - Mason Beckowski (Saucon Valley) pinned Chase Moffit (Northern Lehigh) in 0:38; 189 - Connor Smalley (Notre Dame GP) dec. Aiden Myers (Schuylkill Haven), 5-1; 215 - Braxton Schwartz (Tri Valley) dec. Wyatt Sherer (Lehighton), 6-2; 285
- Dartanyon DeLillo (Northwestern) dec. Yerrick Tlacuatl (North Schuylkill), 3-1
Semifinals
107
- Tanner Berkenstock (Notre Dame GP) pinned Cole Fry (Blue Mountain) in 2:43; Santino Micci (Wilson) maj. dec. Ethan Nothstein (Lehighton), 14-0
114
- Ayden Smith (Notre Dame GP) tech. fall Giovanni Dibiagio (Wilson), 18-3 (5:24); Cole Hubert (Saucon Valley) maj. dec. Aidan Gruber (Lehighton), 13-1
121
- Cooper Feltman (Notre Dame GP) pinned Gabe Erbe (Tamaqua) in 2:51; Aiden Grogg (Saucon Valley) pinned Mikhail Hartranft (Catasauqua) in 3:47
127
- Gavyn Kelton (Notre Dame GP) pinned Ryan Fisher (Mahanoy) in 3:18; Collin Ramsay (Pen Argyl) pinned Nathan Sterner (North Schuylkill) in 1:03
133
- John Haubert (Palisades) dec. Tanner Mcqueen (Notre Dame GP), 5-0; John Samy (Salisbury) dec. Hunter Troutman (Tri Valley), 6-0
139
- Bryson Vaughn (Notre Dame GP) pinned Derek King (Palmerton) in 1:46; Jackson Albert (Saucon Valley) maj. dec. Owen Woll (Blue Mountain), 15-3
145
- Vincent Bouzakis (Notre Dame GP) pinned Austin Martin (Pine Grove) in 2:37; Travis Riefenstahl (Saucon Valley) major dec. Andrew Zimmerman (Schuylkill Haven), 15-4
152
- Keegan Ramsay (Notre Dame GP) pinned Jacob Ferguson (Lehighton) in 1:22; Liam Scrivanich (Saucon Valley) tech, fall Cade Schneck (Pine Grove), 16-0 (1:43)
160
- Luke Fugazzotto (Northwestern) pinned Joseph Lapenna (Notre Dame GP) in 5:21; Jared Rohn (Saucon Valley) dec. Ricky Halford (North Schuylkill), 12-5
172
- Holden Garcia (Notre Dame GP) tech fall Bradley Renninger (Blue Mountain), 21-6 (5:19); Dalton Clymer (Northwestern) dec. Daniel Haubert (Palisades), 6-2
189
- Jacob Jones (Saucon Valley) pinned Jakub Gloc (Salisbury) in 1:02; Jake Scheib (Tri Valley) pinned Lucas Miller (Northwestern) in 3:18
215
- Jared Blobe (Notre Dame GP) dec. Chad Beller (Catasauqua), 7-3; Niko Carestia (Schuylkill Haven) dec, Tyler Pfizenmayer (Saucon Valley), 5-3
285
- Aiden Compton (Notre Dame GP) pinned Reese Balk (Lehighton) in 3:18; Mitchell Miller (Salisbury) dec. Justis Troutman (Tri Valley), 3-1 (SV)