Divers compete in D-11 Meet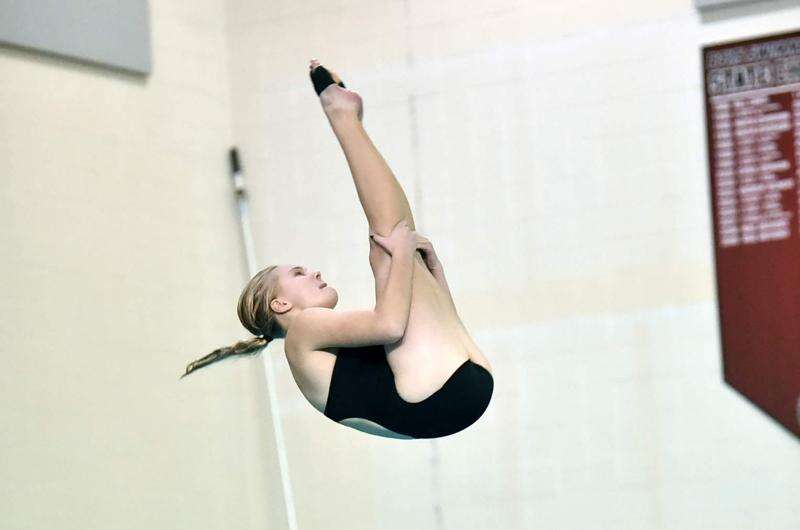 Published March 09. 2023 05:32AM
by CHUCK HIXSON Special to the Press
Three members of the Emmaus girls diving team competed in districts Saturday at Emmaus High School with two of them finishing among the top 10 divers in District 11.
Junior Keira Gilboy finished eighth and Elle Bagley placed ninth, while Sara Christine finished in 13th place at the meet.
Gilboy got off to a good start with her best dive of the day coming in the second round when she scored a 30.60 with a forward 1 ½ somersault pike that left her in seventh place. After suffering several injuries in gymnastics, Gilboy decided to switch to diving, which would allow her to use some skills she had picked up along the way but with less chance of injury.
"I started diving in seventh grade and then started working with (Emmaus diving coach Frank Donnelly) in eighth grade," said Gilboy. "We have a small team and some good young divers, so I think the future is bright for us to keep getting better."
Throughout the meet, Bagley, the freshman member of the team, was keeping pace with Gilboy. The largest margin that Gilboy had over her teammate in the six-dive meet came after round four when the junior diver held a 5.20-point advantage over Bagley. In round five, Bagley closed the gap with a score of 23.80 on a back somersault, while Gilboy notched a 20.40 with the same dive.
"I felt pretty good about how I did today," said Bagley after the meet. "I stuck to the best dives that I have done in practice and was happy with how I did those dives. I feel that I need to pick up more confidence and perfect some of my dives."
Gilboy finished with a score of 145.90, while Bagley finished at 144.95. Christine, the third member of the team, finished in 13th place with a final score of 134.80.
Keller Pooley of Liberty won the 3A competition with a final score of 233.10, finishing ahead of Easton's Madison Cunard, who came in with a score of 217.90. Hayden Taylor (Freedom), Bella Kish (Northampton), and Lucia Lombardo (Easton) rounded out the top five. Both Pooley and Cunard will compete at states, which will be held at Bucknell University.
This year's event was reduced from 11 dives to a six-dive meet as part of a pilot program by the PIAA. The number of student-athletes competing in diving has been falling over the past few years and officials are hoping that by reducing the number of dives that are needed to qualify for the meet, it will spur interest and help to bring the number of competitors to higher levels.
The reaction to the change was mixed. Some believe that it puts too much emphasis on each dive because one bad dive out of six can take a diver out of the running for a medal. With the 11-dive format, divers have an opportunity to make up for one missed dive.
"I kind of enjoyed the shorter format," said Gilboy. "You can focus on a fewer number of dives and pick your best dives rather than having to work on a lot of dives to be ready for the competition."
The Hornet's Robert Barnes also earned a top 10 finish at districts. The freshman posted a score of 147.8 in his first district championship meet.
The diving competition is the opener of the District 11 Swimming and Diving Championships, which continue this weekend with the swimming portion of the competition at Parkland High School.
GIRLS
Top 5
Class 2A
1. Anna Petke (Bethlehem Catholic) 219.85, 2. Mia Jones (Tamaqua) 166.5, 3. Joyce Burian (North Schuylkill) 156.3, 4. Kamryn Moran (Blue Mountain) 155.85, 5. Jamie Love (North Schuylkill) 137.35
Class 3A
1. Keller Pooley (Liberty) 233.1, 2. Madison Cunard (Easton) 217.9, 3. Hayden Taylor (Freedom), 4. Isabella Kish (Northampton), 5. Lucia Lombardo (Easton) 170.85, 8. Keira Gilboy (Emmaus) 145.9, 9. Elle Bagley (Emmaus) 144.95, 13. Sara Christine (Emmaus) 134.8.
BOYS
Top 5
Class 2A
1. James Heinze (Central Catholic) 228.05, 2. Adam Klinger (Pottsville) 134.4, 3. Vinny Valentine (Tamaqua).
Class 3A
1. Ryan Beltrame (Parkland) 226.4, 2. Boden Burkhart (Northampton) 216.7, 3. Harry Epstein (Parkland) 192.8, 4. Andrew Szeplaki (Northampton) 192.4, 5. Ian Berry (Easton) 185.5, 6. Bradley Kunz (Parkland) 178.1, 10. Robert Barnes (Emmaus) 147.8.