Albanese, Gross reach regional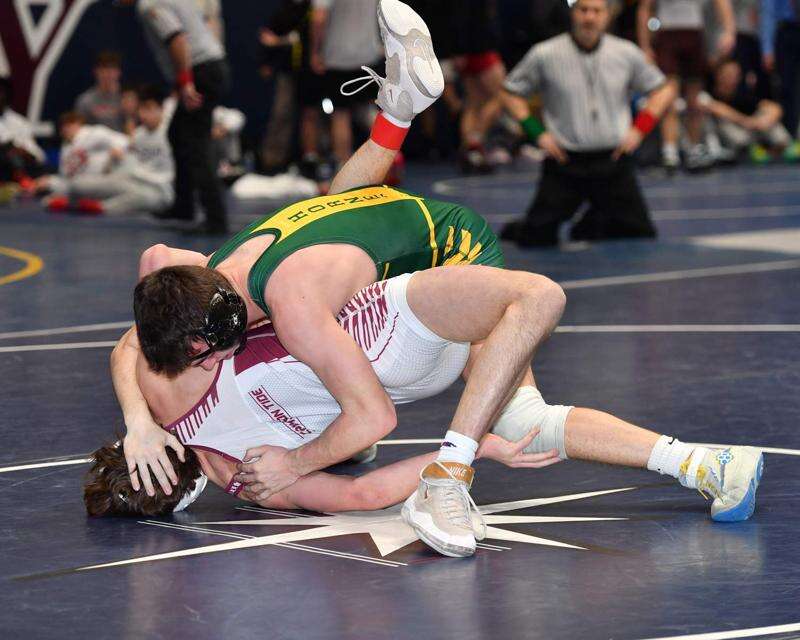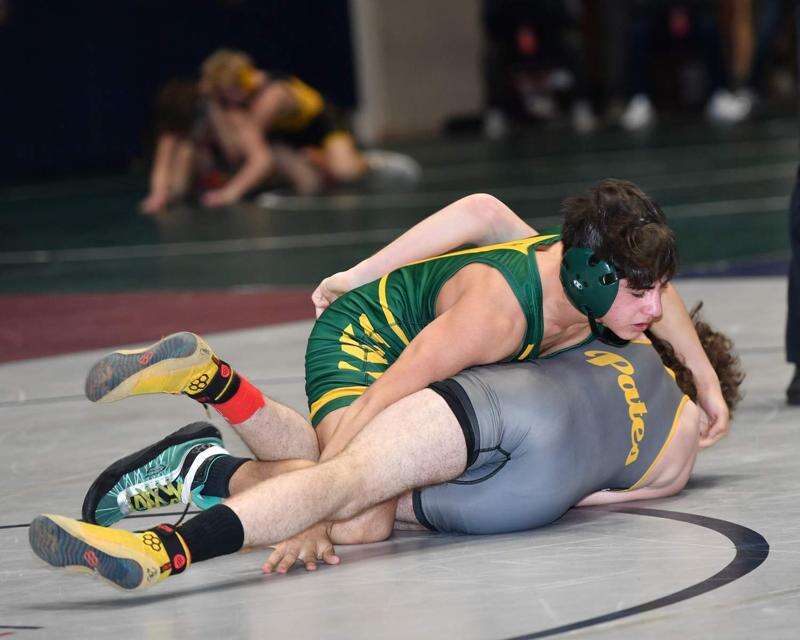 Published March 09. 2023 05:32AM
by STEVE ALTHOUSE Special to the Press
Two Emmaus wrestlers advanced from last weekend's District 11 Class 3A Championships and will move on to this weekend's regional championships.
Marco Albanese took second place at districts, which were held last Friday and Saturday at Liberty High School.
Albanese pinned his first three opponents in the 145-pound weight class before falling to Bethlehem Catholic's Charlie Scanlan in the title bout by a 6-2 decision.
The win moves the Hornet senior into the Northeast Regional Championships, which will be held at Liberty this weekend.
Albanese earned his place at regionals with his semifinal round pin of Pottsville's Dalton Moyer. That win marked his second straight third-period pin in the tournament. That win put him in the finals and ensured he would finish higher than his sixth-place result as a junior, which left him one place away from moving on.
Now he will try to finish in the top six places at regionals to secure a trip to Hershey for the March 9-11 state championship tournament.
Fellow Hornet senior Jake Gross will join Albanese at regionals.
Gross won his first two bouts at 215 before falling to top seed and eventual champ Sonny Sasso (Nazareth) in the semifinal round. A loss in his first consolation bout put Gross in the fifth-place match against Whitehall's James Hopkins, who he had beaten 5-3 in the quarterfinals.
Gross dispatched of Hopkins by an 8-2 decision to earn fifth place and the spot in regionals.
Two other Emmaus wrestlers came one win away from moving on to regionals.
Sophomore Jesse Scott (152) lost his second-round match to top seed and eventual champ Dagen Condomitti of Northampton.
Scott bounced back with two wins before a consolation semifinal loss put him in the fifth-place match, where he fell to Easton's James Geiger, 7-1.
In what seems to be a recurring theme, Hornet sophomore Reilly Bechtel lost his second-round bout to top seed and eventual champ Dominic Wheatley (Nazareth). Bechtel then won his next two matches to earn a place in the fifth-place match.
Becthel was pinned in the final minute of the fifth-place match.
The Hornets finished 10th in the team standings at districts.
Both Bechtel and Scott will be District 11 alternates for regionals in the event one of the five qualifiers cannot wrestle in the tournament.
District 11 Class 3A Wrestling Championships
Emmaus Results
107 - Jackson Max
Hunter Brown (Stroudsburg) pinned Max in 2:31
Max pinned Manny Vicente (Allen) in 1:16
Eli Russ (Parkland) maj. dec. Max, 14-3
114 - Aiden Bayard
Zachary Berwick (Stroudsburg) pinned Bayard in 1:20
Michael Pomilio (Pleasant Valley) pinned Bayard in 1:49
127 - Logan Armstrong
Nolan Schmeckenbecher (Whitehall) dec. Armstrong, 3-1
Armstrong pinned Elden Hernandez (East Stroudsburg South) in 1:44
Jack Evans (Liberty) maj. dec. Armstrong, 12-2
133 - Chancellor Henry
Henry pinned Elijah Williams (Allen) in 5:20
Cael McIntyre (Bethlehem Catholic) pinned Henry in 2:32
Michael Fuller (Bangor) tech. fall Henry, 23-6
139 - Xayden Sallit
Sean Steckert (So. Lehigh) dec. Sallit, 5-4
Sallit pinned Jean Rosa (Allen) in 4:52
Sallit pinned Keenan Ray (Freedom) in 4:19
Adrian DeLeon (Liberty) dec. Sallit, 9-2
145 - Marco Albanese
Albanese pinned Edwin Sanchez (Dieruff) in 1:07
Albanese pinned Devlin Chevere (Northampton) in 4:52
Albanese pinned Dalton Monger (Pottsville) in 4:31
Championship match: Charlie Scanlan (Bethlehem Catholic) dec. Albanese, 6-2
152 - Jesse Scott
Scott dec. Adim Ogbolu (Stroudsburg), 9-4
Dagen Condomitti (Northampton) tech. fall Scott, 20-5
Scott maj. dec. Miles Turner (Freedom), 9-1
Scott dec. Juan Moya (Parkland), 7-4
Parrish McFarland (Pottsville) pinned Scott in 2:20
Fifth-place match: James Geiger (Easton) dec. Scott, 7-1
160 - Sam Rainford
Daryl Meeker (East Stroudsburg South) pinned Rainford in 5:40
172 - Reilly Bechtel (Emmaus)
Bechtel maj. dec. Cade Sawyer (Southern Lehigh), 14-5
Dominic Wheatley (Nazareth) pinned Bechtel in 1:53
Bechtel pinned Jack Kocher (Whitehall) in 1:48
Bechtel dec. Christian Logan (Stroudsburg), 8-5
Fifth-place match: Jayden Hazzard (Easton) pinned Bechtel in 4:32
189 - Massimo Tranguch
Adrian Gacek (Parkland) pinned Tranguch in 1:03
Tranguch dec. Sam Woolverton (Bangor), 5-2
Tranguch dec. Reilly Davis (Pocono Mountain West), 4-0
James Deluise (Bethlehem Catholic) pinned Tranguch in 3:56
215 - Jake Gross
Gross pinned Lukas McNamara (Pottsville)in 1:25
Gross dec. James Hopkins (Whitehall), 5-3
Sonny Sasso (Nazareth) pinned Gross in 1:02
Brandon Stiehler (Pocono Mountain West) dec. Gross, 5-3
Fifth-place match: Gross dec. Hopkins, 8-2
285 - EJ Boney
Boney maj. dec. Drew Seaman (Pottsville), 10-0
Sean Kinney (Nazareth) pinned Boney in 1:06
Boney dec. Daniel Schiffert (Freedom), 7-5
Anthony Embardino (Easton) dec. Boney, 1-0
Team scores
1. Bethlehem Catholic (BC) 315.5, 2. Nazareth (Naz) 273, 3. Easton (Ea) 196.5, 4. Northampton (Nor) 149, 5. Parkland (Par) 122.5, 6. Pottsville (Pot) 112, 7. Whitehall (Wh) 97, 8. Freedom (F) 89, 9. Liberty (L) 84.5, 10. Emmaus (Em) 81, 11. Stroudsburg (S) 76, 12. Pocono Mountain West (PNW) 48, 13. Southern Lehigh (SL) 43, 14. Pocono Mountain East (PME) 34.5, 15. Bangor (B) 32.5, 16. East Stroudsburg South (ESS) 24, 17. Pleasant Valley (PV) 23, 18. East Stroudsburg North (ESN) 21, 19. Dieruff (D) 18, 20. Allen (A) 7.
Final Round Results
First Place
107
- Kenny Dillard (BC) maj. dec. Nicholas Salamone (Ea), 15-4
114
- Nathan Desmond (BC) maj. dec. Carson Wagner (Nor), 9-1
121
- Christian Horvath (F) dec. Trey Wagner (Nor), 5-3
127
- Tahir Parkins (Naz) dec. Shane McFillin (BC), 9-3
133
- Cael McIntyre (BC) dec. Charlie Bunting (Naz), 4-2
139
- Kollin Rath (BC) maj. dec. Oliver Fairchild (Ea), 16-7
145
- Charlie Scanlan (BC) dec. Marco Albanese (Em), 6-2
152
- Dagan Condomitti (Nor) dec. Jake Dailey (BC), 6-3
160
- Andrew Harmon (BC) maj. dec. Nolan Krazer (Ea), 11-3
172
- Dominic Wheatley (Naz) dec. Luke Thomas (BC), 3-0
189
- Adrian Gacek (Par) pinned Melquan Warren (Wh) in 3:36
215
- Sonny Sasso (Naz) pinned Augustus Warke (BC) in 4:43
285
- Sean Kinney (Naz) pinned Elijah Thompson (BC) in 3:01
Third Place
107
- Remy Trach (Naz) dec. Wilmont Kai (Wh), 3-1
114
- Christopher Kelly (Ea) dec. Blake Dergham (Par), 3-0
121
- Ryder Campbell (BC) dec. Aaron Ciampittiello (Par), 5-0
127
- Benjamin Fanelli (Ea) dec. Connor Demcher (Pot), 3-0
133
- Kam Abboud (L) dec. Austin Noe (Nor), 4-1
139
- Jack Campbell (Naz) pinned Blake Bender (Pot) in 0:48
145
- Jack Doone (Naz) dec. Ryan Santiago (L), 12-7
152
- Parrish McFarland (Pot) dec. Cade Campbell (Naz), 6-3
160
- Brayden Zuercher (Naz) pinned Robert Bibeau (ESN) in 2:19
172
- Terrell McFarland (Pot) dec. Jared Karabinus (F), 4-2
189
- Marco Malerba (Naz) pinned Aidan Hutchison (Ea) in 2:54
215
- Brandon Stiehler (PMW) dec. Michael Fluck (SL), 6-3
285
- Anthony Embardino (Ea) pinned Malachi Walters (PMW) in 2:11
Fifth Place
107
- Hunter Brown (S) pinned Jasiah Pagan (L) in 1:25
114
- Zachary Berwick (S) pinned Dominic Rizzotto (Naz) in 2:05
121
- Scotty Raymond (PME) dec. Damond Pascoe (Wh), 6-0
127
- Aidan Micheli (Nor) dec. Jack Evans (L), 8-3
133
- Keegan Demarest (PME) maj. dec. Cameron Wickemeyer (F), 9-1
139
- Mason Basara (Nor) dec. Adriaan DeLeon (L), 8-2
145
- Dalton Monger (Pot) pinned Quentin Hammerstone (Ea) in 2:42
152
- James Geiger (Ea) dec. Jesse Scott (Em), 7-1
160
- Joshua Montesino (D) dec. Victor Carrasquilla (Par), 4-3
172
- Jayden Hazzard (Ea) pinned Reilly Bechtel (Em) in 4:32
189
- James DeLuise (BC) dec. Aaron Kirby (S), 4-2 (SV)
215
- Jake Gross (Em) dec. James Hopkins (Wh), 8-2
285
- Michael Gavrilesku (Par) dec. Gavin Grell (Nor), 2-1