3 Roughs taking 'wild' ride to states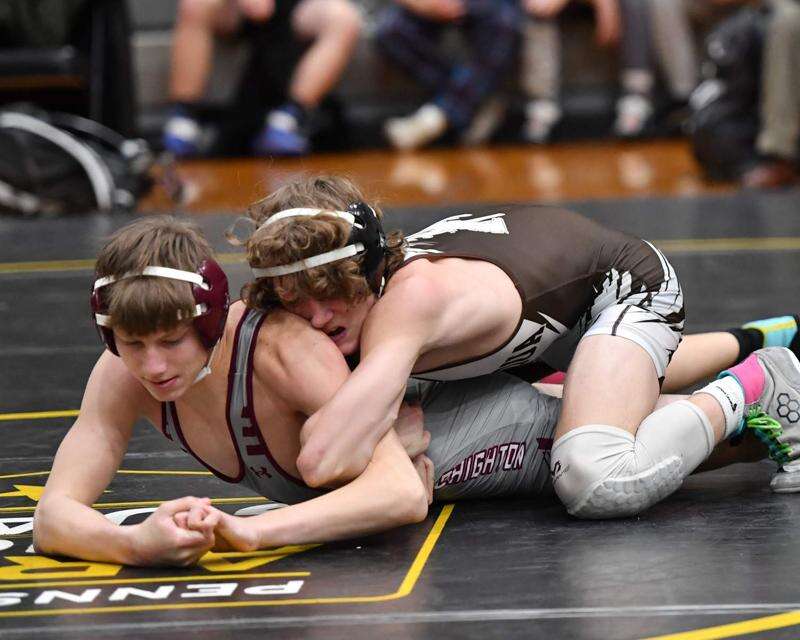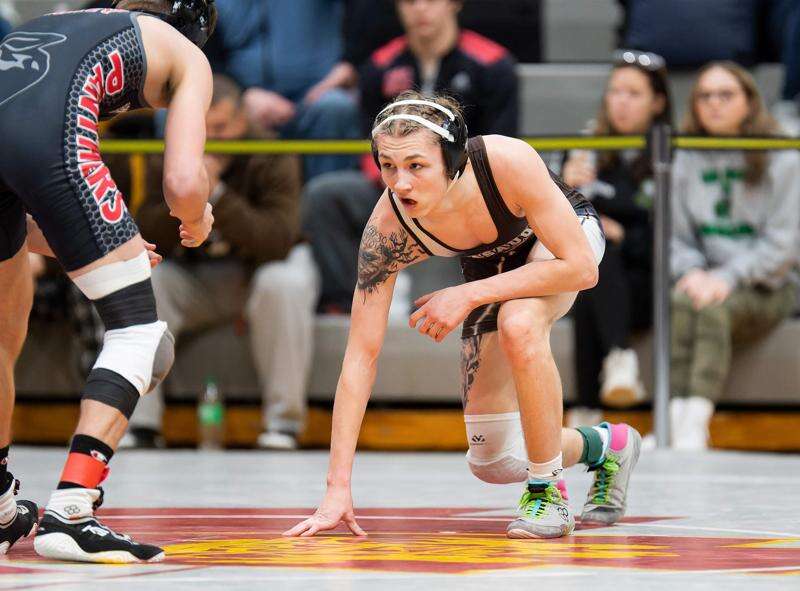 Published March 09. 2023 10:20AM
by Jeff Moeller Special to the Press
In more ways than one, Catasauqua's wrestling team had a memorable showing at the District 11 Class 2A wrestling championships at Freedom High School.
The Rough Riders advanced three wrestlers on to the PIAA state tournament at the Giant Center in Hershey. It marked the first time in 30 years that the Roughies had more than two wrestlers in the big show.
Senior Gavin Fehr (145 pounds) and juniors Mikhail Hartranft (121) and Chad Beller (215) will all literally and figuratively shoot for the big prize. All three finished in fifth place, and the team was 12th overall.
In 1992, the Roughies advanced Kyle Rusnock, Joe Stofko, Jason Mutarelli, and Brad Lower, who all took the trip to Chocolate Town. Rusnock emerged as a state champion, Stofko finished third, and Mutarelli was fifth.
Current Roughies' head coach Joe Russo fastened his seat belt for the final day.
"It was wild," exclaimed Russo, "We knew we needed six straight wins if all three guys were going to qualify. It started with Mikhail coming out on top in a back-and-forth match, getting an escape at the buzzer to win.
"Fehr won a close bout against an opponent he had to beat last year in the same spot, which is never easy to do. That was followed by a quick pin by Beller. All three moved into the blood round, which meant the winner went to states and the loser was eliminated."
Russo didn't have to wait long for a favorable result.
"Mikhail had a close one then he put the guy in his back," stated Russo. "Fehr controlled his opponent for a 1-0 win, then Beller won by two points against an opponent he had lost to earlier in the season."
Hartranft (33-14), who is making his first trip, overcame some early jitters.
"I was somewhat confident going into regionals," he said. "I was nervous, but also excited for the opportunity to wrestle those better kids. I stayed out of my own way and wrestled to the best of my ability. All my coaches, friends, and family told me that I could do it. I'm excited to go to states."
Fehr (39-7), who was eliminated early at states last year, appreciated the day for his teammates and the program.
"Regionals was a great tournament for all three of us," he said. "We all wrestled our best, and I'm really happy all of us were able to qualify. It definitely was a big day for Catty wrestling.
"My biggest win was a 1-0 win over Tucker Seidel to qualify for states."
Beller (38-9), who also is making his first trip, plans to relish the feeling.
"I felt great about regionals," he said. "It brought up my confidence sticking with a lot of top-tiered wrestlers. I have to keep working and looking forward to placing at states."
Whatever the final outcome is at the state tournament, Russo will cherish the run.
"My staff and I can't be more proud of what they were able to accomplish," he stressed. "What an effort."