3 Roughs move on to regionals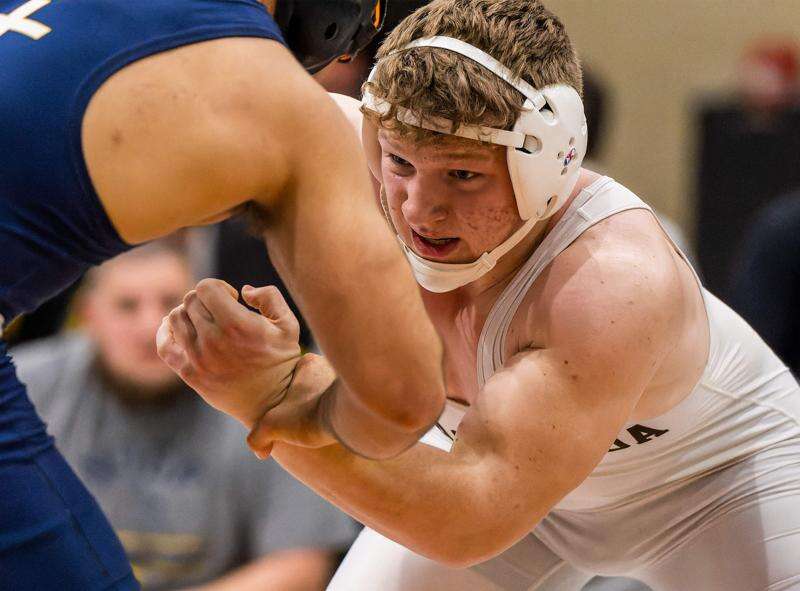 Published March 02. 2023 10:09AM
by Jeff Moeller Special to the Press
Catasauqua senior Gavin Fehr was the second seed at 145 pounds in the District 11 Class 2A bracket, and Fehr was confident he would be among the top three finishers in his bracket.
He was, but he just took a different route than expected.
Fehr was shocked in his opening bout, but he rallied to win four consolation bouts with falls and posted a 6-0 decision in the third-place bout to advance to this weekend's regional round at Liberty High School.
Overall, the Rough Riders finished 10th as a team.
Junior C.J. Beller was third at 216 and fellow junior Mikhail Hartranft was fourth at 121 pounds, both also advancing to the regional round.
For Fehr, who was the Colonial league champion and has posted a 35-5 record with 23 falls, it was a surreal experience. Fehr recovered from being pinned by Saucon Valley's Travis Reifenstahl in the opening match.
"Travis Reifenstahl didn't wrestle all year until about two weeks ago, so he didn't have any seeding points and ended up as the last seed," noted Fehr. "We should have been in the semifinal match, but we ended up wrestling right away."
Fehr showed his mettle with a furious Saturday afternoon attack through the consolation rounds. He was third in districts, fourth at regionals, and a state qualifier last year. Currently, he has a 107-34 career mark with 53 falls.
"I didn't have the start that I wanted Friday, but I definitely feel that I finished strong," added Fehr. "I was glad that I was able to wrestle all the way back and get third.
"Now, it is on to regionals."
Catty head coach Joe Russo was happy with his team's overall efforts. Along with Fehr, he is optimistic about Hartranft and Beller.
Beller has a 35-6 record this season and an overall 51-20 slate. He was third at districts last year. Hartranft has a 30-11 mark this season and an overall 56-11 record. He finished fourth at districts last year.
"We finished with three placewinners," said Russo. "Fehr and Beller took third and Hartranft took fourth.
"All three will wrestle next weekend at regionals with a chance to make it to the state tournament. All of our guys wrestled hard, and we're proud of this team's effort."