Brensinger, Wehr pave way for girls wrestling team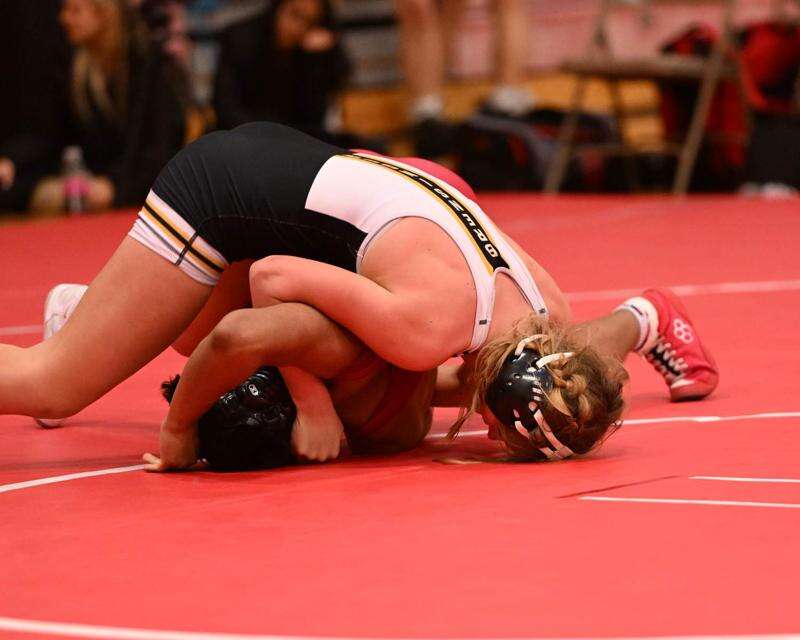 Published February 18. 2023 10:35AM
by CHUCK HIXSON Special to the Press
This week the 100th high school girls wrestling team in Pennsylvania was approved by a school board. That move is the final action that was needed for the Pennsylvania Interscholastic Athletic Association to sanction the sport.
While Northwestern Lehigh doesn't quite have a full girls team yet, there are a couple Tiger girls wrestlers and they've both experienced a lot of success over the past two years.
The Tigers' Josie Wehr and Katie Brensinger hold their own in many matches against the boys, and excel when they hit the mat to compete against other girls.
In three girls tournaments this season, according to results on pa-wrestling.com, they both went deep into the events and earned places.
In the Tony Iasiello Memorial Christmas City Tournament at Bethlehem Catholic on Dec. 29, the Tigers finished fifth as a girls team with just two wrestlers competing.
Wehr won the 126-pound title with a pin of Liberty's Kasiah Dickenson in 2:36 in the title bout and a semifinal win over Honesdale's' Rozalyn Mikulak, 7-6. Brensinger won the 146-pound title by beating Liberty's Symarah Drey in 1:04 in the final after showing Western Wayne's Savannah Mayes the lights in just :21 in the semifinal.
In some other tournaments this year (results below), Brensinger finished fifth at Jim Thorpe's Coal Cracker Tournament, while Wehr took sixth as Northwestern finished sixth out of 36 teams.
At Jim Thorpe, Brensinger lost to eventual champ Jordyn Fouse (Bishop McCourt) in her first match, 12-2, then won four straight bouts. Based on the brackets on pa-wrestling.com, only wrestlers who reached the semifinals were able to wrestle for the top four places. That means after losing a decision to the eventual champ, Brensinger wrestled back as far as possible to take fifth place.
At the Grow Women's Wrestling Invitational in Forks Township on Jan. 28, Brensinger went 4-1 at 133 pounds in a round robin format. Wehr went 2-2 and took fifth place at 126
Coal Cracker
Tournament
Josie Wehr (125)
Wehr pinned Gia Silva (Wallenpaupack) in 1:42
Wehr dec. Gisele Ramirez (Souderton), 11-7
Nachaliz Cordero-Rodriguez (Cumberland Valley) dec. Wehr, 4-2 (SV-1)
Wehr major dec. Isabella Garrett (Gettysburg), 15-7
Fifth-place match: CJ Allis (Athens) tech. fall Wehr, 18-3
Katie Brensinger (144)
Jordyn Fouse (Bishop McCort) major dec. Brensinger, 12-2
Brensinger pinned Maya Landefeld (Central Dauphin) in :32
Brensinger pinned Lilly Galasso (Athens) in 2:19
Brenginer pinned Chase-Marie Ryan (Quakertown) in :36.
Fifth-place match: Brensinger pinned Doniya Anwari (Liberty) in :36
Grow Women's
Wrestling Invitational
Josie Wehr (126)
Tommi Vizcaino (Western Wayne) pinned Wehr in 3:47
Wehr pinned Jamie Castillo (Easton) in :52
Akira Towles (Carlisle) dec. Wehr, 6-3
Fifth-place match: Wehr pinned Gretchen Chaible (Palmerton) in :55
Katie Brensinger (133)
Taina McGowan (Easton) dec. Brensinger, 6-2
Brensinger dec. Araya Guilmette (Wyoming Area), 10-4
Brensinger pinned Sara Shook (Wallenpauapak in 3:36
Brensinger pinned Giuliana Stavola (Kingsway, NJ) in 3:17
Brensinger pinned Elizabeth Ward (Kingsway, NJ) in :16