STUDENT PROFILE - Malak Sherif, BAVTS/Freedom HS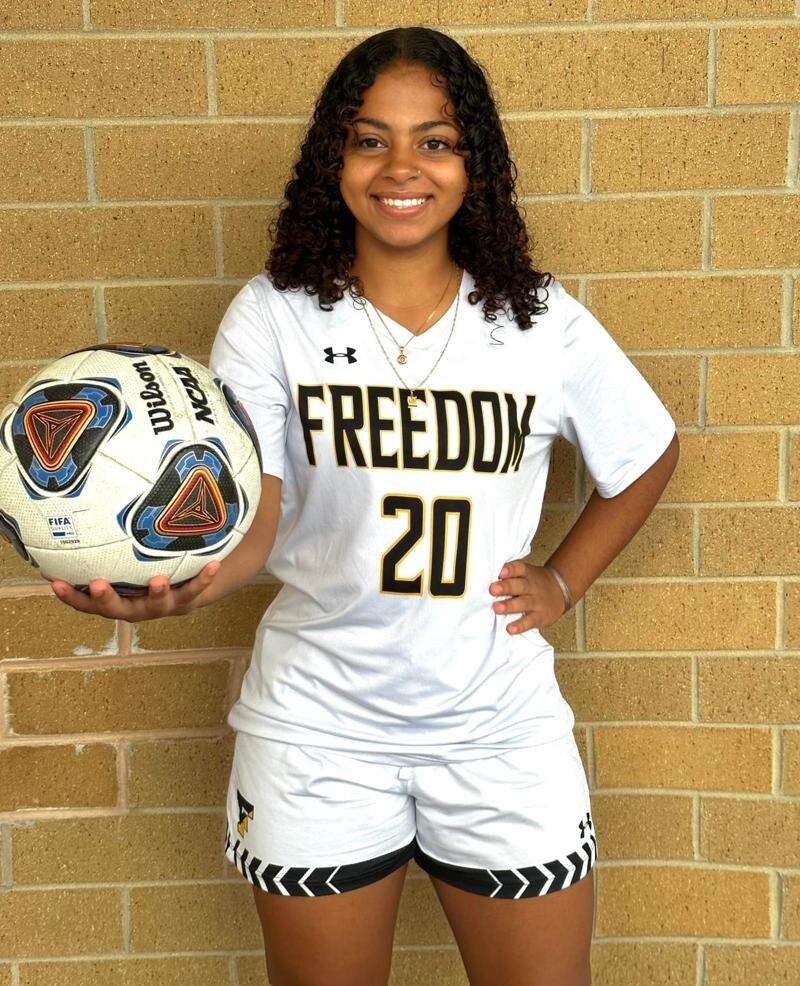 Published January 24. 2023 10:13AM
Grade: 12th
Family members: Mona Youssief (mom), Amro Shrief (dad), Youssief Hussain (older brother), Saifeldien Hussain (younger brother), Farah Hussain (younger sister), and Shady Shrief (baby brother) .
Favorite subject(s): Two of my favorite subjects truly would be history and health careers. First, I say history because I love knowing what goes on in the world and what had happened in the past. Secondly, I enjoy health careers, because I'm really into knowing things about how the human body is made up. Additionally, I enjoy how the new technologies effect health care and learning about the cures and medications that are being used and will be used in the future.
Activities: Playing on the Freedom HS soccer team as mid field and forward and assisting children with their homework after school.
Next steps: My next steps after high school will be attending college to study to become a general surgeon. I plan to attend community college, which would allow me to finish all my credits and then join a university. After finishing at the university I plan on entering the Army in the health care field. From there I'll see where my life leads me in the future.
Career goals: Being able to obtain experience in the health care field. Hoping to obtain a high place in the profession and, lastly, loving it.
Heroes: My heroes would be my parents because they always find a way to make things happen no matter what the circumstances are. They also never give up on their hope and dreams. They showed me to never give up on whatever I'm doing. They have also taught me to never doubt myself with anything no matter how small or big it may be. I just have to keep on going. One of my other heroes would be my health careers teacher, Mrs. Stilgenbauer, because she always goes above and beyond for her students. She doesn't give up easy on getting to know her students well. Though she always fends for her students, she will correct them if they're in the wrong. She shows me how to have power as a woman and how to keep on going and moving on with life due to the things that happen in life.
Hobbies: Going out with friends, playing soccer, spending time with family, and sometimes having alone time.
Current job(s): I work as a PCA (patient care assistant) at St. Luke's University Health Network.
Volunteer/community work: I help out in the community as much as I can when I am available. I helped little kids with their homework and other things at the 'Immigrants Ed' program in Allentown for several years. I have enjoyed helping the kids and it's also fun!
Likes: I like to cook for family and friends and I also like getting more experience in the health field.
Dislikes: I really dislike problems and immaturity from people surrounding me. I also dislike unorganized things.
Greatest accomplishment (so far): I have made honor roll for most of my high school years and got a head start in health care before graduating .
Advice for peers: Just do whatever you want to do. Don't hold back on anything because you're afraid of what people are going to say about you; just go for it. Most Importantly, stay to yourself, humble yourself. Having friends is a great thing in high school, but be careful who is around you. Personally, I suggest you have a small friend group; the smaller the better. Lastly, have fun, enjoy high school, experience as much as you can because high school only comes around once.
Student profile subjects are selected by faculty and administration at the individual schools.