Harris, Hornets beat PHS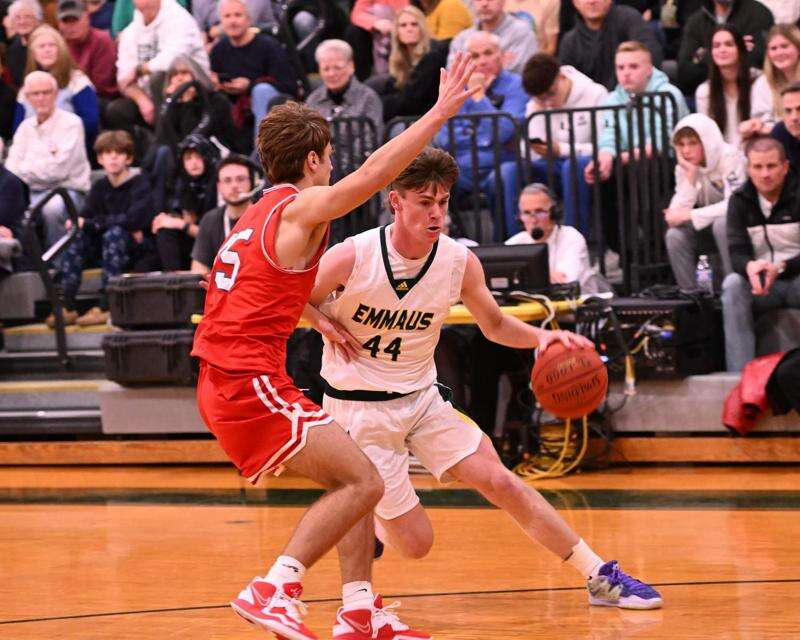 Published January 22. 2023 08:13AM
by CJ HEMERLY Special to the Press
Heading into last week, the Emmaus High School boys basketball team was the lone unbeaten team in the Eastern Pennsylvania Conference. The Green Hornets continued that trend with two wins in two games, both in conference.
Emmaus hit the road and defeated Pleasant Valley last Tuesday and followed that up three nights later with a victory over rival Parkland at Emmaus. In both games, the Green Hornets faced deficits following the opening quarter, but pulled it together and completed the comeback in each.
Against the Bears, Emmaus erased a 9-7 deficit after the opening quarter and outscored Pleasant Valley 14-8 in the second to take a 21-17 lead at halftime. The lead continued to climb into double figures in the third quarter, before the Bears closed out the quarter getting to within seven points (38-31). The Green Hornets were able to hold onto the lead throughout the final frame to win 57-49.
Junior Jametric Harris led the way with 16 points for Emmaus. Senior Jackson Lake tallied 13 points, while junior Will Barber added 10. Jake Fotta contributed seven points.
The Green Hornets followed up that win with another impressive victory at home against Parkland, and that was led by a career performance out of Harris. The junior poured in 25 points and was a force defensively in helping his team beat the Trojans 63-52 in front of a large crowd at the Hive.
Emmaus was down 11-10 after the opening frame and then 24-22 at halftime. After an even third quarter that saw the Green Hornets still down by two heading into the final quarter, they used a strong fourth, outscoring Parkland 25-12 to take the game.
Barber and Dylan Darville also had big scoring nights as Barber tallied 18 points and Darville recorded 16.
The Green Hornets are now 11-2 overall and 8-0 in the EPC. They hosted Southern Lehigh in a nonconference game Monday and then took on Easton the next night. Emmaus is at Central Catholic on Friday night to conclude the week.