At The Movies: Tom Hanks' 'Otto' is Forrest Grump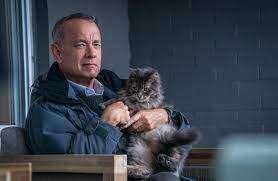 Published January 20. 2023 12:52AM
by
BY PAUL WILLISTEIN
pwillistein@tnonline.com
Tom Hanks is known for playing real-life icons, including commercial airline pilot Chesley Sullenberger, "Sully" (2015), NASA astronaut Jim Lovell, "Apollo 13" (1995), cargo ship Captain Richard Phillips, "Captain Phillips" (2013), Walt Disney, "Saving Mr. Banks" (2013), Col. Tom Parker, "Elvis" (2022) and Fred Rogers, "A Beautiful Day in the Neighborhood" (2019).
Hanks is also known for playing memorable fictional characters. Among his 93 acting roles listed on the Internet Movie Database, Hanks is a six-time Oscar nominee (including "A Beautiful Day"; "Cast Away," 2000; "Saving Private Ryan"; "Big," 1988), receiving two consecutive actor Oscars for "Philadelphia" (1993) and "Forrest Gump" (1994). And let's not forget Hanks voicing Sheriff Woody, "Toy Story" series (1995 - present).
Hanks often plays affable, earnest nice-guy roles. He has never really succumbed to the universe of superhero roles. Hanks is a Hollywood superhero, a caped crusader without a cape. He's perhaps the closest among contemporary movie stars to that icon of Hollywood's Golden Era: James Stewart (1908-1997). Hanks brings real-person veritas to each of his roles.
Which brings us to "A Man Called Otto."
Although the movie is set in Pittsburgh, Otto is not a Mr. Rogers type. He's more the anti-Mr. Rogers. The film is "Grumpy Old Men" (1993) encapsulated in one man. Call "A Man Called Otto" the "Grumpy Old Man." Or, better yet, "Forrest Grump."
Otto Anderson (Tom Hanks), who is a fictional character, has just retired as an engineer at a structural steel company. He has been ripped apart by the recent death of his wife Sonya (Rachel Keller), who succumbed to cancer. After the death of his wife, Otto just can't seem to put his life back together again. She was his life.
Otto spends his time in what might be termed obsessive-compulsive behavior: taking the paper recyclables out of the plastic recyclables containers and vice versa is just one example. You may wonder if Otto has ADHD, i.e., Attention Deficit Hyperactivity Disorder.
When a new family moves into the neighborhood, Otto resists entreaties by the wife, a young south of the border immigrant, Marisol (Mariana Treviño); her husband, Tommy (Manuel Garcia-Rulfo), and their two daughters. Otto is even mean to a stray cat.
The film tells much of its story in flashbacks, recounting how Otto (the young Otto is played by Truman Hanks, Tom Hanks' son) and Sonya met, fell in love and married.
"A Man Called Otto" is directed by Marc Forster ("Christopher Robin," 2018; "World War Z," 2013; "Quantum of Solace," 2008; "The Kite Runner," 2007; "Finding Neverland," 2004; "Monster's Ball," 2001).
The screenplay is by David Magee (Oscar nominee, adapted screenplay, "Life of Pi," 2013; Oscar nominee, adapted screenplay, "Finding Neverland"; screenplay, "Mary Poppins Returns," 2018; screenplay, "Miss Pettigrew Lives for a Day," 2008).
The screenplay is based on a novel, "A Man Called Ove" (2012), by Fredrik Backman. A 2015 Swedish film of the same title was written and directed by Hannes Holm.
Hanks is again remarkable. Hanks, in the lead role of Otto set his lips in a Channing Tatum grimace, walks stiffly and moves abruptly. He creates a character who is clearly awkward in social situations. Hanks makes Otto's antics humorous without making him a figure of fun.
Mariana Treviño is dynamic as the neighbor whose persistence brings Otto back from the brink.
Rachel Keller has some nice moments as Otto's wife.
Truman Hanks is well-cast as the younger Otto.
"A Man Called Otto" is about a chosen family, or family of choice. Such a family might not be the family we were born into. It might be the family we are with. As my late, great father used to say: "You can choose your friends, but not your relatives."
If you are a fan of Tom Hanks, heart-felt family dramas, and cute cats, don't miss "A Man Called Otto."
"A Man Called Otto,"
MPAA Rated PG-13 (Parents Strongly Cautioned: Some material may be inappropriate for children under 13.) for mature thematic material involving suicide attempts, and language; Genre: Drama, Comedy; Run Time: 2 hours, six minutes. Distributed by Sony Columbia Pictures.
Credit Readers Anonymous:
"A Man Called Otto" has children's drawings, some of which are animated, during the closing credits. The film was lensed on location in Toledo and Brecksville, Ohio, and Pittsburgh. The soundtrack includes "Til You're Home," written by David Hodges and Rita Wilson, and sung by Rita Wilson and Sebastián Yatra. Rita Wilson is Tom Hanks' wife.
At The Movies:
"A Man Called Otto" was seen in the standard format at AMC Center Valley 16.
Theatrical Movie Domestic Box Office,
Jan. 13 - 15: "Avatar: The Way of Water" continued at No. 1 for five weeks in a row, $31.1 million in 4,045 theaters, $562.9 million, five weeks.
2. "M3GAN" stayed in place, $17.9 million in 3,605 theaters, $56.4 million, twe weeks. 3. "Puss in Boots: The Last Wish" stayed in place, $13.4 million in 3,687 theaters, $106.3 million, four weeks. 4. "A Man Called Otto" stayed in place, $12.5 million in 3,802 theaters, $18.7 million, three weeks. 5. "Plane," opening, $10 million in 3,023 theaters. 6. "House Party," opening, $3.8 million in 1,400 theaters. 7. "Black Panther: Wakanda Forever" dropped two places, $2.1 million in 1,910 theaters, $449 million. 10 weeks. 8. "The Whale" dropped one place, $1.4 million in 1,500 theaters, $10.7 million, six weeks. 9. "Whitney Houston: I Wanna Dance with Somebody" dropped three places, $1.1 million in 2,205 theaters, $21.8 million, four weeks. 10. "Waltair Veerayya," opening, $1 million in 350 theaters.
Movie box office information from Box Office Mojo as of Jan. 15 is subject to change.
Unreel,
Jan. 20:
"Alice, Darling,"
MPAA rated R: Mary Nighy directs Anna Kendrick, Kaniehtiilo Horn, Charlie Carrick in the Drama Thriller. A young woman becomes part of an intervention.
"The Son,"
MPAA Rated PG-13: Florian Zeller directs Vanessa Kirby, Anthony Hopkins, Hugh Jackman and Laura Dern in the Drama. A man's life is disrupted when his ex-wife shows up with his teen son.
Movie box office information from Internet Movie Database as of Jan. 15 is subject to change.
Four Popcorn Boxes out of Five Popcorn Boxes