Gacek leads PHS at BHWC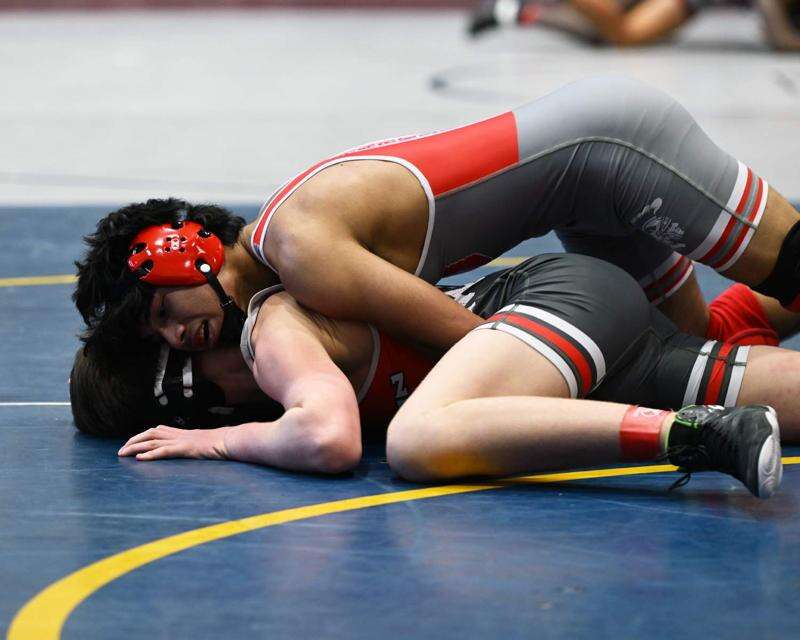 Published January 09. 2023 08:47AM
by Steve Althouse Special to the Press
The Parkland wrestling team received several solid performances at last week's Bethlehem Holiday Wrestling Classic.
The Trojans finished ninth in the 32-team field, securing 111 points. Nazareth won the tournament, with Easton finishing second.
Adrian Gacek was outstanding during the two-day Classic, winning the 189-pound championship with a 9-2 decision over Saucon Valley's Jacob Jones.
"I was most impressed with Adrian," Parkland coach Jon Trenge said. "He won the tournament by beating a state runner-up from last year in the AA division."
Gacek has many outstanding wrestling attributes and remains mentally focused and poised throughout his matches.
"Adrian has worked very hard all offseason," Trenge said. "He is learning to keep his composure late in matches so he doesn't feel tired or stressed no matter what the score is. He used to get a little anxious in the third periods and it would tire him out and slow him down. He has figured out how to overcome that now. The sky is the sky is the limit for him now."
There's no doubt Gacek led the Trojans during the two-day tournament, but the team also received good wrestling from Eli Russ, Blake Dergham, Phoenix del Vecchio, Juan Moya and Michael Gavrilesku.
"They all placed top eight and wrestled nice tournaments," Trenge said. "As a team, we placed six kids this year, which is double what we placed last season."
Moya lost in the championship semifinal round to Liberty's Ryan Santiago, and later won his consolation semifinal round match with a major decision over Kennett's Tyler Maiers. Dergham won seventh place in the 114-pound class when he pinned Easton's Brendan Bowman at 4:19.
Bethlehem Holiday Wrestling Classic
Team Standings
1. Nazareth 167.5, 2. Easton 165, 3. Phillipsburg (NJ) 151, 4. Northampton 148, 5. Saucon Valley 140, 6. Quakertown 132, 7. Council Rock South, 8. Wilson West Lawn 115, 9. Parkland 111, 10. Delaware Valley 99.5, 11. Kennett 97, 12. Northern Lebanon 84.5, 13. Hempfield 77, 14. Freedom 72.5, 15. Liberty 72, 16. West Scranton 67.5, 17. Wyoming Valley West 67, 18. Spring-Ford 66, 19. Whitehall 65, 20. Boyertown 64.5, 2. Honesdale 64.5, 22. Northwestern Lehigh 61, 23. Emmaus 56, 24. Stroudsburg 45.5, 25. Southern Lehigh 43, 26. Blue Mountain 40, 27. North Penn 38, 28. Wilson Area 34, 29. Warwick 32, 30. Hazleton 30, 31. Garnet Valley 28, 32. Shenendehowa (NY) 17.
Parkland results
107 - Eli Russ
Russ pinned Hunter Brown (Stroudsburg) in 5:22
Santino Micci (Wilson Area) dec. Russ, 8-5
Russ dec. Griffin King (Southern Lehigh), 5-3
Wilmont Kai (Whitehall) major dec. Russ, 11-0
Seventh-place match: Jasiah Pagan (Liberty) pinned Russ in 3:27
114 - Blake Dergham
McKaden Speece (Wilson West Lawn) dec. Dergham, 8-6
Dergham pinned Aiden Bayard (Emmaus) in 4:29
Dergham pinned Owen Coats (Kennett) in 4:29
Dergham dec. Landon Machado (Delaware Valley), 3-1
Isaac Williams (Quakertown) dec. Dergham, 5-3
Seventh-place match: Dergham pinned Brendan Bowman (Easton) in 4:19
121 - Aaron Ciampittiello
Ciampittiello dec. Nolan Carroll (Garnet Valley), 5-3
Marco Tocci (Warwick) dec. Ciampittiello, 8-3
Ciampittiello dec. Alex Issa (Emmaus), 16-9
Sonny Mash (Boyertown) dec. Ciampittiello, 1-0
127 - Phoenix DelVecchio
DelVecchio pinned Carter Smith (Blue Mountain) in 2:54
DelVecchio pinned Dayvion Marshmon (Whitehall) in 3:55
Gavin Sheridan (Boyertown) major dec. DelVecchio, 18-10
DelVecchio dec. Josh Young (Honesdale), 5-0
Benjamin Fanelli (Easton) dec. DelVecchio, 5-1
Seventh-place match: Jason Williams (West Scranton) dec. DelVecchio, 5-2
133 - Max Mazin
Tyson Kilgore (Warwick) dec. Mazin, 10-6
Mazin pinned Mason Antonik (Wyoming Valley West) in 1:16
Kane Lengel (Kennett) tech. fall Mazin, 16-0 in 3:20
139 - Leo Kern
Beck Babb (Boyertown) dec. Kern, 4-2
Kern pinned Ryan Garvin (Wyoming Valley West) in 1:52
Travis Walton (Delaware Valley) dec. Kern, 12-10
145 - Waris Mughal
Tristan Minnich (Wilson Area) pinned Mughal in 5:30
Jonathan Roth (Phillipsburg) dec. Mughal, 7-3
152 - Juan Moya
Moya major dec. Mason Marolo (Hazleton), 12-3
Moya inj. default Ryder Gehris (Boyertown), 4:55
Ryan Santiago (Liberty) major dec. Moya, 15-1
Third-place match: James Geiger (Easton) dec. Moya, 3-2
160 - Victor Carrasquilla
Carrasquilla tech. fall Hunter Blankenhorn (Blue Mountain), 17-2 in 5:27
Bekhruz Sadriddinov (Council Rock South) pinned Carrasquilla in 2:45
Carrasquilla pinned Marcus Ennis (Stroudsburg) in 4:37
Carrasquilla pinned Mason Avery (Honesdale) in 2:40
Zach Borzio (Quakertown) pinned Carrasquilla in 2:37
172 - Emanuel Montalvo
Blaise Eidle (Wilson West Lawn) pinned Montalvo in :57
Montalvo major dec. Ryan Maiers (Kennett), 8-0
Joe Rivas (Wyoming Valley West) pinned Emanuel Montalvo in 2:18
189 - Adrian Gacek
Gacek tech. fall Bradley Renninger (Blue Mountain), 17-2 in 2:09
Gacek major dec. Aaron Kirby (Stroudsburg), 10-1
Gacek dec. Melquan Warren (Whitehall), 8-2
Championship match: Gacek dec. Jacob Jones (Saucon Valley), 9-2
215 - Gavin Edwards
Logan Kries (Phillipsburg) dec. Edwards, 4-1
Dante Morrison (Liberty) pinned Edwards in :56
285 - Michael Gavrilesku
Gavrilesku dec. Dartanyon DeLillo (Northwestern Lehigh), 5-3
Gavrilesku pinned Devon Pinkett (North Penn) in 2:33
Bailey Shindle (Kennett) pinned Michael Gavrilesku in 4:42
Gavrilesku pinned Seth Kolb (Liberty) in 3:52
Gavrilesku dec. Logan Kurzweg (Wilson West Lawn), 5-1
Aiden Black (Delaware Valley) pinned Gavrilesku in 2:36
Fifth-place match: Caleb Mussmon (Hempfield) dec. Gavrilesku, 5-1