Albanese takes second at BHWC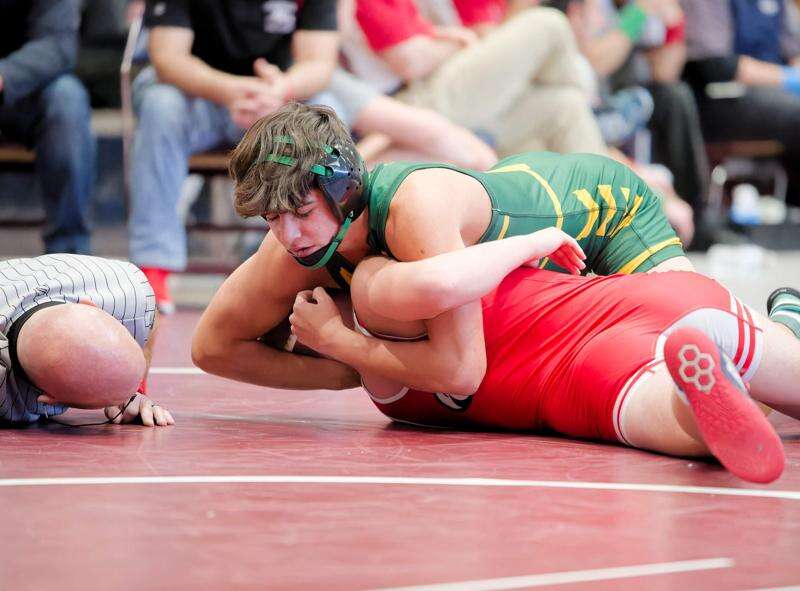 Published January 09. 2023 08:45AM
by STEVE ALTHOUSE Special to the Press
The Emmaus wrestling program took 23rd place in the 32-team Bethlehem Holiday Wrestling Classic last Wednesday and Thursday.
The Green Hornets finished with 56 points. Nazareth won the Classic, with Easton taking second place.
"As a team our coaching staff expected more than one of our 12 competing wrestlers to place in the top eight of their respective weight class," Emmaus head coach Jim Best said. "Looking at individual performances, the coaching staff saw progress with technique and physicality from a month ago, and even a week ago, with many of our wrestlers, especially with our freshmen and sophomore wrestlers. Basing our performance on improvement over time, the team is consistently progressing."
One Emmaus wrestler who had a fine tournament was Marco Albanese. Wrestling at 145 pounds, Albanese finished as the Classic's runner-up, losing by major decision Quakertown's Collin Gaj in the championship.
"Marco continues to become a better wrestler, even though he currently competes at a very high level," Best said.
Albanese's accomplishment is more impressive considering the competition.
"In arguably one of the most talented weight classes in the tournament, he won four matches to make it to the finals for a second year in a row," the coach said. "In the process, he defeated a returning state medalist in the quarterfinal match and had a gritty come-from-behind win against a returning Northeast Regional qualifier in the semifinal match. In the final match, he competed and held his own against a nationally ranked wrestler in his weight class."
Albanese is a talented, technically-sound, determined wrestler, but his attitude is key.
"On a daily basis, Marco pushes himself out of his comfort zone to improve," Best said. "He pushes himself beyond his perceived mental limitations during every practice. More importantly, he goes above and beyond what we do as a team to prepare for competition by working out multiple times a day, making responsible choices with his social life and diet, staying organized with his academic responsibilities and competing in the sport on a year-round basis."
In addition to Albanese, Jackson Max, Logan Armstrong, Xayden Sallit, Jesse Scott and Jake Gross all had solid tournaments.
"They found ways to win against top-quality opponents during early rounds of the tournament," Best said. "Much like Marco, these wrestlers push themselves in the practice room on a daily basis, and they keep an open mind when receiving suggestions for improvements from their coaches."
Bethlehem Holiday Wrestling Classic
Team Standings
1. Nazareth 167.5, 2. Easton 165, 3. Phillipsburg (NJ) 151, 4. Northampton 148, 5. Saucon Valley 140, 6. Quakertown 132, 7. Council Rock South, 8. Wilson West Lawn 115, 9. Parkland 111, 10. Delaware Valley 99.5, 11. Kennett 97, 12. Northern Lebanon 84.5, 13. Hempfield 77, 14. Freedom 72.5, 15. Liberty 72, 16. West Scranton 67.5, 17. Wyoming Valley West 67, 18. Spring-Ford 66, 19. Whitehall 65, 20. Boyertown 64.5, 2. Honesdale 64.5, 22. Northwestern Lehigh 61, 23. Emmaus 56, 24. Stroudsburg 45.5, 25. Southern Lehigh 43, 26. Blue Mountain 40, 27. North Penn 38, 28. Wilson Area 34, 29. Warwick 32, 30. Hazleton 30, 31. Garnet Valley 28, 32. Shenendehowa (NY) 17.
Emmaus results
107 - Jackson Max
Remy Trach (Nazareth) dec. Max, 9-2
Max dec. Dominic May (Garnet Valley), 4-3
Hunter Brown (Stroudsburg) pinned Max in :55
114 - Aiden Bayard
Isaac Williams (Quakertown) pinned Bayard in :35
Blake Dergham (Parkland) pinned Bayard in 4:29
121 - Alex Issa
Jake Brown (Stroudsburg) tech. fall Issa, 15-0 in 4:23
Aaron Ciampittiello (Parkland) dec. Issa, 16-9
127 - Logan Armstrong
Armstrong dec. Anthony Crisafulli (Freedom), 3-1
Seamus Mack (Hempfield) pinned Armstrong in 1:08
Armstrong pinned Tanner Breault (Warwick) in 4:29
Caleb Hoffman (Wyoming Valley West) dec. Armstong, 5-3
133 - Chancellor Henry
Vincent Grembocki (Shenendahowa, NY) pinned Henry in 3:14
Michael Ortiz (Stroudsburg) pinned Henry in 2:19
139 - Xayden Sallit
Paxton Hunt (Garnet Valley) dec. Sallit, SV-1 5-3
Sallit pinned Damian Lopez (Liberty) in 2:31
Sallit maj. dec. Kamron Koch (Wilson West Lawn), 10-2
Owen Woll (Blue Mountain) dec. Sallit, 7-2
145 - Marco Albanese
Albanese pinned Luke Barnett (Boyertown) in 1:17
Albanese pinned Payton Fasnacht (Blue Mountain) in 2:43
Albanese dec. Jake Doone (Nazareth), 3-1
Albanese dec. Martin Turi (West Scranton), 6-5
Championship match: Collin Gaj (Quakertown) maj. dec. Albanese, 14-4
152 - Jesse Scott
Scott pinned Alex Salim (Freedom) in 3:59
Hudson Saylor (Whitehall) dec. Scott, 10-6
Scott Maj. Dec. Adim Ogbolu (Stroudsburg), 17-3
Cade Campbell (Nazareth) dec. Scott, 9-3
160 - Taliesen Frantz
Conor Leonard (Northern Lebanon) pinned Frantz in :43
Zeandros Johnson (Wilson Area) pinned Frantz in 4:43
172 - Lord Henry
Aidan Murray (Council Rock South) dec. Henry, 14-10
William Stuhldreher (Northampton) pinned Henry in 3:39
189 - Jake Gross
Gross pinned Christopher Albertson (Hazleton) in 1:11
Caleb Rivera (Phillipsburg, NJ) pinned Gross in 4:49
Gross pinned Drew Koller (Wilson West Lawn) in 1:41
Gross pinned John Kelly (Spring-Ford) in 2:53
Aaron Kirby (Stroudsburg) dec. Gross, 3-0
285 - E.J. Boney
Boney pinned Michael Palmiero (Boyertown) in 1:03
Aiden Black (Delaware Valley) pinned Boney in 1:49
Connor Hudak (Spring-Ford) pinned Boney in 4:37