All 'Eyes' on Dan Yaccarino at Willow Lane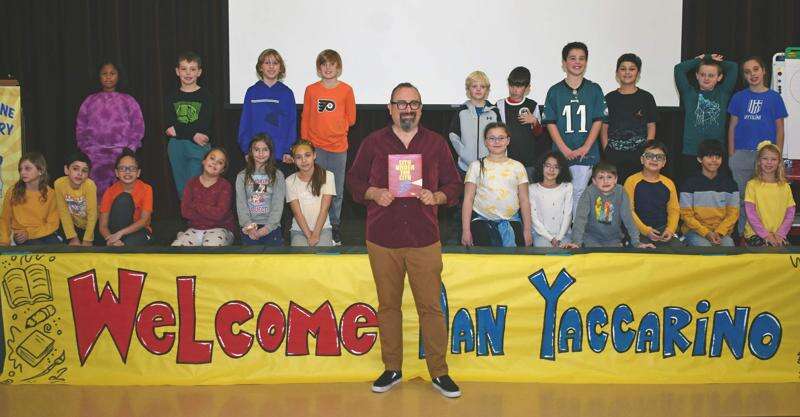 Published January 04. 2023 12:14PM
by ED COURRIER Special to The Press
Author/illustrator Dan Yaccarino was greeted by an auditorium full of enthusiastic young readers as he visited Willow Lane Elementary School recently.
Yaccarino journeyed from his home in North Arlington, N.J. to promote his latest picture book, "City Under the City" and connect with his target audience.
The story's sci-fi protagonist, Bix, is living in a repressive world, void of culture, dominated by big yellow Eyes that 'help' everyone while keeping them under surveillance. While escaping from an Eye, Bix discovers another world beneath hers.
A rat she befriends leads her to an abandoned city. The rodent also directs Bix to a library where she discovers an abundance of books and love of reading – with no Eyes to spy on them! The brave young girl decides to return home to try to make the city above a better place to live.
Among the plethora of his creative works, Yaccarino wrote books about his son Michael and his daughter Lucy who are now in their 20s. "You draw from your life, you draw from your own experience," the author explains.
Earlier in his career, Yaccarino drew editorial illustrations for the "New York Times," "Business Week" and other publications to accompany articles.
The 1969 moon landing, along with comic books, vintage science fiction cartoons and movies inspired Yaccarino's artwork and stories. His first book was "Big Brother Mike."
He became involved with animation after writing "Oswald" and successfully adapting it to the small screen for Nickelodeon.
School librarian Loni Weller was contacted by Let's Play Books bookstore in Emmaus suggesting Yaccarino, as he had a new book out. "I've worked with them in the past for author visits," Weller explains. "I like to get one in every year, if possible."
She recognized his previous work and felt he would be a good fit, as many of the children would be familiar with his books and television series, as well.
"They are really good kids. They asked some really good questions," Yaccarino said of his Willow Lane fans. "I get the feedback that I wouldn't get otherwise," he remarked about these school appearances, noting this connection helps him when he's working on his next project.