PHS boys beat Allen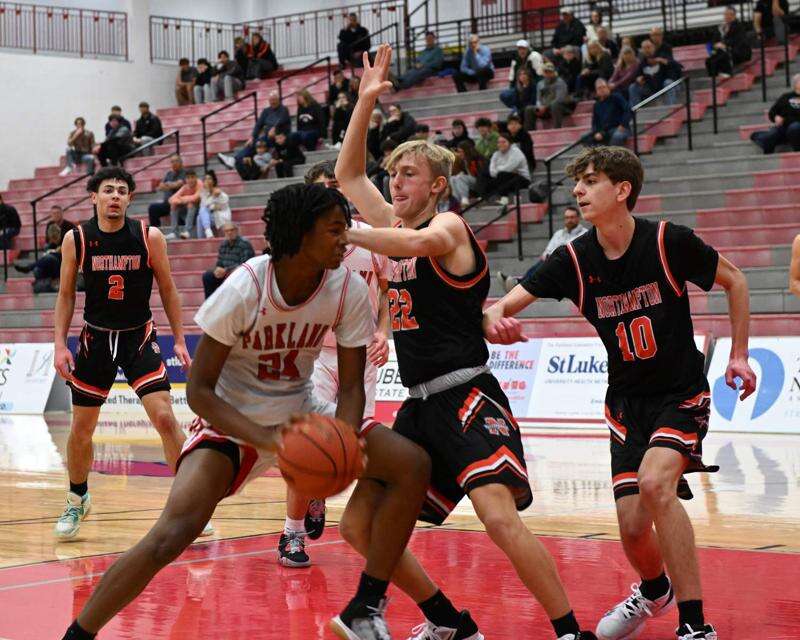 Published December 30. 2022 08:05AM
by CJ HEMERLY Special to the Press
It was a quiet week last week for the Parkland High School boys basketball team. The Trojans played an Eastern Pennsylvania Conference game at Allen last Tuesday and then were supposed to host Pocono Mountain East this past Friday, but inclement weather postponed that game to this week.
Parkland had its closest margin of victory to date when it held on to defeat the Canaries on their home court by a score of 57-48. The previous two EPC wins over Northampton and Nazareth came by an average margin of 26.5 points. It was the third consecutive win in conference for the defending league champions.
The Trojans jumped on Allen early, outscoring them 20-6 in the opening frame and taking a 34-14 advantage into halftime. Leading scorer, Nick Coval had a career night, scoring 35 points, including going 11-for-11 from the free-throw line to lead the way. Matt Ray had nine points.
In another tightly-contested EPC road game this past Tuesday night, the Trojans held firm in the final quarter and then pulled away late to take care of host Liberty, 58-48, behind a game-high 22 points from Coval and 16 points by Joey Gerbasio. Ray added nine for Parkland.
The Hurricanes, trailing by double digits early in the fourth quarter, pulled to within just three at 49-46 with 2:15 left to play, but Parkland went on a 9-0 run to put the game back into their hands. The Trojans (4-1 overall, 4-0) remain undefeated in league play and their only loss came in the season opener against state power, Lower Merion.
Parkland had the game in hand for most of the night, leading 15-5 after the opening quarter, 27-15 at halftime, and 44-33 following the third quarter.
Parkland was back out on the court 24 hours after the win over the Hurricanes to make up the game with the Cardinals at home. The Trojans will then break for the Christmas holiday and will play next week in the Reading Invitational at Reading High School on Dec. 27 and 28, the same holiday tournament they played in last year. They will be back into EPC competition in the new year on Tuesday, Jan. 3, at Central Catholic.