Bacon Fest!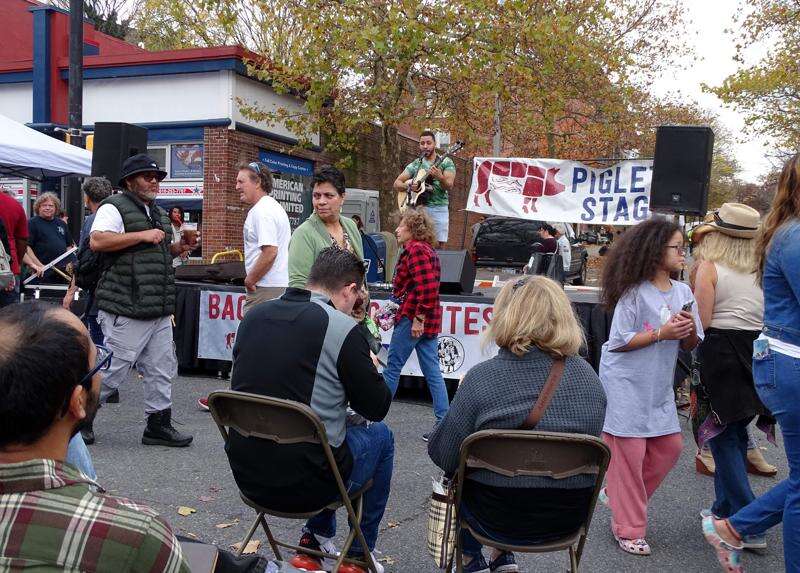 Published December 06. 2022 12:49PM
by Tami Quigley Special to the Bethlehem Press
Easton brought home the bacon to the Lehigh Valley for the 11th year as Pa. Bacon Fest got things sizzling in Centre Square and the surrounding area Nov. 5-6.
The festival featured more than 150 food and drink vendors and 25 live musical acts during two days of all things bacon that got things cookin' downtown amid Indian Summer weather.
The bacon bonanza offered delicious bacon-themed food, live music, family-friendly activities, cooking demos and every sort of bacon treat you can imagine.
Activities were also a slice of the fun, including Pig and Weiner Dog Races, rock climbing wall, bungee jump and mascots dash as well as hog calling, bacon eating and costume contests.
The festival is a fundraiser for the nonprofit Greater Easton Development Partnership. Visitors were asked to contribute a $2 suggested donation at the entrance gates to benefit GEDP programs such as Easton Public Market and Easton Farmers' Market. Funds raised support free events and programming in Easton throughout the year, including Easton Out Loud, Live at the Falls concerts and many others
One of the most popular food festivals to dish out fare in the Lehigh Valley, PA Bacon Fest's accolades include being featured on USA Today's 10 Best lists https://www.10best.com/ in 2019. Parade.com named it one of the country's "5 Can't Miss Bacon Festivals."