Falcons fought through trying season in '22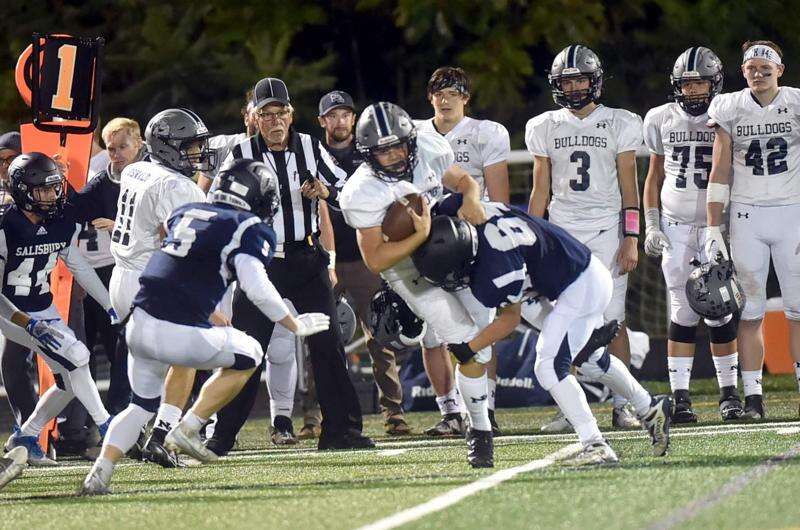 Published December 05. 2022 11:37AM
by CJ HEMERLY Special to the Press
The Salisbury High School football team had a trying year during the 2022 season. The Falcons were unable to secure a victory in their 10 games. Just two of the games were decided by 10 points or less, and according to head coach Andy Cerco, despite the circumstances, his players continued to show up every week and compete.
Just like in the past few years, Salisbury has been down on numbers which decreases depth and creates a higher possibility of sustaining injuries. If there are injuries, it leads to an even bigger problem of lack of players and playing out of position. Many of the Falcons play both ways on offense and defense, so there is rarely any time to rest during the game.
But despite all that the Falcons have against them, Cerco still holds his team at a high standard and expects them to play to their best every minute of every game.
"We expect our guys to play hard no matter what the score is," said Cerco. "We want them to know where they're supposed to be on the field and in any given situation. They also need to play with great and positive energy."
Salisbury's season opener against Panther Valley at home on Friday, Aug. 26, was the closest game this season. The Falcons came within one score of winning as they fell 20-13.
Salisbury will graduate some talented seniors that have been with Cerco and the program from their youth days. And they hold a special place in his heart. Those seniors include Nick Beck, Jacob Gibbons, Josiah Day, Shawn Donaldson, Carl Dyer, Toby Linn, Ryan Ferrell and Matt Rodrigues.
"I feel great every day because I get the opportunity to work with these young men," said Cerco. "We are here to educate, train and develop young men of character and to help them grow. We have had a lot of these kids in our program since they were in the seventh grade. We want to continue to develop our school community."
The future could be bright for the program, however, as there were 24 underclassmen that were freshmen or sophomores on this year's team. That's 55-percent of the entire roster of 44 players. They gained valuable experience on the varsity level and will look to continue that next season moving forward and put the Falcons back into the win column.