Catty falls in Turkey Day game Finishes season at 7-6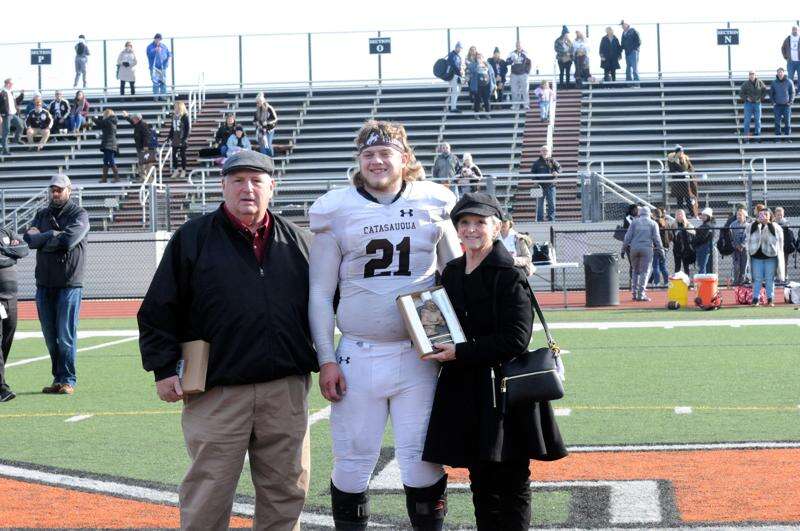 Published December 01. 2022 09:08AM
by Jeff Moeller Special to the Press
For Catasauqua, it was a morning of missed opportunities.
"We had our chances," said Rough Riders' head coach Travis Brett after his team's 42-12 loss to Northampton in their annual Thanksgiving Day battle. "We had a chance to keep it closer before halftime, but we couldn't convert. We dropped a pass or else we probably would have done into the half down 21-17
"We got a big kickoff return to start the second half and couldn't finish the drive. We also had an interception and didn't finish that drive either. It's tough. We just don't have the numbers. They're subbing in fresh bodies the entire game. If we have 20 more bodies on our sideline we probably win this game.
"It was that kind of game for us."
On a brighter note, senior running back Anthonie Hunsicker topped the 1,000-yard mark for the season with his 91-yard effort, and 1,004 for his career. Hunsicker also was a stalwart on the other side of the ball.
Hunsicker appreciated all the moments. This season, he battled injuries all season long.
"It feels good to hit the 1,000-yard mark after trying so hard for it," he said. "When I look back on my high school career, I am proud of it because of all the adversity I overcame with the injuries.
"Overall, I think it was a very good run for me."
The Roughies also will lose quarterback Christian Fye, who struggled against Northampton with four interceptions. For the season, Fye completed 74 of 175 attempts for 931 yards with 10 touchdowns and 11 interceptions.
Seniors Wyatt Younes, Javier Sobrado, Ezra Garcia, and Michael Monberge all played major roles this past season.
"We were hoping for Christian (Fye) to get to 1,000 yards passing," added Brett. "But he had trouble connecting with our guys due to Northampton's cover guys who did a good job. He tried to force some passes."
The Roughies finished with a 7-6 overall mark. They had a three-game losing streak to begin the season, but they then won five straight games before losing to Palisades.
They recovered to exact revenge on Palisades in the opening round of the district playoffs. However, their postseason ended with a 32-29 loss to Executive Education in the final seconds of the District 11 Class 2A championship.
The Roughies will have a majority of their players back for the 2023 campaign. Junior running back Hunter Reitz, who was sidelined for the year in the opening weeks with a season-ending injury, will return to handle the bulk of the backfield duties. Fellow junior running back Jyzaiah Bonilla rushed for 601 yards. Junior Chad Bellar, who had a strong season at linebacker, is expected to see some time in the backfield next season after he spent this season up front.
Junior Ian Juica, who caught 25 balls for 481 yards, will lead the receiving corps that will feature fellow junior tight/end/linebacker Dylan Pacheco, who excelled on both sides of the ball.
Sophomore Jacob Ramos, had a breakthrough year on the line offensively and defensively, and he will play a major role next season. Sophomore Jordan Bradshaw was a standout on the JV team, and he will have a major impact next season.
Sophomore Aiden Hess, who saw some time behind Fye this season, will take over the resin at quarterback next fall.
Brett also is anxious to get the 2023 campaign rolling.
"We have a good group coming back," he stated. "We will be in pretty good shape. Aiden Hess saw some time, and he has a good arm. He can step right into our offense.
"We are looking to get back in the weight room again as soon as we can."