The Americus Hotel, Allentown, hosts Honorary First Defenders Military Ball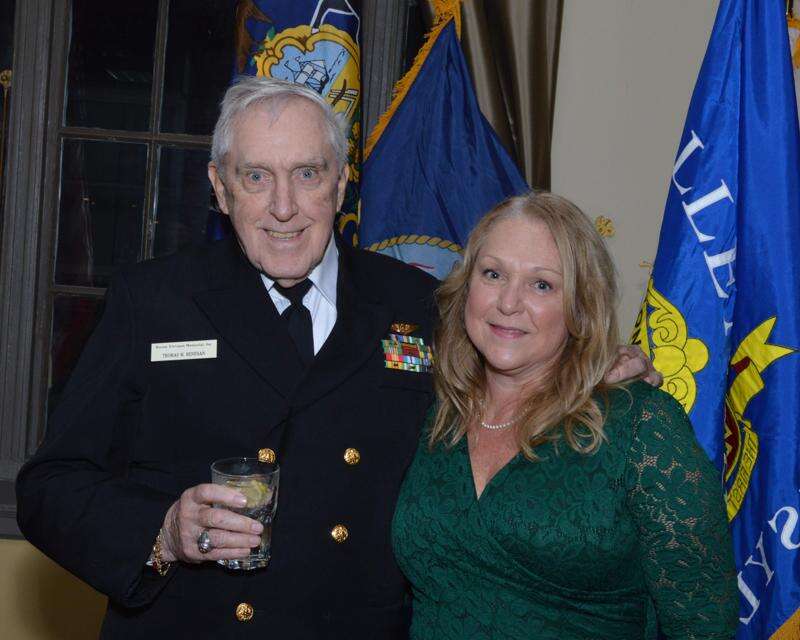 Published November 30. 2022 12:15PM
by Doug Graves Special to The Press
The Americus Hotel on Hamilton Street in Allentown hosted the 77th annual Military Ball for the Honorary First Defenders and the 213th Regional Support Group Nov 12.
Organizers had suspended the usually annual event for the past two years because of the COVID-19 pandemic.
The Honorary First Defenders, according to the evening's program, "is an organization of business and professional men and women dedicated to support the troops of our area who in turn so faithfully carry on in the tradition of their famous forebearers."
It carries on the memory of the "First Defenders" or those soldiers from the Allentown area who, at the outbreak of the Civil War, were among the first to respond to President Abraham Lincoln's call for volunteers to come to the defense of the Washington D. C. in 1861.
The current Commander of the Honorary First Defenders is Patricia Veresink.
The Commander of the 213th Regional Support Group based in Allentown is Col. Frank Montgomery.
The mission of the 213th Regional Support Group is to provide mission command for both noncombat and combat operations and to assist assigned Active Component or Reserve Component units in meeting all training, readiness and deployment requirements.
The evening's events included a posting of the colors wherein soldiers armed with service rifles escorted the United States flag and organizational flags to the front of the ballroom where the flags were "posted."
After dinner and remarks by speakers, awards were conferred on honorees.
A "grand march," a traditional feature of formal U.S. Army balls, was led by retired U.S. Marine Corps Master Sgt. Roslyn Schroeder and her husband Master Gunnery Sgt. Carl Schroeder who are also members of the Bethlehem Detachment of the Marine Corps League.
Master of ceremonies was Sgt. First Class Michael M. Hoffman, U.S. Army retired.
The color guard was provided by the 213th Regional Support Group based in Allentown.
Several service members received the 2022 Honor First Defender Commander's award recognizing their service and professional achievement.
Among those honored were Sgt. Justin Bianchi of the United States Marine Corps Reserve who was recognized for his service as Section Chief, Howitzer Section two, Battery I, 3d Battalion, 14th Marine Regiment, 4th Marine Division. As a civilian, Bianchi volunteers with the Ardmore, Pa. Merion Fire Company and is the general manager of the Planet Fitness in Roxborough, a neighborhood in Northwest Philadelphia.
Also receiving recognition for superior performance were U.S. Army Specialist Elias Gomez, who in his civilian career, works for the Board of Education in Passaic, N.J.; U.S. Army Reserve Sgt. Jeremy R. Hetman, who serves with the 130th Chemical Company in Easton and Pennsylvania National Guard Sgt. Nestor Avillaneda who, in his civilian career, works for Budget Blinds in Downingtown.