LVHS shows off shelter renovations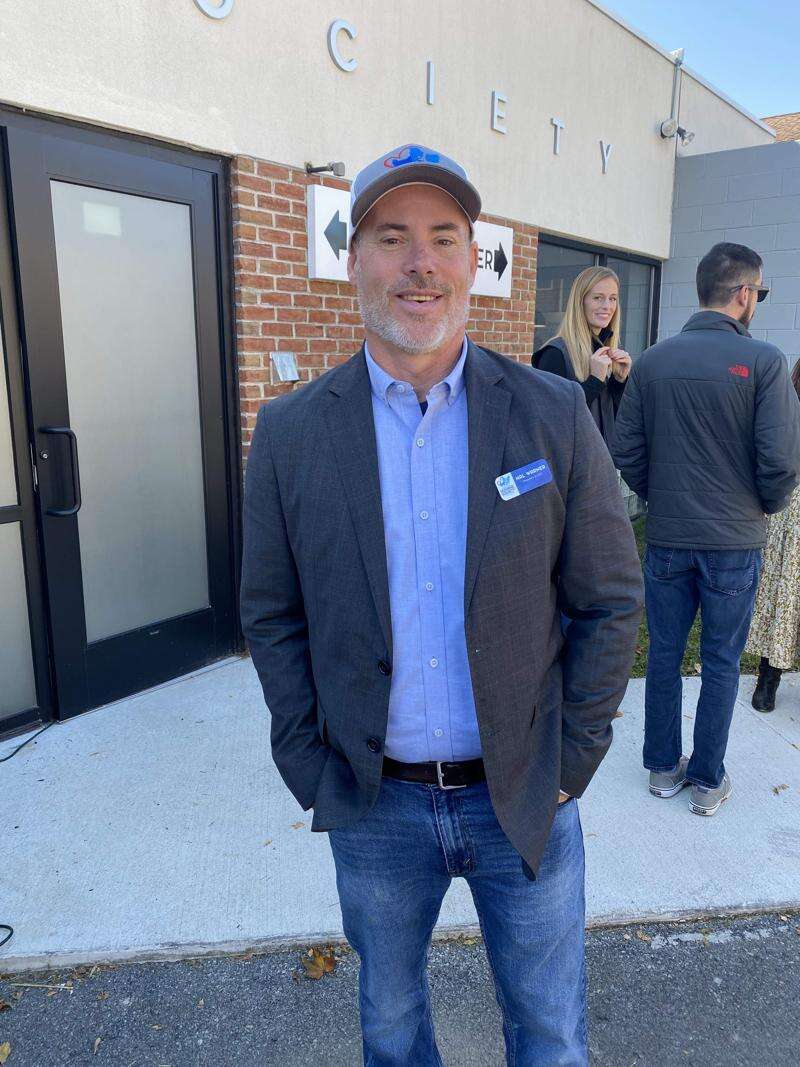 Published November 30. 2022 07:43AM
by
BY MARIEKE ANDRONACHE
Special to The Press
"We wanted to design an animal shelter that took the 'ickiness' out of people going into animal shelters," said Hal Warner, president and CEO of the newly refurbished Lehigh Valley Humane Society, to those attending the open house community day Oct. 23.
The renovations took 14 months.
"[The renovations] allow the shelter to now take in 121 dogs, 175 cats and a handful of small animals," Warner said, adding the $4 million needed to cover the costs came from government grants, fundraising and donations.
Teisha Jones, director of operations of LVHS, gave a tour of the facility, located at 640 Dixon St., Allentown. Although there are still a few final touches to be completed, a conscious effort was made to ensure all of the shelter's animals have adequate space. Designated areas for cats, dogs and small animals, such as rabbits, were also designed.
As bonding with animals is so crucial, there are three separate rooms for one to get to know the cats and kittens. Each room also has perches for the cats to climb and play.
For dogs, a point is made to ensure each one receives both a morning and evening walk daily, often with the help of volunteers, Jones explained. She also pointed to a dog play area in the back of the facility, which helps dogs socialize among themselves.
"Although we are hearing stories around the nation about people returning animals, that is not the case here," she said regarding pets during the COVID-19 pandemic. "Pet adoptions are still on the rise in the Lehigh Valley."
Jones also explained the adoption process, which can take five to seven days. The form, available at lehighvalleyhumanesociety.org, is only the first step, as certain checks and references are required. Everything is done to ensure the process goes as smoothly as possible.
The shelter has many support services for new pet owners, from a veterinary clinic to the ability to work with a certified dog trainer. Jones explained this is a conscious effort to ensure new pet owners have the support they need to ensure a smooth and healthy transition for both the new pet and the owners.
Lucas Holland, a certified dog trainer with LVHS, showed The Press some training tricks with his dog Kaiser, a 5-year-old Belgian Malinois. His services are designed to help dog owners understand and bond with their pet, as well as answer any questions they may have.
As both Warner and Jones publicly pointed out, staff and volunteers are key to ensuring all the animals are receiving the basic care and attention they need.
Rose Sanchez started working at the shelter in August. She said she is enjoying her time at LVHS, helping with the feline friends that are looking for a new home.
Steve Martucci, chair of the board of directors of LVHS, told those present at the community event that the renovated building is "one of the most modern animal welfare buildings in the world, with the premier team of animal welfare."