The Pip before Christmas: Popular puppet show celebrates 60 years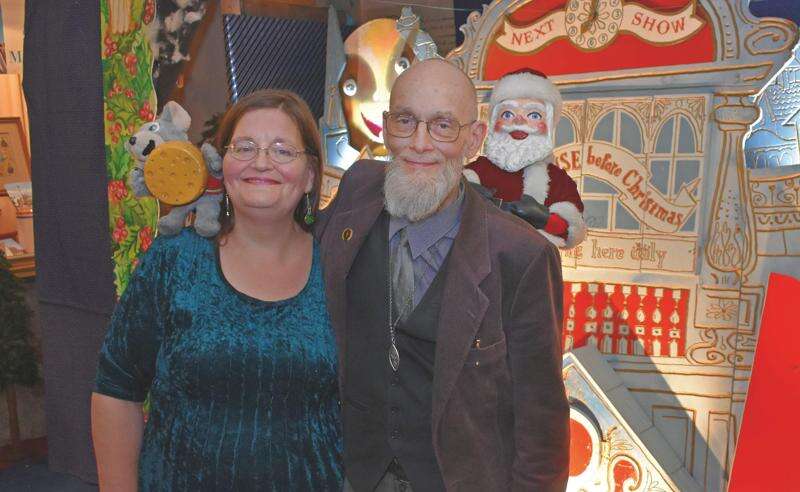 Published November 26. 2022 07:13PM
by ED COURRIER Special to The Press
Just as Pip the Mouse was getting ready to celebrate 60 years of entertaining children and families, there was a possibility he would lose his happy home.
Pip, who started out as a retail mouse at the former Hess's department store in downtown Allentown, has beeen a church mouse for nearly two decades.
As a senior citizen, he could join AARM (the American Association for Retired Mice), if there was such an organization.
Pip has no plans to retire, but before you could say "cheese," it seemed that Pip was in danger of being unchurched.
The Congregation of Zion's Reformed United Church of Christ, also known as the Liberty Bell Church, 620 W. Hamilton St., Allentown, that houses the Liberty Bell Museum where Pip holds forth during the holiday season, was put up for sale in June. The church held its last service Oct. 2.
A church mouse without a church?
Not to worry.
The Zion congregation donated the church to Resurrected Life Community Church United Church Of Christ, 144 N. Ninth St., Allentown, which plans to use the facility for education purposes.
The Liberty Bell Museum, a nonprofit, is expected to continue in its location in the church basement.
During the Revolutionary War, the Liberty Bell was transported by wagon from Philadelphia and hidden under the floor of the church to prevent it from being melted down for cannon balls.
A Pennsylvania Historical & Museum Commission historical marker, commemorating the Liberty Bell hiding place in the church from September 1777 to June 1978, was dedicated July 16.
"Pip: The Mouse Before Christmas" returns for another run of vintage seasonal fun to the Liberty Bell Museum, Allentown. Shows featuring Allentown's Official Mouse started at 12:30 p.m. Nov. 25 and continue through Dec. 31.
Pip and his holiday puppet show, created by Dr. George Creegan, premiered Oct. 27, 1962, at Hess's, Ninth and Hamilton streets, Allentown. After the iconic Allentown department store closed, puppets, props and stage found a home at the Liberty Bell Museum where the holiday show has been going on since 2003.
Of the 15 department stores in the United States and Canada that had Pip's holiday puppet show, Allentown has the only surviving plywood and pressboard stage, and possibly the largest collection of puppets and store-window display items.
Many of Hess's 1962 displays and animatronics created by Creegan, are integral parts of the Christmas display. Animatronics, including Mr. and Mrs. Santa Claus, George and Martha Washington, and a cat at her ironing, were purchased in 2010 by former Liberty Bell Museum curator Joshua Fink when Creegan's factory closed.
To celebrate the 60th anniversary of the puppet show, "Pip, Pip, Hooray! It's Pip's 60th Birthday!," an exhibition of photographs, mementoes, newspaper articles and memories from multiple generations of Pip's fans, are on display in the museum's lobby gallery.
In the hallway gallery is an exhibit honoring the history of the Liberty Bell's trek from British-occupied Philadelphia to its hiding place in the church basement in 1777. It is said this prevented the bell from being melted into cannonballs during the Revolutionary War.
The museum's Little Shoppers Village is open noon - 4 p.m. Dec. 3 and Dec. 10 with affordable gifts ranging from $1 to $4 for children and their families to purchase. All items are gift-bagged.
Pip's New Year's Eve Party is 11:30 a.m. Dec. 31 to "ring in the New Year at noon," according to Liberty Bell Museum Manager Stephanie Burke.
"Pip: The Mouse Before Christmas," the Liberty Bell Church, 622 W. Hamilton St., Allentown, 12:30, 1:30, 2:30 p.m. Monday - Saturday, last Sunday of November and second Sunday of December, 4:30 5:30, 6:30 p.m. Thursdays, through Dec. 31. Gallery hours: noon - 4 p.m. Monday - Wednesday, Friday, Saturday, noon - 8 p.m. Thursdays, noon - 4 p.m. second Sunday. www.libertybellmuseum.org; 610-435-4232