WHS alum returns to address Art Club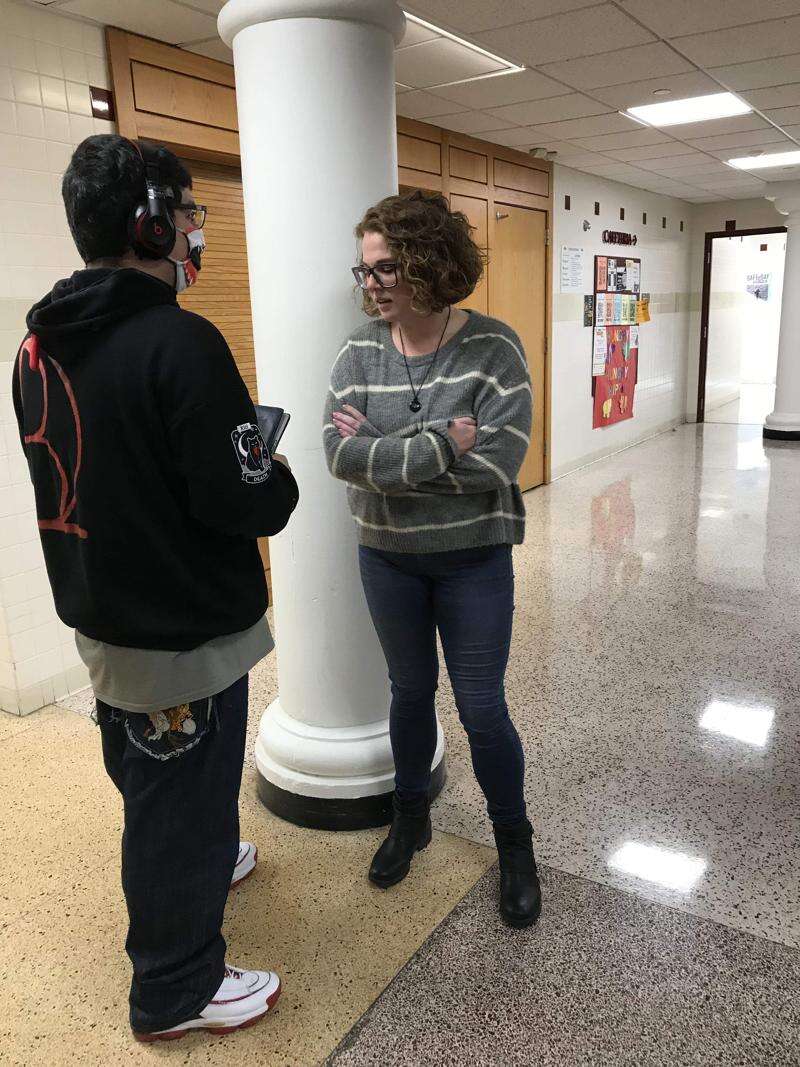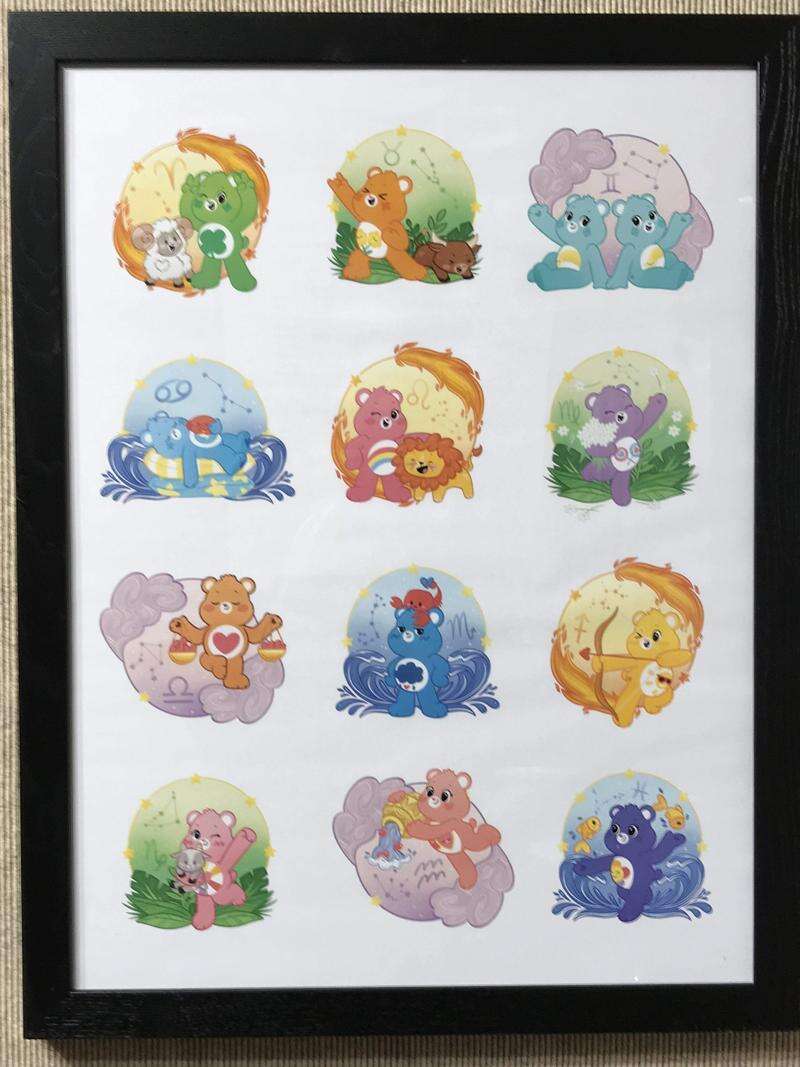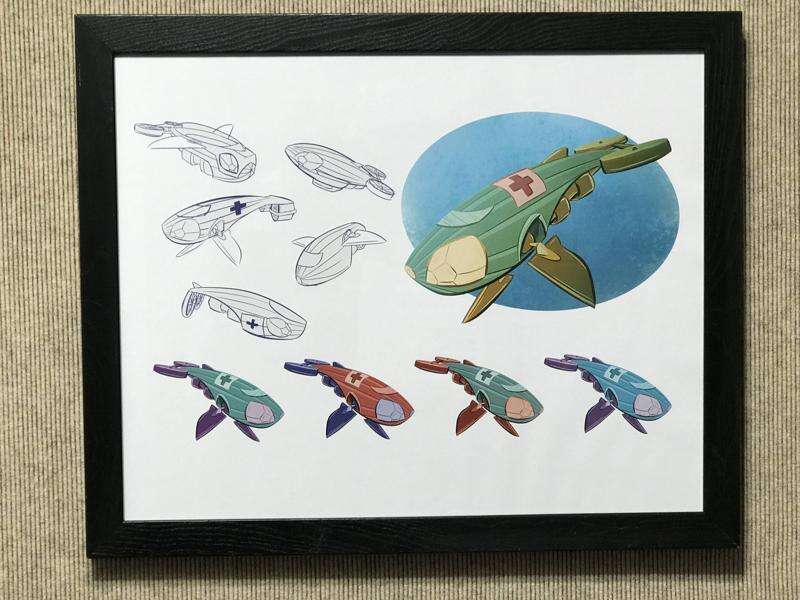 Published November 23. 2022 06:32AM
by M.J. KORSAK Special to The Press
On Oct. 18, digital illustrator Anne Lesniak returned to her alma mater to speak with members of Whitehall High School Art Club about what it takes to make a living in the art field today.
Her mentor, art teacher Danny Moyer, as well other art department staff, were on hand to welcome her back and introduce her to students.
Lesniak began by talking about how Whitehall prepared her for college. To be a digital illustrator, a student must first learn how to draw; therefore, it's important to have a solid art foundation on which to build.
"Whitehall taught me great values when it comes to traditional aspects of color, shape, light - the things you need to know - so when you get to the point of being able to draw digital, it all makes sense at once," Lesniak said.
She also mentioned that Whitehall's dual enrollment classes served quite well in preparing her for college. Interestingly, she went to school for art twice, earning a Bachelor of Arts in art education at Tyler School of Art at Temple University, Philadelphia, and a Bachelor of Fine Arts in illustration from Ringling College of Art and Design, Sarasota, Fla.
"Art was in a more traditional phase," Lesniak said about her first college experience.
Digital art was in its infancy, used mostly by professionals in animation and graphic design. She was also studying art education, which gives students a more varied art experience with courses in a wide range of mediums.
When Lesniak graduated, she realized she couldn't work in education because all the jobs were what they called "art on a cart." They were part time with no benefits and paid only about $17 an hour.
"I decided if I'm going to be poor, I'll be poor doing something I love," Lesniak said.
So, she returned to school.
During this time, the iPad had come out, making digital art easier, more affordable and more accessible to students everywhere, and that's when things really took off. By the time she got to her second college, she said the one thing she was definitely lacking was digital skills, "which in no way was Whitehall's fault," she was quick to add.
She was happy to learn Whitehall kids today do have digital classes, saying that will really put them ahead of the game.
"Everything is going digital these days, so if you are looking for a job professionally in art, I highly recommend becoming familiar with any and all things digital."
After a lively discussion about the ins and outs of different programs and which of them the students are using, Lesniak continued by talking about how college prepared her for a job as a professional illustrator.
She stressed how important choosing a college can be, urging kids to find schools like Ringling that bring in big-name companies that view student portfolios and give them feedback. She mentioned many graduates of Ringling end up at Disney, Pixar, DreamWorks, Hallmark, American Greetings and many other highly influential companies, and if illustration is not what you had in mind, there are plenty of other niches available, depending on your major.
"Finding a job in art is not that easy," Lesniak said though.
She urged kids to find ways to get the process started while they are still in school. Going to art shows, jotting down names and networking in any way possible, including the many different social media platforms, were some of her suggestions.
She also talked about self-promotion. Her own efforts included designing business cards in her illustration style, so people will know exactly what they're getting, and did the same on all her social media. She made a "self-icon" that capitalized on her red hair.
"I tried to make myself stand out however I could," she said.
She said whenever hiring companies came to the school, she was the one who always asked how she could get a job. Her gutsy attitude paid off when she was awarded an internship at American Greetings working on the popular Care Bears brand, which turned into a four-year stint straight out of college.
"Make yourself stand out, and make those connections. In art, it's really important," Lesniak said.
The last topic of the talk pertained to how the industry has changed since she's been working. She was in Cleveland, Ohio, working for American Greetings when COVID-19 hit. Post-COVID, most companies stopped moving their people around, opting to allow their employees to work remotely. Lesniak is back home, working as an illustrator in Whitehall.
She is currently working for Legends, an Indiana-based company that provides services for major sports and entertainment organizations and venues. Right now, she is designing onesies and bibs for NASCAR.
"It's pretty nice as an artist to be left alone to do your job and just hand it in. It's pretty nice to have your own space, to work in a more comfortable space and not have to get up at 8 a.m. and go to a room and start drawing," Lesniak said.
The other big change is how the Internet and social media have impacted digital art.
"Now an artist can sell a print for a really small price tag but sell so many more of them because they'll never run out," Lesniak said, referring to the fact that many things aren't printed anymore. Conversely, consumers could own prints from their favorite artists for little more than the cost of whatever display method they choose.
Social media can help artists get their work out there and known. For example, while still in Ohio at her first job, Lesniak, in a fit of temper - or genius - redesigned the "Don't Tread on Me" snake with a different picture but kept the same message. The design went viral and helped to raise more than $50,000 for a nonprofit organization.
It's easy to imagine many ways the Internet and social media could help an up-and-coming artist find an audience.
At the end of Lesniak's presentation, students were free to check out her work in the Zephyr Gallery, and a question-and-answer period followed.
Though Lesniak is quite happy with her career path at the moment, she does hope to someday be a teacher. She would like to carry on the message that was imparted to her - that it is possible. Like Danny Moyer did with her, she would like to convince kids to stay on the art path, and like her instructors at Ringling, who had worked as illustrators, to be an example.
"If I can do it, you can do it, too," Lesniak said.