FHS falls to Parkland in finals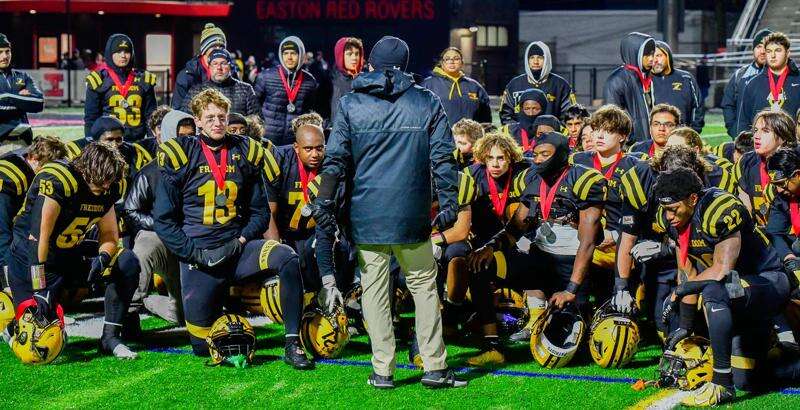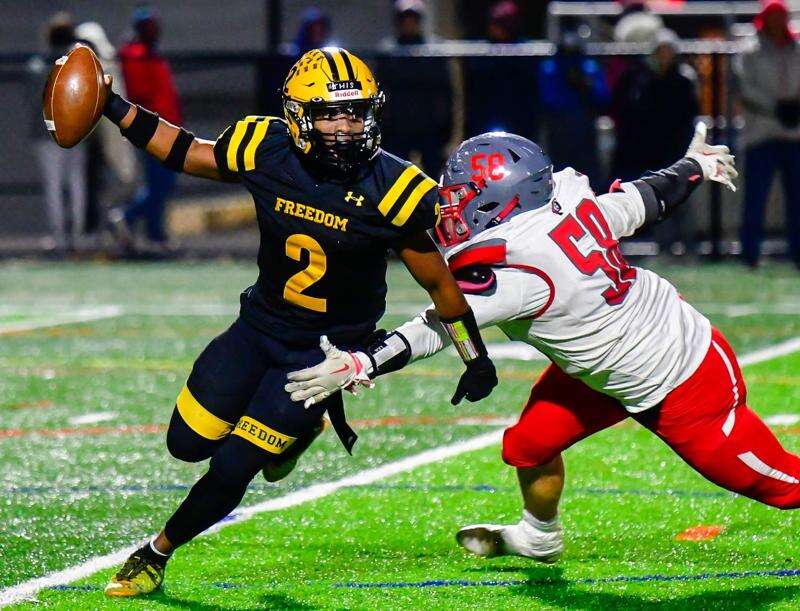 Published November 23. 2022 08:00AM
by Peter Car pcar@tnonline.com
In the span of two weeks Freedom's football team traveled to both ends of the emotional roller coaster that sports can become.
The Pates were riding high after slipping by Emmaus in the District 11 6A semifinals on a warm November night, but left Easton's Cottingham Stadium last Friday night full of disappointment after getting routed by Parkland 35-10 on a frigid night in the 6A championship.
It was an uncharacteristic performance for Freedom (10-3), who had their nine-game win streak snapped in a contest that never felt close from the opening series, as Parkland scored on their first five possessions en route to a comfortable championship ending.
"Obviously, it wasn't our night and you have to give credit to Parkland for the game they played," said Freedom head coach Jason Roeder. "They grabbed momentum right from the start and it didn't seem like us [tonight]. We had a great week of practice and a great warmup. Everything seemed right, but once again, credit to Parkland. We got beat in every phase and that starts with me."
Parkland (9-4) may have seemed like an improbable finalist midseason, as they were 2-3 through five games and ended the regular season with a 40-27 loss to Emmaus, but they found their stride in the postseason, outscoring their opponents 108-37 in three games, as they now try their luck at topping Philadelphia Catholic power St. Joe's Prep (9-1) this Saturday afternoon at BASD Stadium in the PIAA tournament.
Running back Trey Tremba has been an integral component of the Parkland offense that has erupted of late, and he put that on display against Freedom right from the jump, taking a handoff on the second play from scrimmage 52-yards to spearhead a touchdown opening 80-yard drive by Parkland less than three minutes into the game.
Tremba scored the first three touchdowns on the night and rushed for 115 yards in only the first half. He sat out the second half with an injury, but the damage was already done, as Freedom trailed 28-3 at halftime.
"Our kids came to play and we knew it was going to be a physical battle," said Parkland head coach Tim Moncman. "Our line did an unbelievable job and really set the tone on the opening series. That's what they pride themselves on and our line took over. We also played great on defense and our kids were amped for this one. Our energy level was amazing. We told our kids, 'Hell, we got here, we might as well go win it.'"
Freedom quarterback Ethan Neidig was knocked out of the game on the Pates opening series of the second half following a sack, further illustrating how things just didn't go right for the Pates.
Jalen Fletcher scored from six yards out midway through the third quarter for the lone Patriot TD of the night, as he paced the offense with 99 rushing yards.
For Freedom, the emotion of the defeat was prevalent postgame. This senior class was a special group to the coaching staff and Roeder especially. To have their career come to end in that fashion was a difficult pill to swallow, but they were a group that did everything right for the program.
"This group did things the right way and they really cared about Freedom football," said Roeder of this senior class. "They came to work everyday, they act the right way in the building, they're good to each, they're great teammates and it's been a pleasure being with them. I've never known a football team better, just from watching them grow up over the years. It's tough to say goodbye."