Catasauqua looks to stop losing streak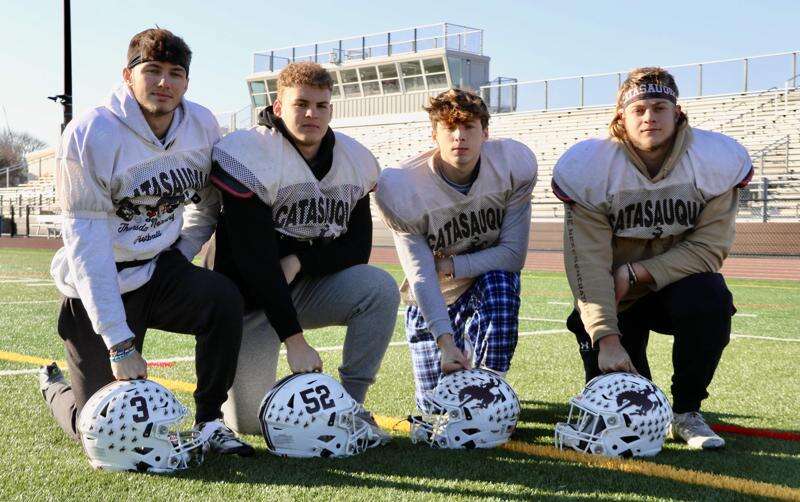 Published November 23. 2022 08:03AM
by Jeff Moeller Special to the Press
Since 2014, Thanksgiving morning hasn't been a pleasant time for the Catasauqua football program.
Over the past eight years – the game was postponed in 2020 due to COVID – the Rough Riders have been on the short end of their annual meeting with Northampton. In fact, Northampton has outscored Catasauqua, 320-111, since Catty posted its last win, a 43-28 victory in 2013.
Last year, Northampton posted a 47-13 victory.
This Thursday, Northampton again looms as the favorite on its home field with a 11-1 record, while Catasauqua has an overall 7-5 mark in the 99th meeting between the two teams.
Both teams are coming off losses in district playoffs with Northampton losing to Parkland in a district Class 6A semifinal, and Catasauqua losing to Executive Education in a district Class 2A final.
Catasauqua head coach Travis Brett understands the road ahead, but he also welcomes it.
"They are big up front, but not very quick," noted Brett. "Their skill guys are physical and fast.
"It is a 6A school that keeps growing unlike Catasauqua. We have the kids we have, and it will be a challenge."
Catasauqua began the season with a 0-3 mark, losing games to Northern Lehigh, Palmerton, and Marian Catholic. They also lost junior running back Hunter Reitz for the rest of the season due to injury.
But the Roughies rebounded to win five straight games and outscored their opponents, 147-32, in the process.
Their streak ended with a 20-17 home loss to Palisades in the closing moments. The victory gave Palisades the Colonial/Schuylkill League White Division title. The Roughies rebounded with a 53-6 rout of Salisbury.
Catty avenged a loss to Palisades in the opening round of the district playoffs with a 17-14 victory in the final seconds on senior Christian Fye's 38-yard field goal.
Fye also had his share of moments under center, as he connected on 70 of 157 attempts for 918 yards with 10 touchdowns and seven interceptions.
Senior Anthonie Huniscker led the Roughies' rushing attack with 910 yards on 123 carries with 10 touchdowns. Jyzaiah Bonilla added 592 yards on 116 carries, and Fye had 174 yards on 102 carries.
Senior Wyatt Younes had 34 receptions for 357 yards, and junior Ian Juica had 24 catches for 451 yards.
Defensively, junior linebacker Chad Beller leads the way with 167 tackles, and fellow junior Miles Melendez had 66 stops. Junior Dylan Pacheco added 62 tackles, and Younes had 61 stops with four interceptions.
Hunsicker knows his team didn't reach their district goal, but he is thankful for the chance to play in one more game.
"I think the season went pretty well," he said. "We all wanted to win a championship, but just getting there was a win for us, too.
"I thought my season went pretty well. My goal was to get 1,000 yards rushing, and I know I am about 90 yards short. That's a goal for me on Turkey Day."
Brett is optimistic his team can end on a high note.
"Our kids will be pumped and ready," he said. "We're going to play football and see what happens."
NOTES AND PREDICTION: Rumor has it that next year's game - the 100th in the series – will be the last meeting in the series. It will be at Catty ... Northampton holds the advantage in the series, 63-31-4. The series had been marked by winning streaks from both teams. Catty won three straight from 2011-13 before their current slump. Northampton pieced together a eight-game stretch from 2003-2010. Before that, Catty had the longest streak at seven from 1980-86. There have been two ties post-1950, one in 1968 (7-7), and another in 1979 (8-8) ... Northampton is healthy and ready to end the season on a high note. They should be able to run the ball due to their size advantage on the offensive line ... Time of possession will be the key here, and Catty will look to keep the ball out of the Kids' hands ... This should be intense and close in the beginning, but Kids have too much firepower for Catty to control it ... I will finally owe Coach Snyder on this one, When I'm back north, we'll have to go to a Trivia Night with Keith Groller at Dubs on Fifth in West Easton. Groller owes us ... K-KIDS, 31-14.