Compassionate Corvette owners delight ailing Orefield boy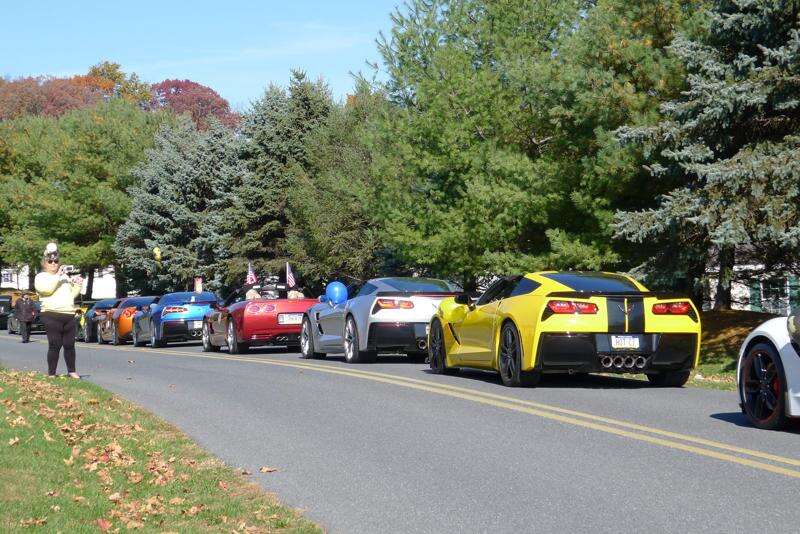 Published November 19. 2022 01:29PM
By BONNIE LEE STRUNK
Special to The Press
Dennis and Lona Beitler of Orefield are good neighbors - the kind most folks wish they could have.
When they found out their little 3-year-old next door neighbor, Leo Kushnir, had Stage 5 kidney cancer, they jumped into action to bring him cheer.
As members of the Allentown Area Corvette Club, the Beitlers contacted their club and requested a Corvette drive-by, which took place on a recent sunny Sunday morning.
An astounding 34 immaculate cars showed up.
Little Leo and his parents, Daniel and Andrea, and 4-year-old brother Keegan, along with relatives and friends, had front-row seats on the lawn as the Corvettes paraded by the Kushnir house, honking their horns.
On a second pass in front of the Apple Road home, many drivers stopped to chat with the family and present Leo and Keegan with balloons and gifts, including a yellow fabric Corvette the boys could climb into.
A big fan of the color yellow, Leo was thrilled to get into the driver's seat of a real Corvette, a bright Velocity Yellow 2007 convertible owned by club president, Marty Hegyi, and his wife, Laura.
Daniel Kushnir, Leo's dad, said he was "overwhelmed at how the community pulls together and supports each other."
He explained that Leo was diagnosed in August and has been receiving treatments at Lehigh Valley Reilly Children's Hospital, Salisbury Township.
The child will undergo surgery in late November at Children's Hospital of Philadelphia.
Good deeds are a mainstay of the Corvette Club, according to longtime member Ron Laudenslager of Fogelsville, who owns a 1981 and a 2021 Vette.
He said fundraisers and car shows held throughout the year bring in thousands of dollars that are distributed at year's end to several charities chosen by the membership each year.
This year $15,000 will be divided among three local charities, according to President Hegyi.
Recipients will include Angel 34, Good Shepherd Rehabilitation, Pediatric Division, and St. Luke's Cancer Compassion Fund.
As the grateful Kushnir family waved goodbye to benevolent Corvette owners and their passengers who showed love and kindness to a sick young boy most had never met, neighbor Lona Beitler reflected on the day.
"What a turnout," she marveled. "We couldn't have asked for better weather."
Elated, she added, "I'm happy they made Leo smile and brought him joy."
For readers who want to help fight childhood cancer, Daniel Kushnir suggests donations be made to the Pediatric Cancer Foundation of the Lehigh Valley.