Northwestern falls in PIAA field hockey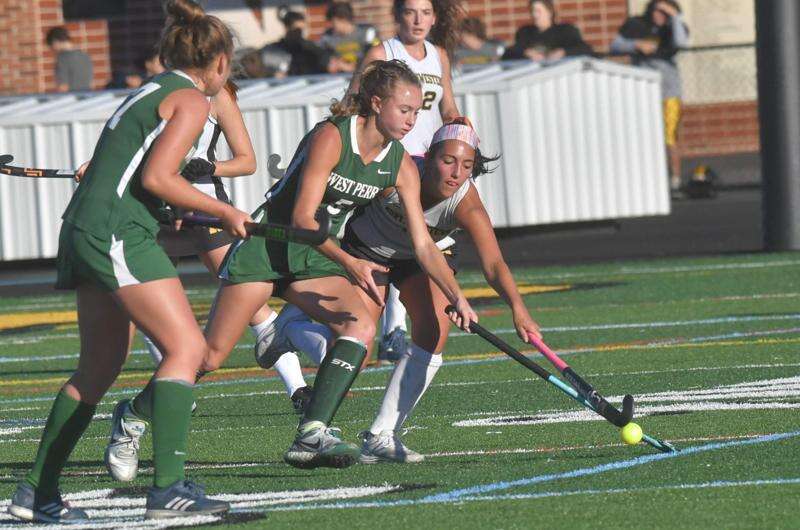 Published November 17. 2022 11:37AM
by CHUCK HIXSON Special to the Press
After an impressive late-season run that included winning nine of its last 10 regular season games and then upsetting Wilson twice in the postseason, Northwestern Lehigh (18-6-1) saw its season end Tuesday night in the opening round of the state playoffs.
West Perry (18-5-0), the third-place finisher in District 3, came into Tiger Stadium and downed Northwestern 5-0.
Sophomore Jordan Byers, who had tallied 40 goals coming into the game, tallied three more for the Lady Mustangs in the win.
Byers scored her first goal on a corner with a shot from 15 yards out, then put one off goalkeeper Gabby Gober's stick early in the second quarter for goal number two. Her final goal of the night came later in the second quarter with a laser shot to the back of the cage.
Another shot by Byers, a backhander from the top of the arc, was credited to Lauren Foster when she deflected it off her stick. Shay Dyer added the final goal of the night in the third quarter.
"They are a really talented team," said Northwestern head coach Lissa Opolsky of the Mustangs. "There are obviously things that you are seeing when you are watching the game that are different in District 3 than in District 11. They are allowed to play a lot more out of the air and when you get to this point in the season, the stuff we're not allowed to do during the regular season versus the things they are allowed to do really changes the game."
PIAA rules stipulate that balls can be played out of the air in most circumstances, but District 11 severely restricts playing balls in the air. West Perry showed a lot of skill in using passes through the air throughout the game.
The Mustangs were helped along by a defense that allowed Northwestern Lehigh to move freely through the middle of the field but shut down the Tigers offense as they approached the goal.
Meanwhile, the Northwestern Lehigh defense was put to the test by strong stick play and passing from the Mustangs. Despite the five goals, Gober played well throughout the game, making several saves. Gober, a senior, made many of the stops on kick saves, but also made some sliding stops and even poked a shot over the goal to prevent the Mustangs from adding to their total.
"We didn't do a great job of keeping them from taking shots and Byers is a really great player, so all the credit to them," said Opolsky. "They have a road ahead for themselves in states because District 3 is a powerhouse for field hockey and small schools. Even though they were the three seed, they come from a competitive district where there are maybe 45 schools, and they get seven seeds into states. They are going to be really competitive."