Spotlight: Paul Chou on the podium and is violin soloist for Pennsylvania Sinfonia Orchestra concert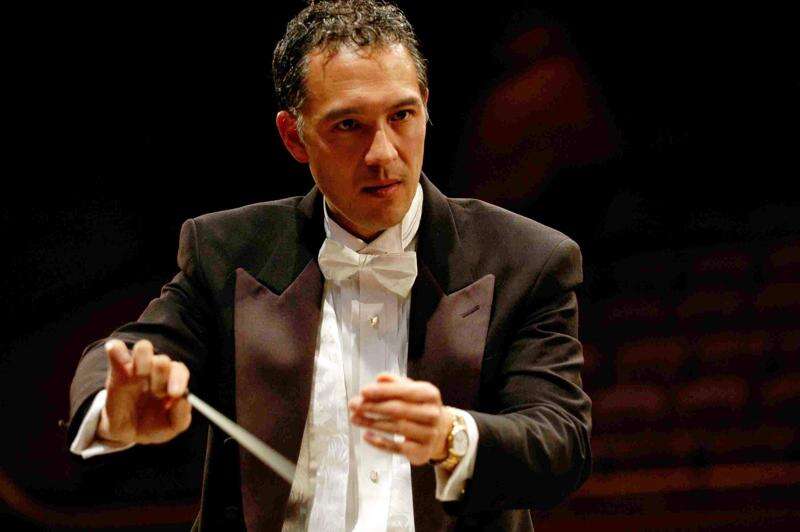 Published November 10. 2022 11:26PM
by
BY PAUL WILLISTEIN
pwillistein@tnonline.com
Paul Chou is particularly qualified to lead the Pennsylvania Sinfonia Orchestra.
You can see this in his performance as solo violinist.
You can hear this in his enthusiasm for conducting.
And there's another aspect to Paul Chou when he's conducting from the podium or playing the violin, and that is his rapport with fellow musicians.
Chou has an interesting perspective as a musician. And It derives from the corporate world, specifically that of human dynamics and development.
"I think my whole life, as I look back in retrospect, it has become clear to me not only what has interested me, but what I find intellectually stimulating, is this idea of abstract systems thinking, whether it's algorithms, a musical score, or the dynamics of human systems.
"These are all things that need to work together in order to develop a satisfying or productive outcome," Chou says in a phone interview.
Chou is a Senior Partner and Co-Managing Director, Korn Ferry, a human capital management company, consulting and executive search firm for a variety of industries.
Chou co-leads the company's nonprofit sector. "We find leaders. We develop leaders," Chou says.
Chou is Pennsylvania Sinfonia Orchestra Music Director. Chou succeeded Dr. Allan Birney as music director. Birney founded the Sinfonia, which is now in its 40th season. The passing of the conducting baton took place at a Sinfonia concert April 2 in First Presbyterian Church, Allentown.
Birney retired in April as music director of The Camerata Singers, which he founded in 1972. Birney was succeeded by Music Director Vincent Trovato.
Chou has performed with the Sinfonia since the 1980s.
Chou founded the Lehigh University Orchestra Program. Chou led the Lehigh University Philharmonic in performances on five continents, including concerts in the United States, Austria, China, South Africa and Brazil.
Since 2018, Chou is a guest artist, Festival Internacional de Música de Câmara PPGM-UFPB, Paraíba, Brazil, where he conducts the Festival Orchestra and performs as a soloist and chamber musician.
Chou teaches, lectures and presents workshops around the United States.
Chou attended Tanglewood Festival as a Leonard Bernstein Fellow. He is an alumnus of the Indiana University Jacobs School of Music and completed graduate studies at Stony Brook University.
Chou is a board member of Astral Artists, a Philadelphia based non-profit dedicated to advancing the careers of young musicians.
Chou resides on the Main Line, Philadelphia, with his wife, Dr. Karen Huang, and their son, Michael.
Says Chou, "I've been working in technology for many years, and I know how important systems-thinking is and music develops this skill in people.
"I also work with people systems, musical systems. These things are very interrelated. Changing one thing affects how another system reacts.
"The 2022-23 Sinfonia seaon, the inaugural season curated by Chou, began with the Sept. 24 concert, "Skoniczin & Strings," featuring ?Robert Skoniczin, trumpet, in Christ Lutheran Church, Allentown.
Chou soloist
Chou is violin soloist for the Sinfonia 40th season second concert, 7:30 p.m. Nov. 19, First Presbyterian Church, 3231 W. Tilghman St., Allentown.
The program, with the theme, "The Devil Made Me Do It," is: Boccherini, Symphony No. 6, "La Casa del Diavolo"; Tartini, "Devil's Trill Sonata," and Schubert, Symphony No. 5.
Chou will play the Tartini, "Devil's Trill Sonata," arranged for violin and strings.
"It's probably one of the most popular works by Tartini, often performed by continuo or harpsichord, the way it was originally, with keyboard and solo violin," says Chou.
"I'm really looking forward to it. It's going to be great fun to play with these colleagues of mine who are really amazing musicians. This piece will challege all of us."
There will be 22 string players. For the other two pieces on the program, eight wind players will be added.
The concert is preceded by a talk by Chou at 6:30 p.m. Nov. 19. The 30-minute lectures preceeding each concert were launched by Chou with the September concert.
"One of the things I am teasing the audience about is: 'Do you know how many trills there are in the Tartini?' If they want to find out, they will have to come to the lecture," Chou offers.
"The pre-concert lectures are meant to provide some insight and a little better understaning of what people are hearing.
Performance practices
"Being part of the collective group is really the secret. Yes, I have a solo part, but I am part of the band. You've got to collaborate with people.
"Every performance changes a little. And that's part of the excitement about live performance. One has to depend on the musicianship around you. And their creativity is as important as mine.
"That very intereaction is what people find interesting. Just because you rehearse something, doesn't mean it's going to be that way. And that's part of the fun is having discoveries together.
2022-23 season
The Sinfonia season includes "Winter Vivaldi," 3 p.m. Feb. 5, Wesley Church, 2540 Center St., Bethlehem.
Performing is the Sinfonia chamber ensemble: Father Sean Duggan, piano; Paul Chou, violin; Roger Isaacs, countertenor; Simon Maurer, violin; Rainer Beckmann, recorder.
The program: Geminiani, Violin Sonata "La Follia"; Graun, Concerto in C for recorder, violin and strings; Arias for Countertenor; Bach, Piano Concerto in G, BWV 1058.
The Sinfonia performs "Prague: The Golden City," featuring Derek Barnes, cello, 7:30 p.m. March 18, First Presbyterian Church, Allentown.
The program: ?Suk, Serenade for Strings; Dvorák, "Waldesruhe" ("Silent Woods") for solo cello; Dvorák, Rondo for solo cello; Mozart, Symphony No. 38 "Prague."
The Sinfonia, "Mozart & Sanchez-Werner," features Llewellyn Sanchez-Werner, piano, 7:30 p.m. April 22, First Presbyterian Church, Allentown.
The program: Beethoven, Coriolan Overture, Op. 62; Mozart, Piano Concerto in C minor; Mendelssohn, Symphony No. 4 "Italian."
Sinfonia goals
Chou has a range of goals for the Sinfonia as music director.
"The priorities for the Sinfonia under me are relevance, accessibility and musicianship.
"The thing that differentiates us is that we're a small but mighty group that performs these pieces that are written for chamber orchestras.
"We can provide a level of intimacy in performance similar to the 18th century when this kind of accessabily was in people's homes, chamber halls or parlors. That's what we're trying to achieve.
"You're not doing service to the music unless you're delivering something profound to say. I can't say that I've ever achieved perfection. But the one thing I want to achieve is expressing what the composer's intent was, informed by contemporary performance practice, historical context and research.
"That's what makes building partnerships meaningful. It's that you're not doing it alone. That's why having muscians who have so many different skills is important because they are a resource in the community.
"I don't think of the musicians as people who just play music. The musicians in the orchestra are multi-faceted with great skill sets that go beyond their musical abilities."
Sinfonia concert tickets: pasinfonia@verizon.net; 610 434-7811; at the door prior to the concert
"Spotlight" is a column about the performers, artists and producers of the theater and concert stage. To request coverage, email: Paul Willistein, Focus editor, pwillistein@tnonline.com