Roughs rally, move to finals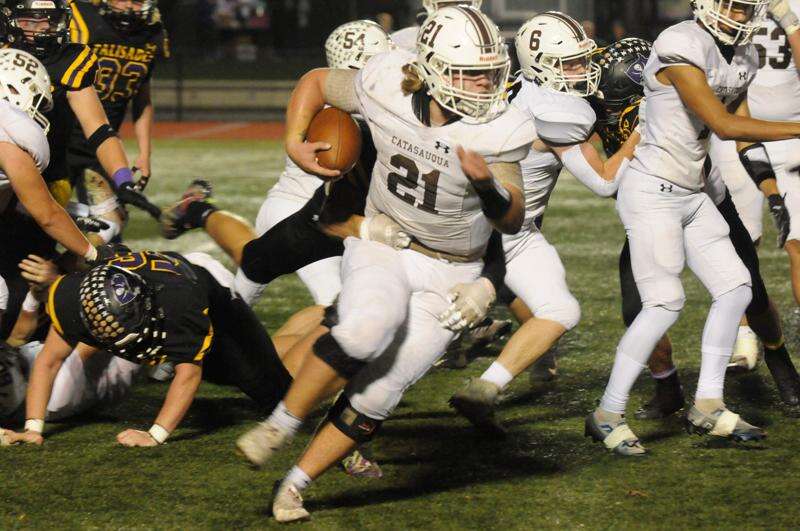 Published November 10. 2022 09:55AM
by Jeff Moeller Special to the Press
With his team down 14-0 at halftime at Palisades in the District 11 Class 2A semifinal game, Catasauqua head football coach Travis Brett wasn't budging.
"I told them at halftime that we weren't changing anything," said the third-year head coach. "We still felt confident, and I think our kids were a little excited.
"I was happy with the way we moved the ball, but we had too many mistakes. We shot ourselves in the foot with penalties and stupid mistakes. Defensively, we weren't wrapping up enough.
"I told them to go out in the second half and have fun."
The Rough Riders certainly did.
Catty scored 17 unanswered points and moved themselves back in the District 11 Class 2A final with a 17-14 victory in Nockamixon Township last Saturday night. Christian Fye booted a 36-yard field goal in the closing seconds for the game-winner.
This Saturday, the Roughies (7-4) will travel to Whitehall for a matchup with Executive Education in search of their first district title since 2013. Executive Education (6-3) is in the final for the first time after they beat Williams Valley, 22-20, last week.
"We had all three timeouts left, and we wanted to get the ball in the middle of the field," noted Brett about Fye's field goal attempt. "I told Mike Hunsicker to go straight up the middle.
"Fye has a strong leg, and I really thought he would make it. He could have had 10 more yards on it."
Fye didn't have any doubts about the kick or the second half. Ironically, the Roughies were ahead 14-0 against Palisades two weeks ago in a regular season game before they were beaten 20-17 in overtime.
"As soon as it hit my foot, I knew it was going through," he said. "Everyone then ran on the field and jumped on top of me. It was an amazing feeling and a moment I will cherish forever.
"It was just like it was two weeks ago, only this time we were losing. We had full confidence coming into the second half and ended up tying the game.
"Playing in the title game means a lot to me, my team, and my town. It has been a decade since Catasauqua has won a district championship. It's pretty special that I'm on the team in this title game. And I and the rest of my teammates are going to make the best of this opportunity."
Hunsicker, who ran for a game-high 66 yards and has been battling a sore knee, saw the tide swing in their favor after a second-half turnover.
"I thought in the first half we weren't there, and they pretty much had control," he stated. "We came out in the second half, got a turnover, and the whole team lit up. We started to rally back, and it led to the comeback.
"My knees aren't that good, but I am going to do everything I can to keep going for the championship game and hopefully, a state game."
Brett is confident his team can stay the course.
"We have to play our game," he said. "I don't think they will be able to run against us. They are big up front, but we have better speed.
"I believe we are the better team."
NOTES AND PREDICTION: Brett sees controlling quarterback Darmel Lopez as the key. He has thrown for 1,695 yards and run for 183. He has 18 touchdowns and 12 interceptions. "We have to put pressure on him," said Brett. "We can't let him make plays." Lopez's top targets are Jhymeik Roman (26-408-4 TDs) and Emery Plummer (24-368-3). Nose tackle Michael Martinez averages 8.4 tackles per game and has eight sacks ... Roughies are relatively healthy with lineman Matt Fotta (ankle), running Jyzaiah Bonilla (ankle) and lineman Miles Melendez (broken finger) all expected to play ... Roughies surprised me with second-half effort after they were sporadic in first half, and appeared to be headed into a downward spiral in the second half against Palisades. Brett noted that Roughies played a few home games last year at Whitehall while final touches of renovation of their field were underway, so the team will be familiar with it ... Roughies seem to be back on their run after Palisades derailed them a few weeks back ... Executive will give them a different look than they have seen this year. They can be undisciplined at times, and Catty will need to play its game. Brett brought them back last week after a first half that could have ruined their season. Have a good feeling about this Roughies team and their chances to bring district gold home ... The game has been moved to 11 a.m. from 1 p.m. ... Coach Snyder gave me a good batch of pierogies, but he will have to take me to the Town and Country diner in Bath for some chicken croquettes and potato filling ... ROUGHIES 24-13.