Catty wins, Palisades up next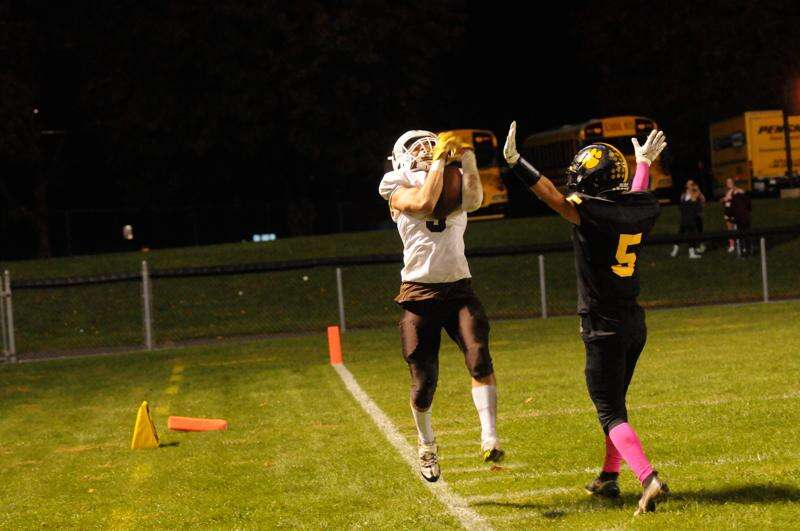 Published October 20. 2022 11:46AM
by Jeff Moeller Special to the Press
Catasauqua head football coach Travis Brett figured his team wouldn't have a quick start against Panther Valley last Friday night.
"We had a big win at Minersville the week before," he said. "I figured we would come out a little flat. We came out slow offensively but we played well defensively the whole game.
"Once we got it going in the third quarter, we were all right."
The Rough Riders did just that. They scored all of their 21 points at Panther Valley in the second half and registered a 21-0 shutout win, their fifth consecutive victory (5-3).
Catty returns home Friday night for a pivotal showdown against Palisades (6-2), which has won four straight.
Quarterback Christian Fye tossed two touchdown passes, one of 34 yards to Dylan Pacheco and another of 23 yards to Ian Juica. Wyatt Younes returned a punt 45 yards for a score. Fye completed six of 14 passes for 94 yards with an interception.
The Roughies racked up 85 yards of penalties in the opening half.
"Fye did some nice things for us," added Brett. "We were driving at the end of the game, and we could have put another one in (the end zone). But we just decided to run out the clock."
Anthonie Hunsicker led the rushing attack with 67 yards and Jyzaiah Bonilla added 44. Juica had three catches for 54 yards. Hunsicker also was a force on defense.
"Hunsicker has been playing better each week," noted Brett. "Teams have been keying on him on offense and defense. He is still able to cause trouble on defense for teams."
The Roughies are looking forward to their showdown with Palisades, which is coming off a 35-6 victory at Minersville. Palisades is in the top spot in the District 11 Class 4A spot and the Roughies are fourth.
Brett sees a mirror image of his team.
"They are a big team up front," said Brett. "They will run the ball, and they really are a lot like us. We need to play a good game and avoid mistakes. It will be a good game and a physical one."
NOTES AND PREDICTION: The last time these two teams met was in 2020 when Palisades beat the Pirates in a district playoff game, 36-0 ... Catty hasn't beaten Palisades since 2013 … Palisades has outscored their opponents, 161-41, over the last four games. They have won six of seven after losing their opener, 27-2, to Bangor. Their other defeat was a 39-0 shutout by Southern Lehigh. Steven Lilly, a former lineman, is their workhorse back with 966 yards rushing and 16 touchdowns this season. Quarterback Kai Stiansen, a former linebacker who is in his first year at quarterback as a senior, has completed 36 of 75 passes for 478 yards with four touchdowns and two interceptions ... Fye has completed 46 of 106 passes for 552 yards with seven touchdowns and four interceptions. Bonilla leads the team in rushing with 479 yards and three touchdowns, and Hunsicker has 388 yards with four touchdowns. Younes has 24 catches for 224 yards with two touchdowns and Juica has 15 catches for 266 yards with five touchdowns ... This is a real test for both teams who have been beating up Schuylkill League teams ... Palisades has been thumped by Bangor and Southern Lehigh outside the league, and that can be a telltale sign. Roughies will have a rough one here, but they are playing well. The key is to stop Lilly, who is a bulldozer of a running back … Roughies are home and playing mistake-free football, but they will take a physical battering. This will definitely be the tightest game for both teams this year ... Coach Snyder can bring Dave Troxell along for a drive across the river to Toby's for some hot dogs ... ROUGH RIDERS, 24-22