EHS rolls past Liberty, moves to 7-0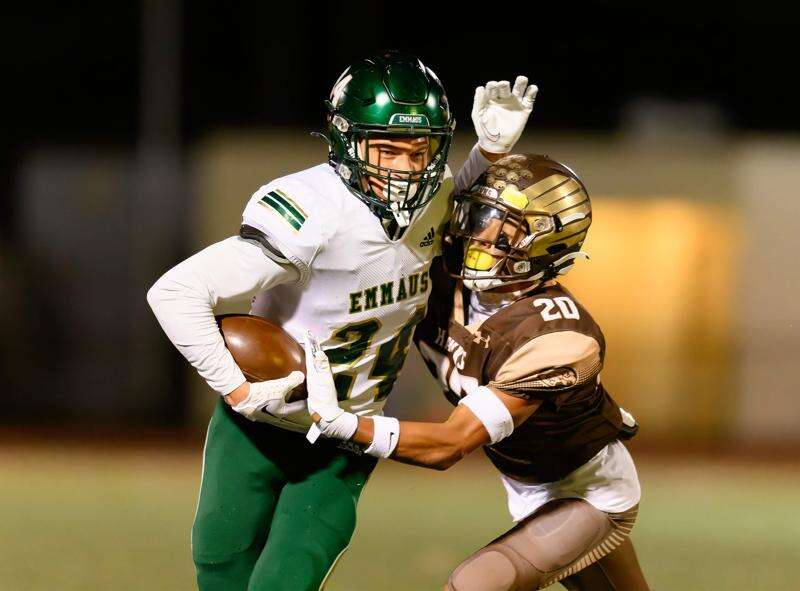 Published October 19. 2022 02:10PM
by STEVE ALTHOUSE Special to the Press
The steamroller known as the Emmaus football team flattened another opponent last Friday night, defeating Liberty 49-0 at East Penn School District Stadium.
The Green Hornets (7-0 overall) stung the Hurricanes early and often, amassing 35 first-quarter points. Quarterback Jake Fotta was on the beam, firing darts on 10-for-11 passing for 185 yards and two touchdowns. Running back Tylik Jarvis was awesome also, gaining 82 yards on just nine carries.
It was Jarvis who began the scoring spree with a four-yard touchdown run around left end for a 7-0 lead. Then the Hurricanes contributed to their own demise. On fourth down and in punt formation, the snap sailed over the punter's head. The botch cost the Hurricanes valuable field position and left Emmaus in the red zone.
Like everything else on this night, Emmaus capitalized quickly when Fotta hit the athletic Dylan Darville on a two-yard touchdown pass for a 14-0 advantage.
Liberty's special teams wasn't finished springing leaks. After another unsuccessful offensive series, the Hurricanes attempted another punt. This time Emmaus' special teams blocked the punt and Aiden Garrett scooped up the bounty and returned it 30 yards for a touchdown and a 21-0 lead.
The next time Emmaus touched the pigskin the Green Hornets worked the Fotta connection - Jake to Chase - covering 20 yards and resulting in a 28-0 advantage. The next Emmaus score came on a sweep run by Darville for his second score. The talented senior led all Emmaus receivers with four catches for 91 yards.
The 35-0 score warranted the mercy rule, but Jake Fotta wasn't quite in a compassionate mood, as he scored on an athletic run from nine yards out for a 42-0 lead with 2:34 left before halftime.
The final Emmaus touchdown was courtesy of Jerek Cooper from a yard out.
Liberty (2-5), a program gradually improving under coach Shawn Daignault, was inches from registering a second-quarter touchdown but turned the ball over on a fumble. Overall the Hornet defense played well, holding Liberty to 192 total yards and forcing three turnovers. E.J. Boney and Mario Landino each registered five tackles and one sack.
"I was just pleased with our performance overall," Fairclough said.