Falcons top LLA on sr. night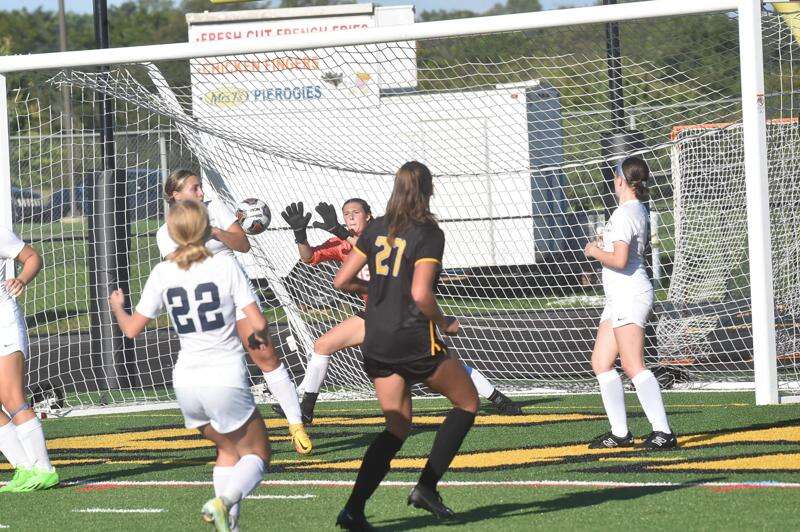 Published October 12. 2022 01:11PM
by CJ HEMERLY Special to the Press
The Salisbury High School girls soccer team won four of its first seven games to start the 2022 season, but since then have lost seven of their last eight. It has truly been an up-and-down season for the Falcons and head coach Rick Babyak has had to deal with players missing time due to injuries and also inexperience at several positions on the field.
"It's been an up-and-down season for us," said Babyak. "As soon as we had some momentum going, we started getting hit with injuries. That really put the brakes on our progress as we had to start moving players around to different positions."
Even though Salisbury sits with a 6-10 overall record with just one game left, unable to qualify for the District 11 Tournament, Babyak and his team still have one more game to play together and he wants to see the same mindset and strategy in game 17 just as they did in game one.
"I've always stressed that we go out and play every game with confidence," Babyak said. "And if we do that, we'll see improvement every game. My expectations are the same for the last game."
One of the highlights of this season was an 8-0 shutout victory over Lincoln Leadership Academy on senior night last week. The Falcons were able to send out their seniors on top and honor them the right way.
"That was a good celebration to honor our seniors," said Babyak. "Hannah Kamp, Angela Bitar and Mikayla Lighting all contributed to our team dynamic and leadership in their own unique ways. We will definitely miss them next year."
When talking about players on either side of the field that had success this season, Babyak mentioned one on each.
"Kamp, a senior captain and our goalie, has 292 saves this season with two games remaining," Babyak said. "She already broke the school record for career saves (held by her sister Jordan who had 408) compiling 427 saves by the end of the season last year. She's taking that record to another level this season. Freshman forward/midfielder Madison Reis has scored 13 goals and has one assist to date. So, she has been a leader for our offense."
Salisbury's final game is a Colonial League matchup against Southern Lehigh on Wednesday afternoon at Salisbury High School.