Zephyrs get win over PMW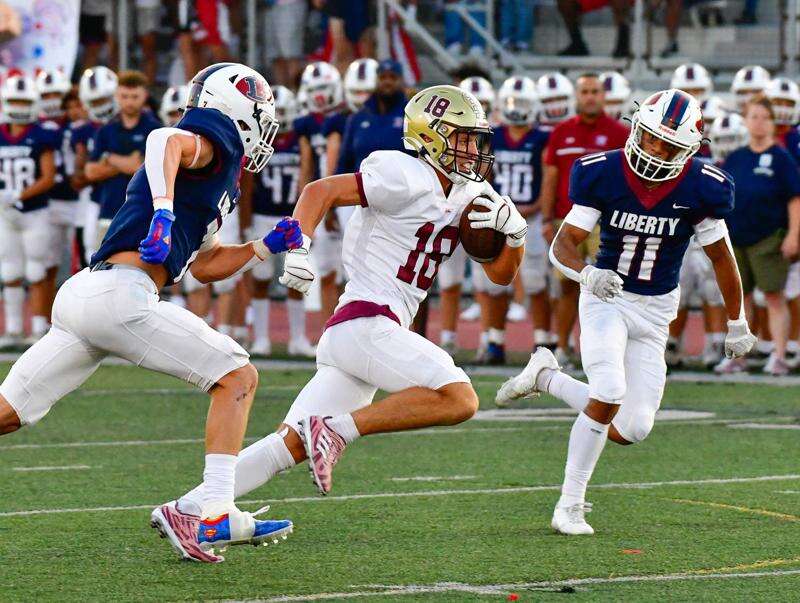 Published October 07. 2022 09:34AM
by Jeff Moeller Special to the Press
Trey Dogmanits realized his team didn't play their best game last week against Pocono Mountain West.
But Dogmanits and his 4-2 Zephyrs will put the victory in their back pocket.
"I think Friday's game (against Pocono Mountain West) was not our best showing as a team," said the junior quarterback. "We need to clean up a few things in practice this week to get ready for a much tougher opponent,"
Whitehall will travel to Bethlehem Friday to meet a rising Freedom team that routed Allen, 46-0 last week.
"However a win is a win," added Dogmanits. "We're looking to leave that performance behind us and move toward Freedom."
After six games, Dogmanits continues to have a banner season. He has completed 83 of 147 passes for 969 yards with 13 touchdowns and seven interceptions. Against PM West, Dogmanits connected on 11 of 19 passes for 157 yards with a pair of touchdowns both to running back Nigel Linton. One of them was a 61-yarder to Linton.
Linton had a big game on the ground for the Zephyrs, as he rushed for 137 yards on 22 carries and scored a pair of touchdowns. Overall, he had four touchdowns on the night.
For the season, Linton has rushed for 499 yards on 113 carries for a 4.42 average per carry with six touchdowns. Mason Delvalle has 131 yards on 31 carries.
Wide receiver Jake Kocher will go into the Freedom game with 27 catches for 337 yards with four touchdowns. Linton has 13 catches for 180 yards, and Braden Bashore has 18 grabs for 17 yards. Against PM West, Bashore had four catches for 28 yards.
Middle linebacker Carter Troxell continues to be the hub for the Zephyrs' defense, as he has 48 tackles and four interceptions. Fellow linebacker Chandler Romain has 31 stops.
Kicker Andrew Deutsch has made all three of his field goal attempts and converted 16 of 17 extra-point attempts.
Dogmanits and his teammates will be prepared for a game against Freedom that can turn their escalating season further upward.
"Freedom will be a challenge," added Dogmanits. "We know that we have to come ready to play."
NOTES AND PREDICTION: Something has to give here. Both teams come into the game with dominating three-game winning streaks ... Whitehall posted a 37-14 win over Easton, a narrow 32-31 triumph over Parkland, while Freedom bested then undefeated Nazareth, 45-35, and thumped Allentown Central Catholic, 32-14 ... A win for the Zephyrs would be a big boost to their district ranking in the Class 5A bracket. They are in second-place behind Southern Lehigh (5-1) and ahead of Pleasant Valley (5-1) ... This is a tough game to call because it looks tight. Freedom is starting to flex its muscles, but the Patriots don't have the same cast from last year's district championship squad ... Zephyrs will have their work cut out for them playing at BASD Stadium, but there appears something about this team. Dogmanits is playing as well as any quarterback in the league. Where can I get a good pastie in Whitehall? ... ZEPHYRS, 28-24.