Volleyball program making strides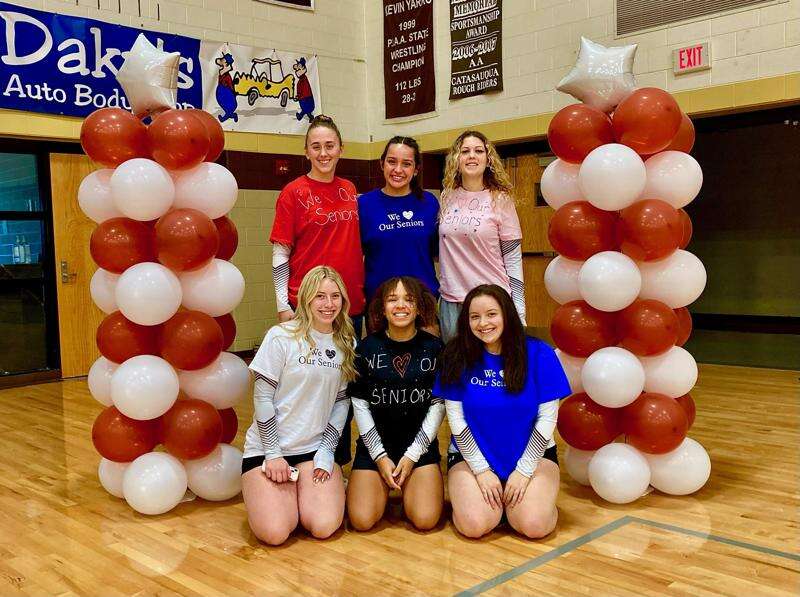 Published October 07. 2022 09:31AM
by Scott Pagel spagel@tnonline.com
The Catasauqua volleyball team sits at 6-10 on the season as of early this week.
While that may not sound or look impressive, one thing it does show is the improvement and strides the team has made over the past several seasons.
"It's hard to believe we are already talking about the season coming to close in 2 weeks," said head coach John Cesanek. "I am so very proud of all of these girls and how far they've come, they have surpassed my expectations and they truly are my second family. I wish I had another two months to work with them, they have shown so much growth and still show so much potential."
One of Catty's most recent wins was a five-set victory over Tamaqua on Monday: 21-25, 21-25, 25-20, 25-10, 15-7.
Amanda Hunsberger had 4 aces, 3 kills, 14 digs and an assist. Jane Armbruster had 3 kills and 5 digs while Angelis Ramos-Pichardo added 3 assists and 11 digs.
Briell Carvalho added an ace, 5 kills and 22 digs and Cora Soltis chipped in with 5 aces, 7 kills, 28 digs and a block.
Delaine Popa had 3 kills, 4 assists and 16 digs and Delaney Troxell had 4 aces, 7 kills, 20 digs and a block. Olivia Burnett would add 3 kills, 1 assist and 12 digs and Kayla Cunningham had 5 aces and 11 digs with Lauren DeLong contributing 4 aces, 2 kills, 9 assists and 5 digs.
"Although my girls came out very slow the first two games and lost, they kicked it into overdrive and beat Tamaqua the next three games and drove home with another win," Cesanek said.
Overall for the girls, it's been a long, hard-fought journey, one that started with some uncertainty, but now has the program hopefully trending up.
"When I first started this journey, I didn't know what to expect from the girls and the girls had no idea who I was and we're nervous about what I would bring to the table," Cesanek said. "Just like any other team, we had our bumps and bruises and drama to take care of, but the best part of these girls is that they all respect each other and the coaches and we've been able to learn from one another and get past those obstacles."
One of the things Cesanek feels strongest about is not just looking at the final scores of their matches, especially their losses.
While the girls have collected six victories this season, they've had their share of 3-0 losses as well.
But Cesanek says simply looking at the final score doesn't tell the whole story.
"The most frustrating part for me is that the girls don't get recognized for how hard and well they play against [more established team], and all others see is that we lost 3-0," Cesanek said "It was during these matches that I saw my girls really start honing in on an awesome defense and coverage strategy and begin to really shine with confidence.
"On top of that, we focused on serving and two of my girls are in the top 25 for AA schools when it comes to aces, things were really looking good.
"Although they walked away with two losses (vs. Northwestern and Pocono Mt. East) from these big schools, the girls received a lot of compliments and confidence and schools began to recognize that the Catasauqua girls volleyball team was one not to take lightly this year."
The team recently celebrated senior night where they honored Cora Soltis, Briell Carvalho, Alana Henry. Olivia Burnett, Angelis Ramos-Pichardo and Kayla Cunningham.
"I will truly miss my seniors, and I will miss them all with the season coming to a close," Cesanek said, "We are a tight family and we've all had our ups and downs through the season, but we've always had each other's backs and I couldn't have asked for a better group of girls.
"Given how much they've improved this year, I can't even imagine how far they could go if I had another year with the same team. I will miss this team dearly."
The girls will finish this season with three very tough matches against Southern Lehigh, Northwestern Lehigh and Pocono Mountain West.