D&L Trail section complete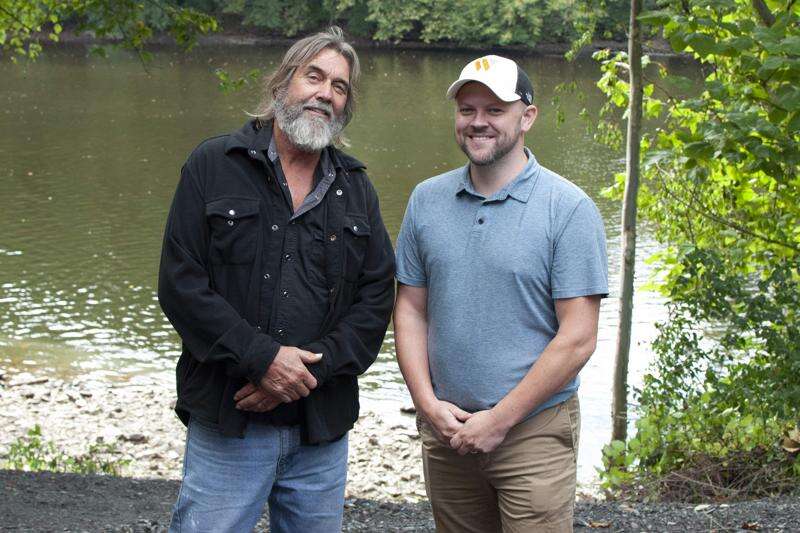 Published October 05. 2022 11:15AM
by REBEKAH HAWK Special to The Press
A ribbon-cutting ceremony Sept. 26 celebrated the opening of the new, completed section of the D&L Trail - from Northampton to North Catasauqua - at the North Catasauqua trailhead.
Representatives from Northampton Borough, North Catasauqua Borough and local legislators were present, along with the Delaware and Lehigh National Heritage Corridor, the Pennsylvania Department of Conservation and National Resources, trail landowners, project funders, legislators and additional partners.
"This ribbon cutting signifies yet another exciting milestone in the completion of the 165-mile trail," Northampton Mayor Anthony Pristash said. "Thank you to all the funders, Claire Sadler and D&L staff for ever-enhancing this truly beautiful trail - nature's superhighway along Northampton's stretch of the Lehigh River."
A handful of speakers stepped up to the podium to speak, and the excitement at completing the Northampton to North Catasauqua section of the D&L Trail could be felt by everyone present.
The new trail will offer an additional 1.5 miles. This new construction connects North Catasauqua to the existing 60-plus miles of D&L Trail running north to White Haven. When these trail gaps are finished, it will be the longest continuous trail in Pennsylvania.
"This will be a remarkable asset to this region and will bring in tourism and economic development," said Cindy Adams Dunn, Department of Conservation and Natural Resources secretary. "The pandemic showed us that people's health and mental health depended on getting outdoors, and the D&L is a gem because it's going to connect people."
When the full Lehigh Valley gap is complete, the D&L Trail will offer an additional 14-mile loop of multiuse trail between Northampton and Allentown.
More than $108 million was invested in the redevelopment and expansion of parks and recreation across the commonwealth, reported Gregory Welker, Department of Community and Economic Development director of Commonwealth Financing Authority programs.
"Providing residents with safe access to quality recreational improvements is something that we should all aim to continue to do," Welker said.
"The D&L does not own any of the trail and we could not be building the trail we are building without over 30 different landowners working together," Claire W. Sadler, executive director of the Delaware and Lehigh National Heritage Corridor, said. "Just like raising a child, it takes more than one entity. This is not something that is done by one person."
Many different organizations have come together to provide recreational improvements, and this trail section essentially accelerates progress on the overall Lehigh Valley gap.
"Throughout my first administration and now into my second term, I have often said that our future is green - and that's because Northampton County is committed to a green future," Northampton County Executive Lamont G. McClure said.
This $1.48 million project was made possible by the support and funding of Pennsylvania Department of Conservation and National Resources, Pennsylvania Department of Community and Economic Development, Northampton County and D&L Trail users and supporters.
Thanks was given to all the partners in this project, including McClure, representatives from Northampton Borough and North Catasauqua Borough and local legislators.
Speakers included Adams Dunn; Welker; Jim Kenney, from JKR Excavating, which built the trail; and Nathan McCullough, from Wilson Consulting, which designed the trail.
"I know our group was down here watching them through the progression of this project, and we're very, very happy with how it turned out," North Catasauqua Borough Council President Peter Paone said.
The trail will run on both sides of the Lehigh River using the rail bed and canal towpath. Hopes are high for this new trail to promote outdoor recreation and alternative transportation between the Lehigh Valley's major cities.
"We finally closed the 1.5 miles here in Northampton and North Catty, which opens the whole trail here in Northampton County," state Rep. Zach Mako, R-183rd, said. "This is the government finally working together on the state, county and local level. We do have a gem here, and let's get more people out here using it."