Zephs hand Trojans second straight loss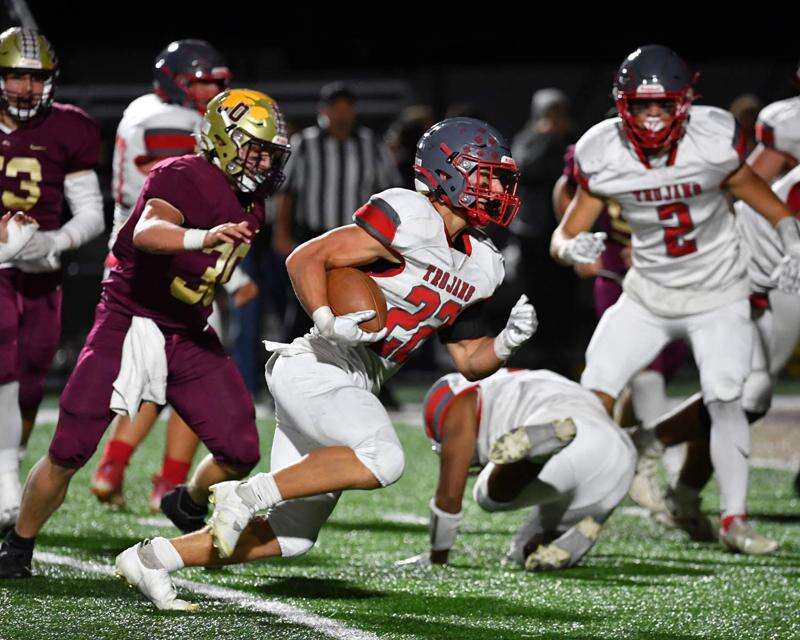 Published October 04. 2022 01:04PM
by CJ HEMERLY Special to the Press
Junior running back Trey Tremba did his best to keep his short-handed Parkland High School football team in its latest game last weekend. Tremba ran the ball 38 times for a career-high 222 yards on the ground, scoring two touchdowns. But the Trojans came out on the wrong end of the outcome, losing to Whitehall 32-31 in overtime last Friday night in Eastern Pennsylvania Conference South Division action at Whitehall High School.
It is the second straight loss for Parkland, which had its record drop to 2-3 overall and 2-3 in the conference after falling the week before to Central Catholic. The Trojans are looking to move past the recent slump with still half of their schedule left to be played.
"We know we're on a skid," said assistant coach Mike Facchiano. "Nobody likes to lose. But we also know that we have a whole lot more games to play this season with only half the schedule played. We still have five games left and all of our goals are still in front of us."
Against the Zephyrs (3-2, 3-2), Parkland scored first in the overtime period to take a seven-point lead at 31-24. Whitehall answered on its possession, but, instead of going for the tie with an extra-point attempt, the Zephs decided to go for the two-point conversion and the win. They were successful as Whitehall quarterback Trey Dogmanits looked as if he was going to run into the endzone, threw back to the other side of the field to an open Kaden Weaver for the conversion and victory.
"It was a great play call, gutsy, but great," Facchiano said. "You have to give them credit. They went for the win and were successful in their game plan."
Whitehall led 21-10 at halftime, but on the first play of the second half, Parkland got a 21-yard interception returned for a touchdown by Jake Parker. An ensuing two-point conversion and a Gryffin Mitstifer field goal tied the score at 21 in the third quarter.
A field goal from each team in the fourth quarter set up the overtime.
Parkland was playing without its normal starting quarterback in Luke Spang, but also lost backup QB and wide receiver Nakhi Bullock to injury. Sophomore Osmany Guzman stepped up and finished with 48 yards through the air. Jack Harrison led the receiving core with two catches for 17 yards.