Trojan golfers compete in D-11 qualifier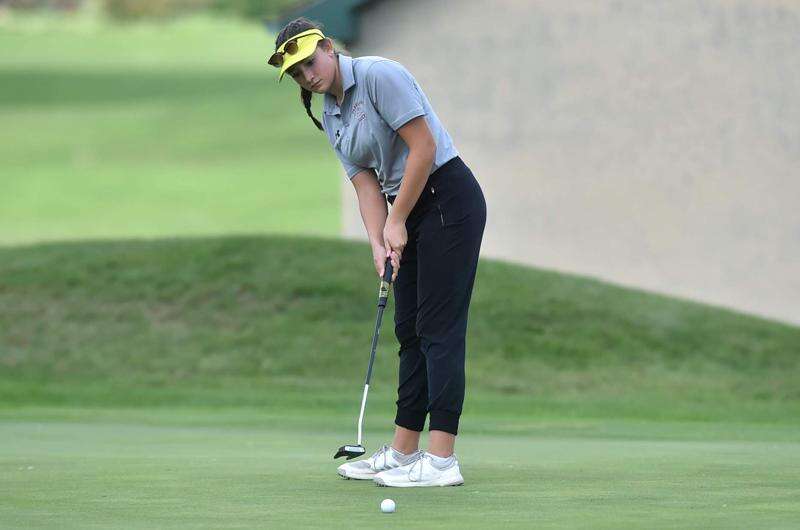 Published October 04. 2022 01:04PM
by Mike Haines mhaines@tnonline.com
The Parkland High School golf team began postseason play last week when it competed in the East Penn Conference Championships.
Parkland senior Sydni Sundstrom and junior Chloe Chase tied for third place in the girls field at the league tournament. Both Trojans shot 91 in event, held Monday, Sept. 29 at Olde Homestead Golf Course.
Northampton's Madison Salter and Nazareth's Camryn Hoffman tied for first place in the girls tournament at 87 before Salter won this year's title in a playoff.
The Parkland boys team was led by Landen Benner at leagues. The freshman shot 89 to tie for 28th place. The Trojans' Jaffer Mujtaba and AJ Sundstrom shot 90 at leagues as Parkland posted a team score of
360 for sixth place, just behind Emmaus (347) and ahead of Freedom (362).
The league tournament capped the EPC part of Parkland's season. The Trojans went 10-5 in league play and 11-5 overall, a couple wins better than last season.
"We had two one-stroke victories," said Parkland head coach Ryan Kilpatrick. "It was nice to have some close ones, add some excitement. You kind of know where you're going to fall in golf at the beginning of the season. You know who you can beat and whose going to be close. It's those couple where you can go from 9-7 to 11-5."
Parkland had a young line up this season and will return four of its top five golfers next year, including freshmen Benner and AJ Sundstrom, Jaffer, a junior this season, and Chase.
"It's nice that they're playing well, shooting mid-80s as freshmen," Kilpatrick said of Benner and AJ Sundstrom. "That's something to build on in the next few years."
The Trojans continued postseason play this past Monday at the District 11 qualifying tournament.
Sydni Sundstrom finished in second place in the girls field, shooting 93 at Olde Homestead, while Chase shot 95 for third place. Both will advance to next Monday's district championship tournament as the girls qualifying standard is 110 or lower at the qualifier.
In the Class 3A boys qualifying field, where players need to finish in the top half of the 27-player draw to advance, Benner shot 86 to tie for 14th place and to make it into next week's championship. AJ Sundstrom finished just outside the qualifying number with a 90 on Monday, while Jaffer carded a 97.
Benner got off to s slow start, but recovered, shooting 48 on the front nine and 38 on the back. He opened with a double-bogey on his first hole and made a quadruple-bogey 8 on the third. Two more doubles had him at 12-over par after nine holes. But he avoided big numbers on the back nine. He made three pars on holes 10-12. He followed three straight bogeys with a birdie and two pars to shoot 2-over on the back nine.