PHS field hockey looks to bounce back after setbacks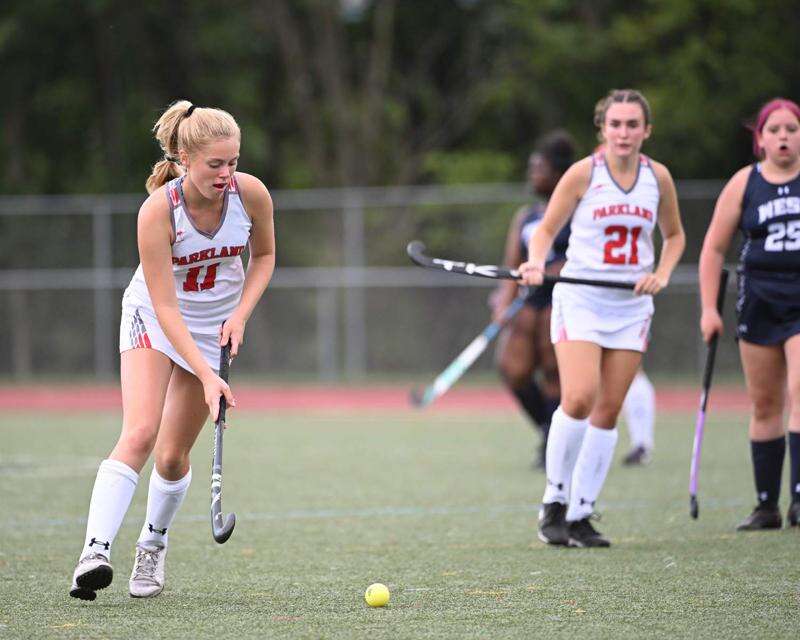 Published October 04. 2022 01:04PM
by CJ HEMERLY Special to the Press
The Parkland High School field hockey team had as good of a start to its 2022 regular season that it could have hoped for. The Trojans opened the season winning their first seven games, all against Eastern Pennsylvania Conference opponents.
Included in those victories were Nazareth and Northampton, two teams in the top half of the conference and district qualifiers a season ago. Parkland defeated the Konkrete Kids twice in a span of two weeks.
But after a 3-1 win over Liberty on Saturday, September 17, the Trojans hit a bit of a rough patch, losing two of their last three games, including to two teams ahead of them in the conference standings in Easton and Pocono Mountain East. Parkland fell by one goal to the Cardinals, 3-2, and was shutout by the Red Rovers, 5-0. Sandwiched in-between there was a 1-0 victory over Whitehall on senior night.
With two weeks left in the regular season, the Trojans have an 8-2 overall record and 7-2 mark in the conference. They sit in fourth place in the league behind Emmaus (12-0, 10-0), Easton (10-1, 9-1) and Nazareth (10-2, 8-2).
"We are playing well and in a good position," said Trojan head coach Julie Sikorsky. "We've had a tough schedule the last week or so and have been playing some really competitive teams. The girls have worked hard and even in defeat are learning from that and we're hoping to get better every game."
As they were earlier in the season, Elaina Fragassi, Aurora Gery and Lily Kyvelos continue to step up and lead the team with their experience and talent. They have been regulars in the lineup for Parkland and contribute on both offense and defense.
Parkland has had a lot of changes to its schedule of late with postponements and cancellations. The Trojans had a game scheduled to be played at Phillipsburg last Saturday canceled, recently scheduled games earlier this week against Stroudsburg and Allen postponed, and an upcoming scheduled game against Southern Lehigh postponed. They are set to play at Pleasant Valley on Thursday this week in the lone game.