Zephyrs knock off Parkland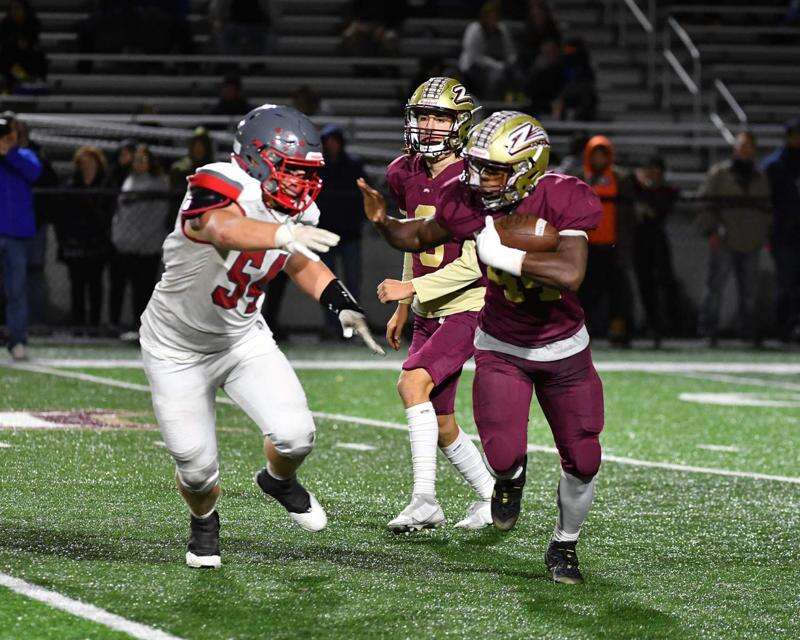 Published September 29. 2022 10:24AM
by Katie McDonald kmcdonald@tnonline.com
Whitehall quarterback Trey Dogmanits went for broke, and Kaden Weaver cashed in the two-point conversion that earned the Zephyrs a 32-31 overtime victory against Parkland last Friday night at Whitehall.
"It was just hanging there. I was like, if I drop this I'm gonna get killed, but I didn't, luckily, and then I almost did die in the dog pile," Weaver said. "It's great. I mean, I've never really been the leader on the team, and now everybody's saying basically you won the game, but really, it's everyone else who put in the work and won the game for us."
Whitehall kicker Andrew Deutsch went 3-for-3 on extra points and tied the game, 24-24, with :09 left in regulation on a 39-yard field goal.
"As soon as the ball was snapped, everything was silent for me. All I had were my eyes on the ball and watching it go through the posts," Deutsch said. "I was just visualizing the whole thing, going through the motions. We've practiced this before, and what can I say? We executed it really good, right down the middle. It was pure excitement."
Whitehall took a 21-10 lead into halftime when the 1997 Zephyr football coaches, players, and cheerleaders were recognized for their District XI Class 4A championship. It was 25 years ago that Whitehall beat Parkland for the district crown.
"It's so great having those guys come back, and it pushed us to work harder and beat our rivals," Deutsch said.
Two Zephyr touchdowns in the second quarter, the first on an 80-yard run by Nigel Linton, and the second on a 24-yard pass to Braden Bashore, gave Whitehall enough of a lead to handle what was to come.
"Oh, honestly, I just kept running," Linton said. "It felt like I was getting chased, of course, but nothing is gonna stop me from running, especially with that ball in my hand. I fought my butt off to win this game. I went through so many hardships. Last year I didn't even get to play Parkland because of my injuries, and I came back this year with nothing but revenge, and it showed today."
No sooner had the third quarter begun when Jake Parker's pick-six and Trey Tremba's two-point conversion brought the Trojans to within three points, and later, Gryffin Mitstifer's 37-yard field goal tied the game, 21-21.
"You know, things got rough for me in the second half, but everybody backed me up and calmed me down, and we were able to come back really strong when we needed to," Dogmanits said. "We knew we had to come out fast and no matter what, we had to get stops on defense and stay in the game. We knew they weren't going away, and when they came out hard, we fought."
Whitehall's defense denied Parkland's Tremba (203 rushing yards) after his punt return to the Zephyrs' 34-yard line, holding the Trojans to a field goal with 1:55 left in regulation.
"Yeah, he's a phenomenal football player. Anytime you can keep him bottled up...We worked on it all week. He's gonna get his runs with the football player he is, but our kids played tough, and I'm really proud of our kids," said Whitehall coach Matt Senneca.
Aiden Parvel, Logan Headman, Mason Marencik-Delvalle, and Carter Hudak made big plays for the Zephyrs on defense, and Carter Troxell's interception in the second quarter led to Bashore's touchdown while Chandler Romain led Whitehall in tackles with eight.
Whitehall won the coin toss in overtime, electing to defend. A Zephyr penalty put Parkland on the five-yard line, and Tremba scored for the Trojans.
Then, on third-and-seven for Whitehall, Dogmanits went to wide receiver Jack Kocher for the touchdown and the Zephyrs had a decision to make.
"It was all up to us," Weaver said. "Coach asked us if we wanted to go for one or for two to go for the win, and we wanted two. When it happened, I fell down right away, but I made it over, Trey made the throw, and it was a great play."
Dogmanits was confident in the call, and Coach Senneca was confident in his players.
"I knew they wanted to do it, so we wanted to go win it right there," Senneca said. "It was time to dig in, have each others' backs and go win this thing. I can't say enough good words about Trey and what he does for this team and what he brings to this team, but he's a competitor, man, he's a baller."
Dogmanits called it a great team win.
"It feels real good," he said, "and we gotta keep it rolling."