Spartans, Tigers play to 0-0 draw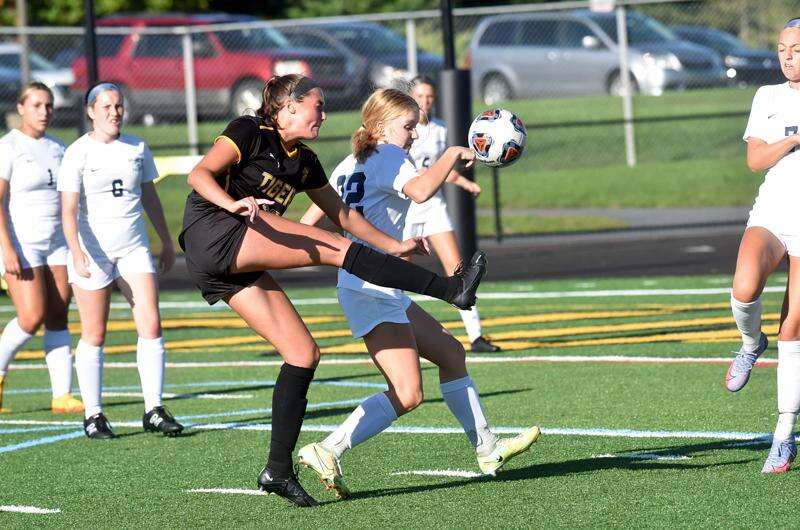 Published September 25. 2022 11:45AM
by CHUCK HIXSON Special to the Press
Through 100 minutes of play, Northwestern Lehigh and Southern Lehigh both had opportunities, and both missed on every one of them. The result was a scoreless double overtime game between the two Colonial League schools at Tiger Stadium.
"It was just a good, classic Southern Lehigh-Northwestern game. Every time we play it comes down to the final whistle," said Northwestern head coach Jordan Smith. "We had a lot of opportunities and would have liked to finish one of them, but ultimately we played a good 100 minutes today."
In the first half, the Lady Tigers (8-2-1 overall, 6-1-1 Colonial League) were called for four offside calls that hurt their chances at an early goal. In the second half, Northwestern Lehigh came out aggressively and picked up two early corners in the first 10:00. In the first 15:00, they had two direct kicks from inside 30 yards and were unable to convert either.
The best opening during regulation came with just :45 left when Samantha Bardonner put a shot just wide of the net. Neither team had an opportunity in the closing seconds.
Northwestern controlled play through much of the first overtime period, but misfired on a corner with 8:30 left to play. The Tigers got a shot off the corner but the ball went over the net, again leaving the game scoreless. Southern Lehigh (6-3-1, 5-0-1) took over control in the second overtime, picking up two corners in the first three minutes, but also were not able to convert either of them.
Northwestern regained control with a couple of late direct kicks, including one with just :45 left. With the clock down to just :04, the Lady Tigers were driving toward the net and got a shot on goal, but goalie Ava Fortner made a stop to end the game in a scoreless tie.
The loss was the second straight game in which the Tigers were shutout by their opponent. Earlier in the week, Moravian Academy shutout Northwestern Lehigh 1-0 to hand them their first Colonial League loss of the season. The only other loss came at the hands of District 4 power Central Columbia in the second game of the season.
"We've hit a bit of a bump in the road here where we are not finishing on plays and it has hurt us against good teams," said Smith. "I think it's just a slump that we are in, and we can pull ourselves out of it. We have to be conscious of what we are doing out there and make plays."
The winning ways returned with a 3-0 shutout at Saucon Valley on Monday. Northwestern's defense has recorded shutouts in seven of their last eight games.
Northwestern has already locked up a place in the District 11 playoffs and are one of five Colonial League teams with at least five wins on the season as the jockeying for seeding positions reaches a critical point. Palmerton (9-0-0, 7-0-0) rules the roost in the league, with Northwestern Lehigh and Southern Lehigh following closely and Moravian Academy (5-3-0, 5-1-0) and Northern Lehigh (7-3-0, 5-2-0) lurking just behind the three teams.
The remaining league schedule for the Lady Tigers has games against Palmerton, Bangor (2-6-0, 1-4-0), Wilson (1-9-0, 0-8-0) and Catasauqua (1-7-0, 0-6-0). They also have two nonleague games against Fleetwood and Upper Perkiomen.