Falcons pick up fourth win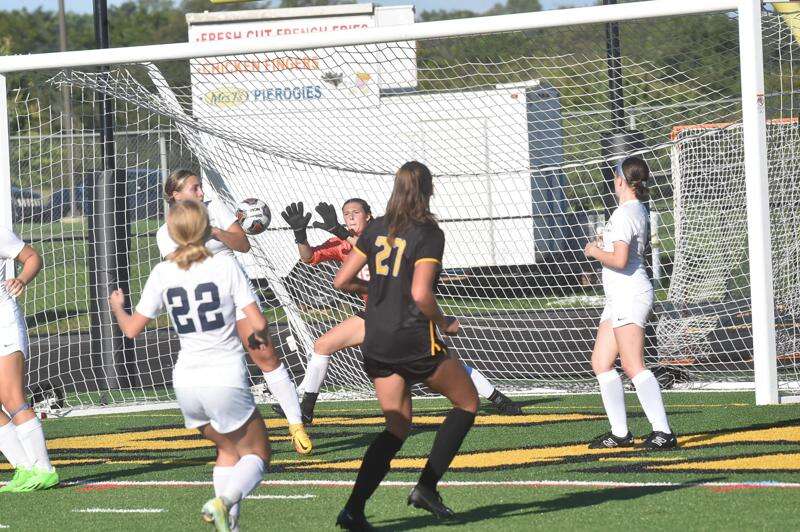 Published September 25. 2022 11:49AM
by CJ HEMERLY Special to the Press
Last season was one the Salisbury High School girls soccer team is not used to. The Falcons finished with just three wins all year and did not earn the third victory until the 11th game of the season.
This season has been a lot different so far as Salisbury is 4-5 overall and recorded its fourth win in its seventh game on September 15. It is something that head coach Rick Babyak said he's happy to see since his team has not only worked hard to get to where it is, but also has been more fortunate this season by staying a bit more healthy.
However, injuries are always part of the game and something every coach deals with.
"We've already improved on our win total from last season, but we have certainly had our ups and downs," said Babyak. "We have taken a lot of positive strides forward as a team and have played some inspired soccer. Some injury issues are starting to affect us. A couple of starters have been out and many of the girls are playing through injury issues."
Since the start of September, the Falcons have won three of five games and seeing the final results in their favor more often this year has helped build confidence and positive momentum to achieve it more often.
"When the team comes out playing with confidence we excel," Babyak said. "We need to develop some consistency now and that will help us continue to getting back to our goal of the postseason."
There have been a couple of players that have stepped up and helped lead Salisbury on both offense and defense for Babyak.
"[Freshman] Madison Reis has been scoring some important goals for us (seven goals to date) including the game winner in overtime against Wilson," said Babyak. "Our senior goalie, Hannah Kamp, has been playing out of her mind keeping us in games. She's been making some incredible saves and then is often starting our offense with her booming punts. [Sophomore] Gabi Pena has been particularly strong on the defensive end, and has also contributed offensively, including scoring a nice goal against Catty."
Salisbury has two Colonial League games this week against Northern Lehigh and Bangor with a matchup against Lincoln Leadership sandwiched in between.
"We hope to get all of our girls back healthy and playing at the top of their game," Babyak said. "We want to continue to improve every game, to be strong for each other and to give our best effort in every game, even through adversity."