Chandler takes third at league tournament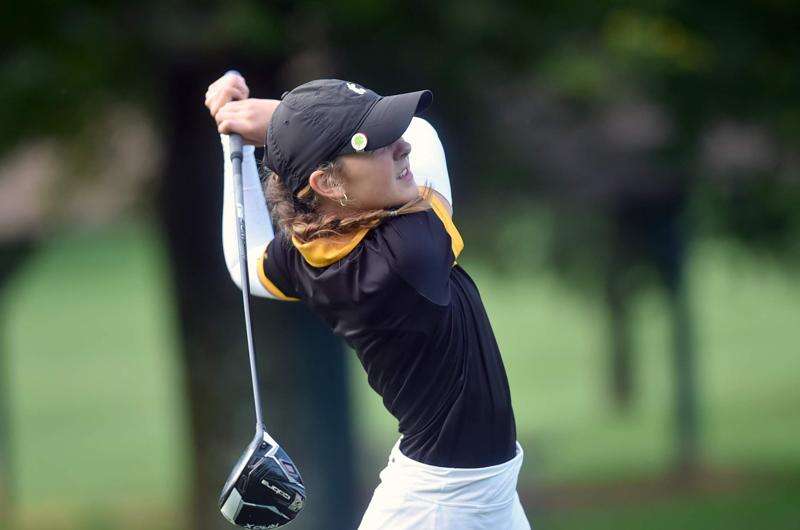 Published September 25. 2022 11:49AM
by Mike Haines mhaines@tnonline.com
Six Northwestern golfers competed in Monday's Colonial League Championship Tournament.
Freshman Avri Chandler was the top Tiger finisher, taking third place in the girls tournament with a 92. Teammate Erik Mather led the Northwestern boys contingent with a 92 to tie for 21st place.
Chandler, who just started playing competitive golf in June of this year, shot 46 on both nines. She made four pars, eight bogeys, five double bogeys and three triples.
"I started off strong and then trickled down from there," Chandler said. "Overall I think I did pretty good. My drives were really good. My putting was really good. Mostly chipping I struggled with."
A competitive dancer for the past 13 years, Chandler started golfing with her friend Gracie Sheffler, who is also a freshman on the Tiger golf team. She has surprised herself with her rapid progress at the difficult sport.
"It's crazy to see who far I've come in the last few months," she said. "I never thought it would happen but it's cool that it did."
Chandler entered Monday's tournament, which was played at Bethlehem Municipal Golf Course, with her usual goal of breaking 100. She exceeded that by a good margin. She will go on to next week's District 11 qualifying tournament where girls players need to shoot 110 or less to advance to the district championship. Both district events are slated to be played at the Tigers' home course, Olde Homestead.
"I'm just going to keep working hard this whole week and when it comes to Monday I'm going to try to go lower and do my best," Chandler said.
Mather, a junior, started his round with a triple-bogey 7 on the first hole, then didn't make anything higher than double over the next 17 holes. In fact, he carded just two doubles to go with two pars and 12 bogeys. After the first hole, he pretty much played steady bogey golf, shooting 47on on the front nine and 45 on the back.
Northwestern's Stone Sosnovik finished just three shots behind Mather with a 95 to tie for 28th in the 48-player boys field. The junior made three pars on the day, including starting each nine with a par. He also made a birdie on the par 3 16th. But one triple bogey and 8 on the par 3 eighth hole were blemishes on his scorecard that were hard to overcome.
Ethan Kozlowski rounds out the Tiger boys league championships contingent. The junior shot 97 to tie for 36th place. Kozlowski bounced back from a triple bogey on his first hole with two pars and a birdie on his front nine. The birdie cam on the eight hole. But an 8 on the par-4 sixth hole hurt his front nine, which came in at 46. He made one par on the back nine to go with two bogeys, four doubles and two straight triples on the finishing holes.
Northwestern's only senior golfer this year, Mary Frey, placed sixth in the girls tournament with a 98.
Frey got off to a rough start with an 8 on the par 4 first and a double on the par 5 second hole. But she played the last three holes of the front in two over par for a 51 then shot 46 on the back nine. Frey's second nine saw nothing higher than double bogey, with two pars, three bogeys and four doubles.
Sophomore Addison Remaley shot 117 in the league tournament. A few too many big numbers hurt her scorecard, but Remaley had at least one highlight with a par on the ninth hole.
Moravian Academy's Evan Eichenlaub won the boys title Monday with a 4-under par 67. He finished five shots better than Palmerton's Tyler Hager in second place and Southern Lehigh's Frankie Boensch in third one stroke behind Hager, who led Palmerton to its third straight team title.
The Lions swept the individual titles Monday as Mara Dubacher beat Bangor's Natalie White in an exciting girls tournament that ended in a playoff.
White eagled the par 5 15th hole then birdied the 16th to take a two-shot lead. Both players bogeyed the 17th before Dubacher birdied the last hole while White made bogey. Both players finished at 8-over par before the playoff.