Kids beat Pocono East in girls soccer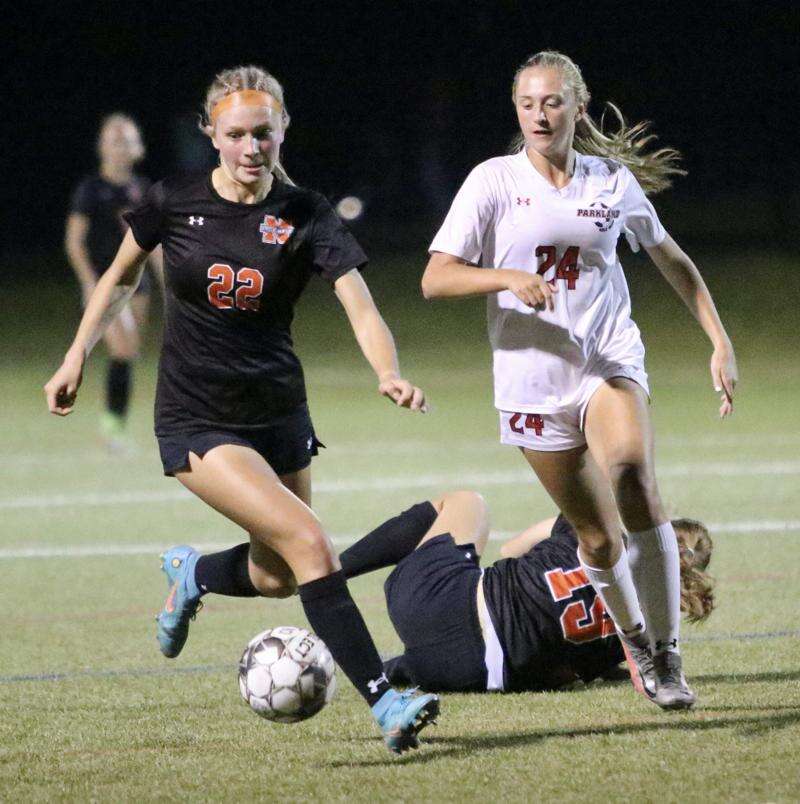 Published September 22. 2022 08:29AM
by Tom Wenborg Special to the Press
The Northampton girls snapped a two-game skid last Friday with a 3-0 win over a feisty Pocono Mountain East team led by EPC All-Star Campbell Demarest.
Head coach Michael Missmer discussed the approach to dealing with the dynamic player, "With her, we knew they were going to try to play it long. We have so many solid midfielders. We wanted to make sure we closed down any service that would get to her to limit her opportunities. Our backline, Maddie Hurst, Iasiah (Kirk), and Lindsey (Reimer) just killed it today."
As has happened so often this season, a strike off the foot of Danika Cuchran got the Kids on the board. The long distance shot inside the left post at 22:19 gave Northampton a 1-0 lead. That would also be the score at the half.
The task for maintaining that advantage fell to goalie Emma Fry. Fry had a huge smothering save in the 14th minute of the second half when a Cardinals' attack created a direct opening to the goal for Demarest. Two minutes later Demarest launched a rocket that seemed destined for the top of the net when Fry made a leaping stab to deflect the ball into the crossbar.
Chloe Watson gave the Kids some breathing room at 15:02 when she cleaned up a rebound in front of East's goal to make the score 2-0. She tacked on a second goal at 6:09 to put the game out of reach.
The Kids are at the exact midpoint of their regular season. Through 9 games they sport an overall record of 5-3-1 and 4-3-1 (13 points) in the EPC.
The upcoming week sees Northampton face 3 of the 4 best teams in the EPC. Tonight, they host the defending 2A state champions as Central comes to town to try to ruin Mentor Night. On Saturday, PM West will be on the Joan Kremus turf for an afternoon tilt.
Monday, the Kids go to undefeated Emmaus and then come home Wednesday to face one-beaten (to Central) Easton. Getting the 3 points against the Panthers is a must and stealing a point in one of the other three games could be crucial to the team's postseason opportunities.