EHS boys soccer picks up program's 800th win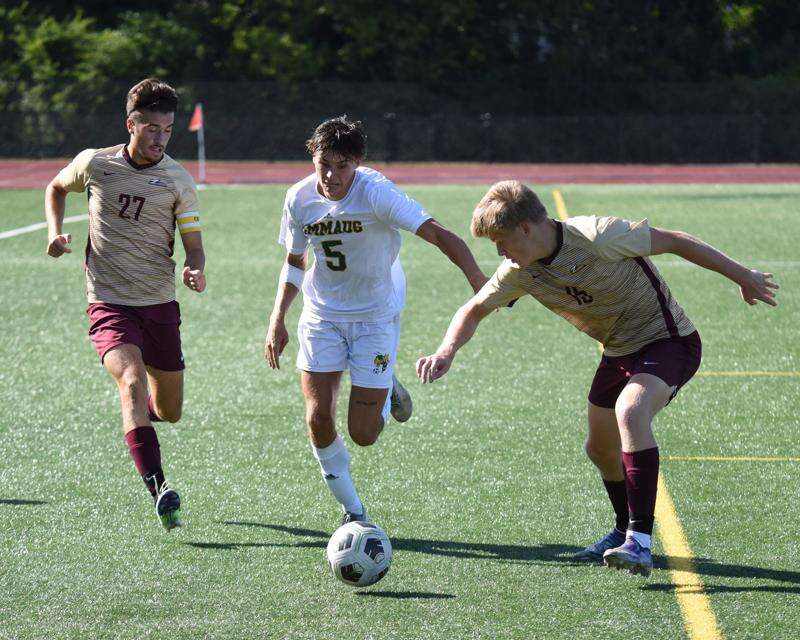 Published September 21. 2022 08:26AM
by Mike Haines mhaines@tnonline.com
The Emmaus boys soccer team is unbeaten through the first two weeks of the 2022 season.
The Hornets are one of three East Penn Conference teams that headed into this week without a loss as Northampton and Parkland are both 5-0 as well.
After a 4-0 win over East Stroudsburg North to start the season, Emmaus has won four straight games by one-goal margins.
The most recent win was the 800th in the history of the program, which ranks it seventh in the state in wins. That victory came against Pleasant Valley, 1-0 on Saturday.
Elijah Miller scored the game's only goal in the first half on an assist from Pacey Santos as the Hornets outshot the Bears 6-2 in the win.
The most exciting win of the season was a 1-0 double overtime win over Nazareth in which Owen Moyer found the back of the with just 47.5 seconds left before the event would have been declared a draw. Callum Harvey picked up the game-winning assist, while goal keeper Max McGrath made two saves in the win. Emmaus outshot Nazareth 8-5 and held a 7-2 lead in corner kicks.
That was the second overtime game in a row for the Hornets. They beat Whitehall 2-1 in overtime on Sept. 3. Ryan Kiernan scored both goals in the win, one in the first half and the other in overtime. Teddy Coenen picked up an assist in the win. McGrath made three saves as his team outshot the Zephyrs 18-4.
Kiernan was also the only scorer in a 1-0 win over Liberty on Aug. 31. His second-half goal, assisted by Marcus Puentes, was all the Hornets needed to top the Hurricanes, which were outshot 13-2 in the game.
The Hornets opened the season on Aug. 30 with a 4-0 win over East Stroudsburg North.
Kiernan scored twice in the win, while Moyer and Harvey each scored one goal. Assists went to Brayden Dang and Puentes.
Emmaus will play three games this week and another three next week, including a match Friday against Central Catholic at 3:30 at Memorial Field. They will meet Northampton on Sept. 26 on the Kid's home field and will take on Parkland in both teams' regular season finale on Sept. 12.